Share it now
Renovation of Kochi International Marina begins
26 Feb 2023
The long-overdue renovation of the Kochi International Marina that abuts the Bolgatty Palace and Island Resort run by the Kerala Tourism Development Corporation (KTDC) has begun.
This is said to be the sole full-fledged marina in India which is capable of hosting up to 34 yachts. Over the years, the marina that faces the Marine Drive and was commissioned in 2010 played host to seafarers — many of them world-famous ones who sailed in yachts from across the oceans. It fell into a state of disrepair around five years ago after innumerable wooden planks began giving away and the screws that held them together dangerously protruded from the surface, posing danger to seafarers and visitors.
The work that began a couple of days ago will gain momentum in the coming days since enquiries are coming from innumerable seafarers of whom half-a-dozen have confirmed their arrivals. They would remain berthed here for quite many days, the sources added. Reference
Indian shipowners move to modernise fleets as new vessel-age rules loom
25 Feb 2023
In an early sign of supply chain transformation in India, niche feeder lines operating on coastal or regional short-haul routes have begun to modernise their tonnage, as government revises its ship-age policy.
Mumbai-based operator Shreyas has just acquired two mid-size second-hand containerships, of 2,872 teu and 2,553 teu, to upgrade its fleet after disposing of two aging 1998-built vessels, the SSL Chennai and SSL Kochi.
The move comes as, amid growing marine environmental concerns, the Directorate General of Shipping (DG Shipping), India's maritime administrator, is close to releasing the final shape of legislation to restrict ships of 25 years old or more from calling at Indian ports.
Demand for shortsea shipping connections in India has seen some traction after the government liberalised cabotage rules in 2018 to encourage foreign-flag participation. But smaller operators, usually thriving on inducement calls, could now face competitive challenges in the charter market. Reference
Crew of detained VLCC have only limited contact with families
25 Feb 2023
The Nigerian authorities are letting the crew of a detained VLCC make only two short calls a month to their families, says the head of a seafarers' group.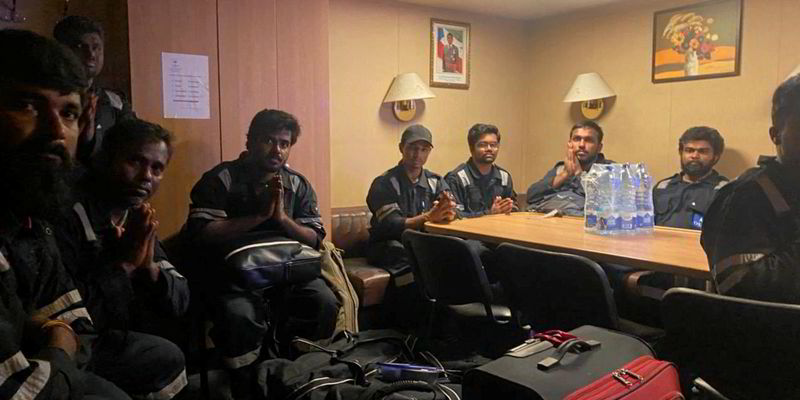 Abhijeet Sangle, working president of the All India Seafarers Union, said the 26 crew members have been left "mentally disturbed" after more than six months of detention.
They have been kept on bail on board the 300,000-dwt Heroic Idun (built 2020) off the coast of Nigeria on charges in connection with an alleged attempted oil theft and filing a false piracy report. The seafarers are under the control of the Nigerian Navy.
While on board, the 16 Indians, eight Sri Lankans, a Pole and a Filipino are given only limited contact with their families, said Sangle. He said in a LinkedIn post this week that it was "pretty disgraceful" that the case has not yet been resolved.
The case is due back in court next month while lawyers for the men try to get the Ray Car Carriers-owned vessel and its crew freed. The Nigerian legal system includes provisions for plea bargaining.
The Heroic Idun's insurers and managers, charterer BP and international shipping organisations all say the crew have done nothing wrong. The International Chamber of Shipping described the detention as "unacceptable" and called for the crew's release. Reference
Industry Set for Another Boom Year: Shipping Hedge Fund
24 Feb 2023
A shipping hedge fund founded by a one-time ally of oil tanker billionaire John Fredriksen says the industry is set for another boom year because of the reopening of China's economy and a lack of fleet expansion.
Tor Svelland, founder of Svelland Capital Ltd., a hedge fund that focuses on commodities and freight markets, says the ingredients are there for a strong year for the ships that keep the global economy running — possibly even a record one.
"We are under invested in shipping, so the majority of the market is struggling on the supply side," he said. As such, the merchant fleet's transportation capacity "isn't meeting demand."
Investors are watching closely for signs of how China's departure from its Covid zero policy will translate into real economic activity.
The vessels bringing in iron ore and coal to power industrial production, and oil for cars and trucks, offer insights into the pace of recovery. Likewise, container ships haul billions of dollars of manufactured goods from factories in China to consumers globally. Reference
ABS verifies non-flammable battery design for use at sea
24 Feb 2023
Classification society ABS has issued New Technology Qualification (NTQ) for non-flammable battery technology called Blue G for use at sea.
Developed by Gennal Engineering PTE, the new battery design is comprised of a water-based electrolyte solution, storage tank, stack cell and regulating pump.
The process of charging and discharging energy does not produce excess heat, which is a unique feature of the system, according to the company,
Gennal highlights the advantages of its system including scalability and a longer lifespan, which is more than 25 years, double that of a typical lithium-ion battery.
Furthermore, Gennal emphasizes the battery design's recyclable feature showing that the vanadium electrolyte is easily extracted and recycled when the Blue G battery is decommissioned. Reference
Electronic navigation essential by 2030
24 Feb 2023
The UKHO will stop producing paper charts by 2030, forcing owners to upgrade wheelhouse technology.
Wheelhouse technology has always been important for improving navigational safety, but now there is more urgency to upgrade bridge electronics. New tugboats usually come with a full suite of navigation and communications equipment including radar, electronic charting system, gyrocompass, autopilot, echosounder, speedlog, automatic identification system (AIS) transponder and display and a global positioning system (GPS).
However, many tugboats and workboats still use paper charts or early versions of radar and plotting systems, which will need to be upgraded this decade.
The urgency comes as the UK Hydrographic Office (UKHO) announced its strategy of phasing out paper navigational and thematic charts under its Admiralty brand by 2026. After negative feedback and even outcry from many shipping sectors, especially the smaller vessel sectors, UKHO extended this transition phase to 2030, leaving all maritime industries with seven years to adopt electronic navigation chart systems such as ECDIS, or be faced with using outdated charts and notices to mariners. 
The UKHO is promoting a transition to digital products, including electronic navigational charts for ECDIS, as mandated by IMO for most SOLAS commercial ships, and for electronic chart systems for commercial vessels and workboats.  Reference
How LTE/5G is transforming maritime communications
24 Feb 2023
Crew WIFI and Internet communications are essential for any modern maritime vessel, whether for cruise lines, transport vessels, yachts, etc.
The good news is that LTE/5G can offer much higher speeds at a significantly lower cost to satellite, enabling the next wave of maritime communications. But still, as maritime businesses are only starting to understand the benefits of LTE, 5 questions to solve some doubts when considering this new technology.
What's my range when using 5G?
With the ongoing developments in LTE/5G networks, router equipment, and antennas, vessels can now comfortably connect 25 nautical miles from shore.
What speeds are possible?
This depends firstly on the quality of the networks. Being in Singapore or Australia nearshore, one can achieve 100Mbps download or more. In Indonesia or the Philippines, it would be more in the 5-10Mbps range.
What if vessels sail between countries?
Certainly, one can think about roaming SIMs and how the costs will vary as they cross borders overseas.
What about my satellite connection?
Satellite connectivity won't be disappearing soon due to its importance on open sea. However, more ship owners combine both options on board in such a way that the most economical connectivity option is used first.
Can I control data usage?
Using Cradlepoint routers means all management is cloud-based and there is no need for on-board IT managers or staff to operate the service. Reference
India: Views of seafarers to count in new bill
23 Feb 2023
The government has sought to bring an amendment to the Seamen's Provident Fund Act, 1966 in order to broaden the ambit of the application of the Act to foreign flagged ships employing Indian seafarers.
The government has invited comments/ suggestions from the stakeholders to the draft Seamen's Provident Fund (Amendment) Bill, 2023 between February 21 to March 24.
Amongst other things, the Bill seeks to broaden the ambit of the application of the Act to foreign flagged ships employing Indian seafarers, which will enable amendment to the existing Seamen Provident Fund Scheme.
The draft Bill seeks to introduce the Seafarers Annuity Fund Scheme and Seafarers Gratuity Fund Scheme for Indian seafarers, to be administered by the Seamen's Provident Fund Organisation. 
Besides a host of other incidental and related Amendments proposed in the Bill, the name of the Act shall also be amended and the new name proposed to be given is 'Seafarers' Provident Fund and Miscellaneous Provisions Act, 1966.
The stakeholders have been requested to send their comments/ suggestions to the Directorate General of Shipping, GoI, Mumbai and Commissioner, SPFO, Mumbai by 24 Mar 2023. Reference
India: Shipping Ministry to Develop 3 Ports as Hydrogen Hubs
23 Feb 2023
Two ports on India's east coast and one port on the west coast will be developed by the Ministry of Ports, Shipping, and Waterways (MoPSW) as hydrogen hubs under the Green Shipping Initiative as part of the Maritime India Vision 2030.
Union Minister for Ports and Shipping Sarabananda Sonowal said that the Paradip Port in Odisha, Deendayal Port in Gujarat and V.O.Chidambaranar Port in Tamil Nadu will be developed for handling, to storage and green hydrogen generation to cater to India's hydrogen production goals by 2030.
The minister said the Ports and Shipping ministry had already initiated steps to develop green ports which will prioritize cutting greenhouse gas emissions to make the Indian maritime sector sustainable.
Some of the steps that the government will take to make the ports carbon-free include setting up projects for energy generation from renewable energy sources; acquisition of equipment to monitor environmental pollution; acquisition of dust suppression systems; setting up of garbage disposal systems for sewage treatment plants in ports and ships; and developing shore reception facility for wastes from ships. Reference
Cow Manure derived fuel to Power Coastal LNG Ship tested by MOL
23 Feb 2023
In the efforts to develop new sustainable forms of marine fuel, Japan's Mitsui O.S.K. Lines (MOL) reports it will undertake the first test of a new form of liquified bio-methane (LBM) to fuel a coastal LNG vessel. The unique product is an advanced form of fuel used by farmers for years derived from cow manure.
MOL will jointly study the new LBM fuel working with a Japanese company Air Water which has been working on developing the process for manufacturing the fuel. Their initial efforts confirmed that the LBM can be transported, supplied, and used without problems employing the existing shore and onboard equipment.
Air Water has been working on the development of a demonstration supply chain for the last several years looking to expand methane fermentation processes (biogas plants) historically operated by cattle farmers. In 2021, Japan's Ministry of the Environment approved a demonstration project for the technological development of the process and supply chain for LBM.
The biogas produced by cattle farmers is about 60 percent methane and 40 percent carbon dioxide. The farmers have traditionally used this as a power source.
Under the processes developed by Air Water, the LBM is made by collecting the biogas extracted using methane fermentation and then separating the methane from the CO2. The liquefaction process like that used in other forms of gas permits the reduction in the volume to transport the product.
AirWater started full-scale operations at its production plant in 2022. Reference
Human rights of Indian seafarers remain cause of concern: NHRC
23 Feb 2023
National Human Rights Commission member Dnyaneshwar Manohar Mulay today said that without proactive cooperation from different stakeholders, the human rights of Indian seafarers will remain an area of concern.
He was chairing an Open House Discussion organized by the Commission on the human rights of Indian Seafarers. He emphasized the need for better coordination among the Ministry of Shipping, the Ministry of External Affairs, including Protector General Immigration, the Immigration Authorities as well as various stakeholders representing the Seafarers to take care of their human rights violations.
Mulay said that the tendency of ship owners to operate their fleets under foreign registration to avoid taxes results in hindrances in fixing their accountability in case of human rights violations of Indian seafarers onboard their ships. He advocated that some mechanism needs to be evolved to ensure that Indian citizens who work in the maritime industry get due protection and promotion of their human rights.
Speaking at the event, Amitav Kumar, DG, Shipping, said that a committee has been constituted to look into the complaints regarding sexual harassment of women seafarers at workplace on January 30, 2023. The complaints can be lodged on the website of the DG Shipping, Government of India. Reference
India to increase ports renewable energy share to 60 pc
22 Feb 2023
Union Minister Sarbananda Sonowal on Tuesday said that the government intends to increase the share of renewable energy to 60 percent of the total power demand in each of its major ports. At present, the total share of renewable energy is less than 10 percent.
Speaking at the consultative committee meeting by the Ministry of Ports, Shipping and Waterway on 'Green Port and Green Shipping' Sonowal said, the ports have also aimed to reduce Carbon emissions, per ton of cargo handled, by 30 percent by the year 2030.
Ministry for Ports, Shipping and Waterways has undertaken green port initiatives in the major ports so that their environmental performance can be improved. Under the Green Shipping and Green Shipping initiative of MIV 2030 major ports have implemented and initiated various activities.
Those activities would help in reducing the GHG (Green House Gases) emissions from the Port and Shipping sector and help in achieving the targets set by the Government for making the maritime sector green and sustainable.
Activities like transition towards renewable sources of energy including Solar Power, Wind Power, Tidal power etc. have already been initiated at many of the Major Ports of the country. Reference
Employers, unions, and owners unite over seafarer challenges
21 Feb 2023
Collaboration between IMEC, ICS and ITF is helping to drive progress on key seafarer related issues, according to International Maritime Employers Council (IMEC) Chairman Belal Ahmed.
Speaking to Seatrade Maritime News ahead of his appearance at CMA Shipping 2023 in March, Ahmed gave an overview of the challenges facing seafarers, the risks they pose to the industry, and the work being done to overcome those challenges.
High on his agenda at the event will be a call for greater training provision for seafarers on new technologies, close to the regions and countries where seafarers live.
Current practise is for training to be given to the crew taking a ship out of the shipyard, but beyond that training provision is left to individual companies to arrange.
Bringing training centres for advanced shipboard technologies closer to crew sourcing locations will not just help with upskilling vital workers but will also bring great safety benefits as crews become more familiar with the technologies and software that ships rely on to operate. Reference
Zero-emission liquid hydrogen marine powertrain system in the making
21 Feb 2023
British maritime enterprises Krensen, Trident Marine Electrical, and ACUA Ocean have joined forces to develop a zero-emission liquid hydrogen marine powertrain system.
The partnership brings together Krensen's expertise in electric and hybrid marine propulsion technologies, Trident Marines' experience in electrical engineering and automation, and ACUA Ocean's UK patent pending hydrogen technology.
During the first phase of the project, ACUA Ocean recently announced the completion of the build and testing of their novel liquid hydrogen cryogenic tank, which has now received Lloyd's Register Certification and is ready to deploy as part of the integrated hydrogen powertrain solution.
The prototype system will undergo factory acceptance testing in Lowestoft during the summer of 2023 before being fitted into ACUA Ocean's hydrogen-powered USV for in-water testing in 2024. Reference
NYK Group awarded for ship automation endeavours
20 Feb 2023
The NYK Group, along with its subsidiaries, has received recognition for its efforts in promoting autonomous ships at the fifth Japan Open Innovation Prize ceremony.
The ceremony was held by the Cabinet Office of Japan, and the companies were awarded the Minister of Land, Infrastructure, Transport, and Tourism Award.
The group, which comprises Japan Marine Science Inc., MTI Co. Ltd., and Kinkai Yusen Kaisha Ltd., is working to address social issues such as labour shortages and maritime accidents in the shipping industry.
The NYK Group is a part of the Joint Technological Development Programme for the Demonstration of Fully Autonomous Ships under the MEGURI 2040 project.
This project is aimed at the social implementation of fully autonomous ships, and it is administered by the Nippon Foundation as part of the Designing the Future of Full Autonomous Ships Consortium, which comprises 30 companies in Japan. Reference
Note: All above news items compiled in this digest should be considered as news in brief. For detailed news, please refer to reference link, mentioned with each item.
Share it now