Share it now
Following Stories compiled in this News Digest for the week from 28 Feb 2022 to 06 Mar 2022 in descending order:
Wight Shipyard wins contract for two hybrid river bus vessels
06 Mar 2022
London's leading river bus operator, Uber Boat by Thames Clippers, has awarded East Cowes, U.K., shipbuilder Wight Shipyard a contract to build two new hybrid Clipper-class vessels.
"We are delighted that Uber by Thames Clippers has awarded us the contract to build the next generation of Clipper-class vessels utilizing the very latest battery-power technology and recharging options," said Wight Shipyard CEO Peter Morton.
The hybrid design will allow the new vessels to operate solely on battery power to transport both commuters and sightseers along the Thames throughout the London's central zone between the Tower Bridge and Battersea Power Station piers. They will operate on biofuel powered engines outside of Central London.
The technology is not reliant on shore-based charging. The new boats will use excess power from their biofueled engines to recharge their batteries for the Central London stretch.
The Wight Shipyard Co. says the new hybrid vessels will be "some of the quietest ever seen in the passenger boat industry and will stand as future-proofed examples of environmental excellence."
Thames Clipper has had a ticketing partnership with Uber since 2020.
Passengers are able to use contactless payment system Oyster to pay as you go and can pre-book via the Uber app as well as the existing Thames Clippers Tickets app to travel with Uber Boat by Thames Clippers. Reference
IMO Calls Extraordinary Session as Seafarers Remain Caught in Ukraine
05 Mar 2022
Responding to international calls for action, the UN's International Maritime Organization announced that it will convene an extraordinary council session to address the impacts on shipping and seafarers of the situation in the Black Sea and the Sea of Azov. The move comes as fear grows for the safety of seafarers trapped in the region and especially near Odesa, which analysts believe may be the target of an imminent amphibious and land assault.
This week has seen the first merchant ship sunk during the conflict and the first confirmed death of a seafarer killed by a missile attack while he was on watch aboard a ship anchored off Ukraine. There is a long list of dangers for the IMO member states to discuss. Ukraine closed its seaports effectively trapping merchant ships without the services such as tugs and harbor pilots to depart and straining the ability to reprovision the ships. NATO has warned that the waters around Ukraine may well be mined while security analysts have urged ships capable of departing to move outside the newly declared "warlike area" in the northern Black Sea. Equally concerning are the thousands of Ukrainian and Russian seafarers away from home working at sea as well as seafarers in the combat zone that will not be able to reach their jobs on ships.
After the Russian assault on Ukraine began on February 24, IMO Secretary-General Kitack Lim said he was "gravely concerned about the spillover effects of the military action in Ukraine on global shipping." Then as the humanitarian crisis continued to unfold, Lim issued a statement saying "I fully support and stand with UN Secretary-General António Guterres' call for hostilities to cease immediately," but the IMO like the UN can only comment and make resolutions for the safety of seafarers.
The IMO's session will be held on March 10 and 11 as a remote session. The council consists of 40 countries elected to represent the global maritime community but other nations including Ukraine will be able to submit statements to the IMO Council. Reference
ICS Urges Govts to Stop Denying Seafarers Urgent Medical Care
05 Mar 2022
More than two years after the pandemic began, the International Chamber of Shipping says that too often countries and governments are still denying seafarers' urgent medical care. An outspoken advocate for seafarers and the industry on issues of maritime affairs, the ICS says far too frequently governments have relied on broad-ranging force majeure defenses to deny seafarers medical treatment.
The ICS cites a recent report from the UN's International Labor Organization's Special Tripartite Committee of the Maritime Labor Convention. The report cites the "existence of cases of denial of access to medical care ashore for seafarers, even in situations of the utmost urgency." Among the situations the ICS points to are reports of seafarers with broken limbs being asked to remain on board and take painkillers, a chief engineer vomiting blood not allowed to disembark, and even the body of a ship's master who being refused repatriation.
"Citing force majeure, governments have bypassed fundamental standards on seafarer wellbeing, such as those contained in the Maritime Labor Convention," said the ICS. "However, the ILO found that given that almost two years had passed since the beginning of the pandemic, '…force majeure should not be regarded as a valid reason to deprive seafarers of their rights'," they highlight from the UN report.
The ILO's committee also indicated that denying seafarers medical treatment could further increase pressure on stretched global supply chains. It noted that "…the crew change situation remains critical and appears to be deteriorating, which jeopardizes the safe and uninterrupted delivery of vital supplies."
ICS is urging governments around the world to designate and treat seafarers as key workers, provide access to medical care ashore when needed, and prioritize seafarers for Covid-19 vaccinations. ICS also released its latest round of medical guidance for ship operators and shipping companies, covering seafarer health and wellbeing, and vaccination best practices. Reference
Over 1,000 Mariners Are Stranded Near Ukraine
05 Mar 2022
About 140 ships have been trapped off the coast of Ukraine, putting more than a thousand seafarers in harm's way.
Since Russian troops first began the invasion last week, a dozen oil-product tankers, a sunflower oil carrier, and 45 bulkers used to transport grains, ore and coal have gotten stuck, according to ship-tracking data compiled by Bloomberg. There are also 54 cargo carriers and a container vessel that sailed into Odesa just before the harbor closed.
At least five merchant ships have been blown up in the region since the attack started, highlighting the risk that the crews are facing.
Vessels can't leave Ukrainian waters because there are no harbor pilots to guide them out, according to owners and ship managers. More importantly, navigation in parts of the north-west Black Sea is restricted due to the threat posed by underwater mines, according to an alert posted by NATO.
At least some of the stranded vessels have cargo on board, according to people with knowledge of the vessels in the area.
About 140 ships have been trapped off the coast of Ukraine, putting more than a thousand seafarers in harm's way.
Since Russian troops first began the invasion last week, a dozen oil-product tankers, a sunflower oil carrier, and 45 bulkers used to transport grains, ore and coal have gotten stuck, according to ship-tracking data compiled by Bloomberg. There are also 54 cargo carriers and a container vessel that sailed into Odesa just before the harbor closed.
At least five merchant ships have been blown up in the region since the attack started, highlighting the risk that the crews are facing.
Vessels can't leave Ukrainian waters because there are no harbor pilots to guide them out, according to owners and ship managers. More importantly, navigation in parts of the north-west Black Sea is restricted due to the threat posed by underwater mines, according to an alert posted by NATO.
At least some of the stranded vessels have cargo on board, according to people with knowledge of the vessels in the area.
Also read: American Pilot Refuses To Board Russian Ships
Panama-flagged cargo ship Helt sank after being hit below the waterline, prompting rescue operations to bring ashore six crew, said Ukraine's Administration of Sea Ports. Meanwhile, an engineer on Bangladesh Shipping Corp.'s vessel Banglar Samriddhi died when a missile hit the ship.
Intense fighting and shelling has continued in cities across the key agriculture exporter. That's led to a surge in commodities prices of everything from food to energy,
An typical ocean-going merchant ship will have 20 or more crew members on board, implying well over 1,000 seafarers would be stuck. Reference
Countries Seek IMO Meeting On Shipping Dangers After Ukraine Invasion
04 Mar 2022
Over 15 countries have called for a special meeting with the UN's shipping agency to discuss the safety of ships and their crews sailing through the Black Sea and Sea of Azov after Russia's invasion of Ukraine and growing dangers to vessels.
Many shipping firms have suspended sailings to affected Black Sea ports and other terminals in Ukraine. Insurance premiums for voyages have soared since Russia's invasion on Feb. 24, an action Moscow calls a "special operation".
An Estonian-owned cargo ship sank on Thursday off Ukraine's major Black Sea port of Odessa, hours after a Bangladeshi vessel was hit by a missile or bomb at another port. This followed at least three other ships being hit by projectiles in recent days.
Australia, Belgium, Canada, Cyprus, Denmark, France, Germany, Greece, Italy, Malta, Netherlands, Sweden, Turkey, Britain and the United States jointly called for the meeting, which is also backed by Ukraine, according to officials involved and a public document.
A spokesperson for the International Maritime Organization, which has 175 member states and three associate members and tasked with safety and security of international shipping, had no immediate comment.
Greek vessels have not been attacked so far, a Greek shipping ministry official said, adding that at least five Greek-flagged ships with 39 Greek nationals were still in the area, the official said. Reference
Singapore eases crew change regulations
04 Mar 2022
Documents from the Maritime and Port Authority (MPA) of Singapore seen by Splash today show the key Southeast Asian shipping hub is easing its crew change stance.
Under the latest enhancement MPA has made to its crew change policy, for signing-on crew, shipping companies are requested to inform MPA of crew change plans 14 days in advance and confirm that the crew has been in quarantine for at least 14 days prior to entering Singapore with a negative Covid-19 test result. The crew also need a fit-to-travel medical certificate, issued by a doctor not more than 24 hours prior to departing the crew's home country .
For signing-off crew, seafarers will be required to have a fit-to-travel medical certificate and prove he/she has not gone ashore for the last 14 days and remains well.
In order to minimise the risk, all the crew need to be transferred directly between the vessel and the point of arrival/departure.
Additionally, MPA is also in the process of exploring a so-called halfway house concept, mostly likely offshore, to accommodate sign-on crew in Singapore while waiting for their vessels to arrive. Japanese owners have been looking at a similar concept, using the offshore airport near Osaka in a similar way. Reference
Attacks on vessels off Ukraine now trigger BIMCO war risk clauses
04 Mar 2022
THE level of violence generated by Russia's invasion of Ukraine has now reached the point where it likely triggers BIMCO's Conwartime and Voywar clauses, a leading law firm has warned.
In terms of charterparty and insurance law, "war" basically carries its everyday English meaning, including serious possibility of being exposed to danger.
It is increasingly apparent that the degree of hostilities has reached this threshold.
Reported incidents so far in the Ukraine assault include a Russian missile hitting Bangladesh-flagged Banglar Samriddhi (IMO: 9793832) near Mykolayiv, killing the bulk carrier's third engineer. Another ship, the Panama-flagged Helt (IMO: 8402589), has sunk after being shelled or hitting a mine off Odessa.
Ukrainian ports have since last month been designated war risk areas by both the Joint War Committee of the Lloyd's and London companies markets and marine mutuals specialising in war risk.
Owners now have a legal means to refuse orders where they fear for their ship, or even, more pragmatically, where carrying out instructions is simply unprofitable. Reference
Live, work, play at sea – an experience for globe trotters
03 Mar 2022
Here is a novel cruising experience that can outdo any other cruise ship experiences that you might have had. Did you ever wish that you could stay on the sea forever? Cruising at a slow speed, travelling across the world? Well, Storylines now have something for you in these lines.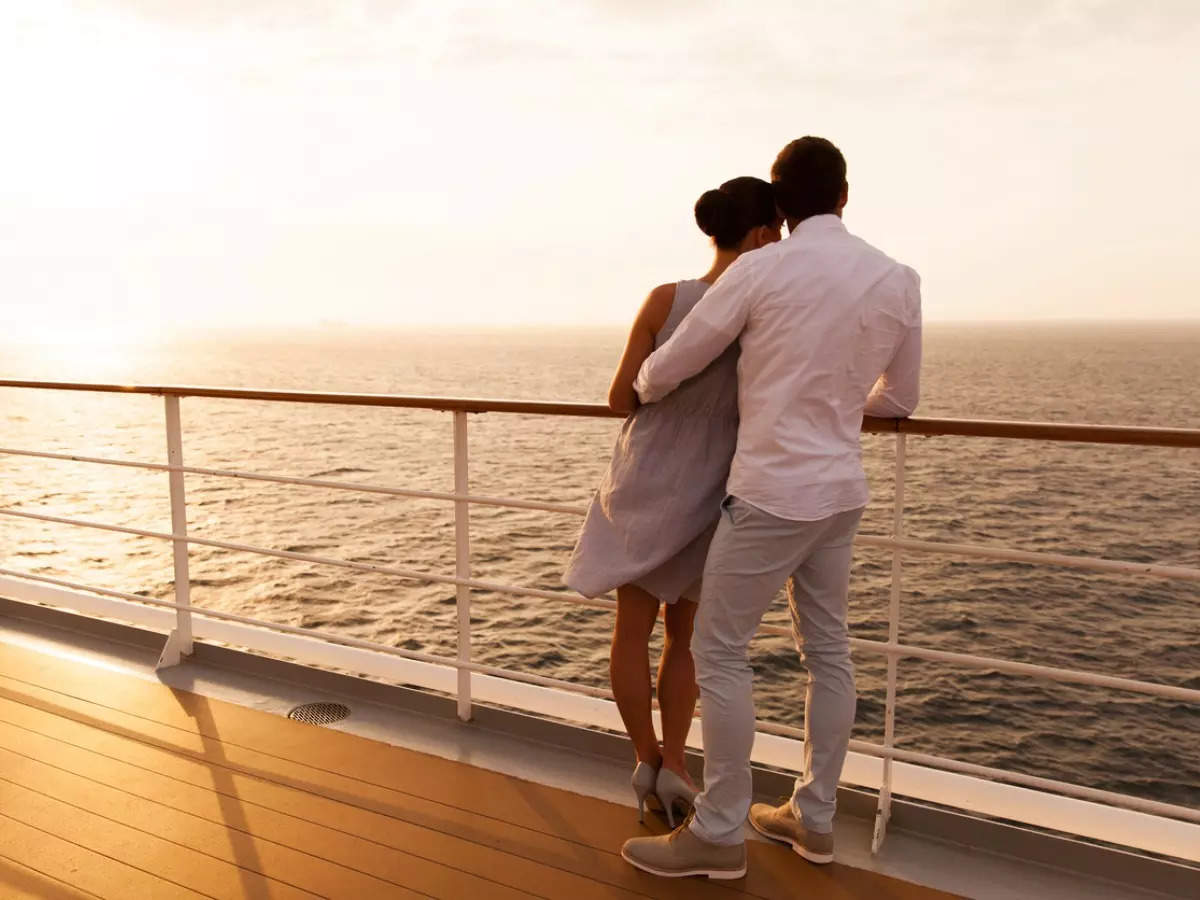 Storylines is offering residential cruise ships for wanderers who would like to work, play, and live at sea, while travelling the world at the same time. This is your chance to get lost at sea or, at least, something close to it.
Narrative, the first residential cruise ship by Storylines, is set to launch in 2024, and will have 547 furnished residences for guests. These on-board homes will have one to four bedrooms, and will be designed in a coastal, or contemporary style. You will also have balconies from where you can romance the sea.
You can lease the cruise ship for 12 to 24 years at a cost of $400000. Then, there are those residences that range from $1 million to $8 million.
The cruise ship has three pools with sundecks, an outdoor running track, yoga studio, gym, gold stimulators and more. The experience onboard is one of wellness and luxury, so you have some curated wellness services, such as anti-ageing programmes, detox treatments, weight loss programmes, immune therapies and more. You can even bring your pets aboard as there is a pet experience area, where they can have a blast.
Global travellers onboard would be happy to know that this is also a great place for foodies, as there are 20 dining and bar options available. You also have a zero-waste farmers market that will offer local products to guests. As far as entertainment is concerned, there is an art studio, movie theatre, and a bowling alley. But we are guessing that the blue sky and endless waters will keep you busy for days on end. Reference
IMO Sec-Gen appeals for safety of seafarers
02 Mar 2022
ON the fourth day of the Russian invasion of Ukraine, the international shipping community expressed serious concerns about the war's impact on global shipping, especially on the safety of thousands of seafarers
International Maritime Organization (IMO) Secretary-General Kitack Lim echoed the call of UN Secretary-General António Guterres' call for hostilities to cease immediately as he underscored the war's direct effects on trade and services.
"I am gravely concerned about the spillover effects of the military action in Ukraine on global shipping, and logistics and supply chains, in particular the impacts on the delivery of commodities and food to developing nations and the impacts on energy supplies," Lim said.
The IMO official added that "shipping, particularly seafarers, cannot be collateral victims in a larger political and military crisis — they must be safe and secure."Lim made the appeal for the safety of seafarers in the wake of reported attacks by Russian Navy ships of at least three merchant vessels in the Baltic Sea that caused damage to the ships and injury to many seafarers. Reference
Bentleys And Lambos Sink In Storm Aboard Burning Ship Felicity Ace
02 Mar 2022
The cargo ship that caught fire in the Atlantic while transporting roughly 4,000 Volkswagen AG vehicles to the U.S. has sunk despite efforts to tow her to safety.
The Felicity Ace sank 220 nautical miles off the coast of Portugal's Azores Islands around 9 a.m. local time on Tuesday after being battered by waves and leaning 45 degrees to its starboard side, the ship's operator said.
"The weather was pretty rough out there," Pat Adamson, a spokesperson for MOL Ship Management (Singapore), a unit of Mitsui OSK Lines Ltd., said by phone. "And then she sank, which was a surprise."
Volkswagen had VW, Porsche, Audi, Bentley and Lamborghini-branded models on the vessel, which was on its way to Rhode Island from Germany's Emden port when the fire broke out on Feb. 16. The blaze is believed to have lasted more than a week after the Panama-flagged ship's crew was evacuated and it was left adrift.
Tug boats and salvage craft accompanying the vehicle are in the area to monitor the situation, Adamson said..
Volkswagen declined to comment on Tuesday. The German carmaker had feared that large numbers of its cars on the vessel would not be salvageable, with brands and dealers notifying customers that the U.S.-bound vehicles likely wouldn't be delivered. Damage to the cars is covered by insurance, the automaker had said last week.
In a projection assuming all vehicles would be lost, the risk-modeling company Russell Group last week estimated that the incident could cost the automaker at least $155 million. Approximately $438 million worth of goods were aboard the ship, $401 million of which were cars.© 2022 Bloomberg L.P. Reference
United Nations bodies call for further action to end seafarer crisis
01 Mar 2022
Four United Nations organizations issued a joint statement on 28 February calling for continued global collaboration to address the crew change crisis that at times during the COVID-19 pandemic has left more than 400,000 seafarers stranded at sea.
In a joint statement issued on 28 February, the International Labour Organization (ILO), the International Maritime Organization (IMO), the United Nations Conference on Trade and Development (UNCTAD) and the World Health Organization (WHO) say new challenges and variants of concern like Omicron threaten to worsen the plight of the world's seafarers, who play a vital role in global trade.
They note that as COVID-19 travel restrictions eased and vaccination rates increased among maritime personnel, the humanitarian crisis at sea showed signs of improvement before the Omicron variant appeared.
According to the Neptune Declaration Crew Change Indicator, which is based on data from 10 major ship managers employing some 90,000 seafarers, the percentage of seafarers on board vessels beyond their contracts decreased from 9 percent in July 2021 to 3.7 percent in December 2021.
But the share bounced back up to 4.2 percent by mid-January 2022. Following Omicron's designation as a "variant of concern" (VOC), many countries quickly reimposed measures such as travel bans that have affected the world's seafarers, most of whom are from developing countries.
Restrictions to fight the spread of the pandemic have meant many seafarers couldn't leave ships. They remained stranded at sea far beyond the expiration of their work contracts and often beyond the default 11-month maximum period of continuous service on board, as required by the Maritime Labour Convention of 2006.
Recognizing the critical role of the maritime sector in keeping trade flowing during the global fight against COVID-19, the four UN organizations call on governments, national and local authorities, and all relevant stakeholders, including employers, to take the 10 point critical actions as per guidelines. Reference
Zero-emission hydrofoil containership unveiled
01 Mar 2022
California-based marine technology startup Boundary Layer Technologies has revealed ARGO — a zero-emissions hydrofoiling containership concept design.
As informed, the company plans to operate these vessels to establish a zero-emission shipping service that can replace air freight along major intra-Asia trade lanes.
The ARGO ship has a gross payload capacity of 200 tons, a range of up to 1,500 nautical miles, and a cruise speed of 40 knots, which is twice that of conventional containerships.
This performance would enable door-door transit times only 15 to 24 hours slower than air freight, but at 50% of the price, according to the company.
ARGO is powered by green hydrogen and fuel cells, which are stored as a liquid inside its two hulls. ARGO can also be applied to replace other transport modes aside from air freight according to Stuart Whiting, Senior Vice President of Global Supply Chain, Logistics & Planning at Schneider Electric.
The speed and price advantages are enabled by the company's proprietary hydrofoil technology which is key to allowing ARGO to travel at 40 knots while using a fraction of the fuel that a conventional ship would need when traveling at the same high speed.
A hydrofoil is a submerged wing device used to lift the hull from the water to reduce drag. The company has already completed development of key pieces of ARGO's technology stack, and is on track to perform full scale sub system tests by the end of 2023. Reference
Oil Tanker Rates Soar for Key Routes on Russian Invasion
01 Mar 2022
The escalating crisis over Ukraine has catapulted the cost of shipping oil by sea.
Freight rates for hauling crude from Russia are surging as sanctions imposed on the country push up the risks of carrying cargoes on those routes, while a scramble for alternative supplies boosts the rates for other passages. Shipowners are offering at least double the last transacted rate to carry so-called ESPO crude from Kozmino, which loads oil from Russia's Far East, to ports in China, according to traders and a shipbroker who asked not to be identified. Shipping costs from Ceyhan, Turkey, to China have also increased.
For U.S. oil voyages, vessel owners are asking for higher prices to send cargoes to the Far East aboard supertankers after doing deals at nearly double the price last week from early this month, according to people familiar with the matter. Typically, supertankers can hold as much as 2 million barrels of crude oil.
Commodity markets have been pitched into turmoil by the Russian invasion, with merchant vessels hit in the Black Sea. Brent crude has topped $100 a barrel, and prices surged again Monday after a fresh raft of sanctions was directed against the Russian central bank and other entities. That's raising the risk of handling the nation's raw materials, while boosting interest for alternatives to Russian oil such as American and Persian Gulf crudes.
Although U.S. oil is considered pricey versus comparable crude from the Middle East, grades from the U.S. Gulf Coast such as Mars Blend are alternatives to Russia's flagship Urals crude, traders said. Other replacements are Iraq's Basrah Medium and Saudi Arabia's Arab Light, while those for ESPO and Sokol include Murban, Arab Extra Light and West Texas Intermediate.
In addition to avoiding Russian crude, buyers are also looking to transport their oil cargoes aboard non-Russian vessels, adding premiums for other tankers, according to people familiar with the matter. Adding to this is the rising cost of ship fuels, also known as bunkers. In the U.S., bunker fuel has skyrocketed to a seven-year high.
Furthermore, ship staffing may be starting to become an issue as Ukrainian citizens have been asked to go back home to help with the war effort, the people said. Reference
BP Abandons $25B In Russian Oil Retreat
28 Feb 2022
BP is abandoning its stake in Russian oil giant Rosneft in an abrupt and costly end to three decades of operating in the energy-rich country, marking the most significant move yet by a Western company in response to Moscow's invasion of Ukraine.
Rosneft accounts for around half of BP's oil and gas reserves and a third of its production and divesting the 19.75% stake will result in charges of up to $25 billion, the British company said, without saying how it plans to extricate itself.
The rapid retreat represents a dramatic exit for BP, the biggest foreign investor in Russia, and puts the spotlight on other Western companies with operations in the country including France's TotalEnergies TTEF.PA and Britain's Shell SHEL.L, amid an escalating crisis between the West and Moscow.
It also underscores growing pressure from Western governments on their companies to curtail operations in Russia as they widen a net of economic sanctions against Moscow.
British Business Secretary Kwasi Kwarteng, who on Friday had expressed "concern" over BP's Rosneft, welcomed the decision.
Rosneft ROSN.MM blamed BP's decision on "unprecedented political pressure," Russian news agencies reported, saying 30 years of successful cooperation had been ruined.
BP said its move and financial hit will not impact its short and long term financial targets within its strategy to shift away from oil and gas to low-carbon fuels and renewables energy.
But Hargreaves Lansdown's Streeter said a write down of this magnitude is "likely to limit the extent to which BP can continue to accelerate its transition towards renewables."
It will take an $11 billion foreign exchange non-cash charge after the exit from Rosneft, which BP will no longer include in its accounts. BP said it also expects a second non-cash charge of up to $14 billion, for the "carrying value" of Rosneft. Reference
Note: All above news items compiled in this digest should be considered as news in brief. For detailed news, please refer to reference link, mentioned with each item.
Share it now