Share it now
Following Stories compiled in this News Digest for the week from 06 Dec 2021 to 12 Dec 2021 in descending order:
India: Business anchorages open up
12 Dec 2021
The game plan of the Ministry of Ports, Shipping and Waterways to develop service hubs for ships in Centre-owned major ports has gained traction with the committee set up to study the proposal submitting its report charting the way forward.
The committee, in its final report, said that the opening-up of the anchorage to ancillary ship services could bring huge benefits to the port, mainly in increasing the number of ship calls.
Citing an instance of the plan's potential, the committee emphasised the introduction of crew change services at the outer anchorage of Cochin Port from April 2020. In the 18 months since, almost 1,000 ships have changed around 15,000 crew at the anchorage of Cochin Port. .
A further attraction of the plan is that there is no requirement for any big change in regulation or any major investment or capital expenditure to be made by these ports. Once procedures are in place, all ports can offer these services without having to set up any major infrastructure and once the port gets established as a services hub, the port stands to gain considerably, he said.
While the benefit to the major ports is not direct, there are many indirect benefits as smooth services will make ship owners and operators who are potential customers aware of the abilities and benefits of the Port. Some indirect benefits will accrue to the port such that ships calling the major port for some other service like repair may choose to take bunkers also as the vessels are stopping over anyway.
There is immense potential for indirect employment generation in the region from hospitality to technical and boat services, besides attracting ship servicing companies to locate in the major port once volumes grow. This would also help shipyards and other ship repair facilities located in and around the major ports to add to their business by service to ships at the anchorage without adding to the congestion in their yards.
Given India's location in the middle of the Indian Ocean with two major East West shipping lanes passing close to the coast, the opening-up of the anchorage to ship services is expected to attract a large number of international ships to these ports, provided they are able to match the other hub ports of the region in quality and reliability of services. Reference
On Human Rights Day, HRAS Calls for Transparency on Seafarer Abuses
11 Dec 2021
On World Human Rights Day, Human Rights at Sea published an independent review chronicling the ongoing humanitarian crisis at sea and the continued violation of seafarers' human and labor rights.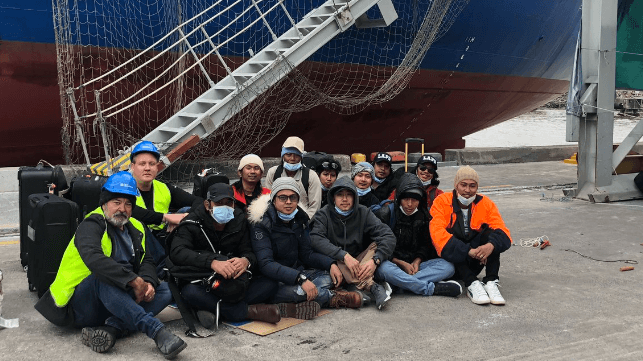 Drawing from 40 publicly accessible reports, articles and documents, this publication recounts the threats to seafarers' rights during the COVID-19 pandemic and highlights 10 areas of abuse.
In particular, the "crew change crisis" saw around 400,000 seafarers stranded on their vessels at its peak in 2020. However, long-term underreporting of abuses in the maritime industry – combined with often ineffective application of existing legislation – has created a systemic threat to the adequate protection of seafarers' rights. This extends beyond the distresses witnessed during the early stages of the pandemic.
According to HRAS, the seafarers' rights issues that came to public attention during the pandemic were not caused by COVID-19 disruption. They had already existed for many years, left to grow unchecked thanks to "ineffective application of legislation and existing maritime industry governance, including the structure and exerted influence by flag state authorities within UN agencies."
In its report, Human Rights at Sea make three key recommendations to better protect seafarers and their families: increased public transparency of cases, better media profiling, and the exposure of known abusers for increased deterrent effect.
"As supply chains keep moving, the stamping on seafarers' fundamental rights quietly continues unabated as evidenced through international reporting. What is occurring behind the scenes can only be extrapolated from the limited cases which make it to the public's awareness, compounded by a top-down unwillingness and IMO policy not to expose abusers for an embedded fear of tainting reputations and upsetting states," said David Hammond, CEO of HRAS. Reference
UAE signs MoU with Panama to enhance capabilities of seafarers
11 Dec 2021
The Ministry of Energy and Infrastructure of the UAE signed a Memorandum of Understanding (MoU) with the Panama Maritime Authority (AMP) at IMO premises in London, for a period of five years, in order to ensure improved training for seafarers, recognition of certificates at the end of both the parties, and better watchkeeping for seafarers on an international level.
As part of the MoU, the UAE Ministry of Energy and Infrastructure and the Panama Maritime Authority will enable seafarers who hold the certificates of competency and proficiency to serve onboard vessels registered under the flag of either parties. The agreement aims to establish measures to ensure that seafarers are educated with appropriate knowledge of the maritime legislation, and are given training about the maritime laws and regulations to ensure that they acquire the required capabilities for the functions they are permitted to perform. Moreover, the MoU will ensure that both parties communicate their seafarer certification systems to the IMO for its review and confirmation, in order to demonstrate full compliance with the provision of the 1978 STCW Convention.
Hessa Al Malek, Advisor to the Minister for Maritime Transport Affairs, UAE Ministry of Energy and Infrastructure said, "Seafarers are at the heart of our industry and are the drivers of the global supply chain. It is our duty to ensure that we work towards their welfare. As agreed with the Panama Maritime Authority, not only will the certificates of our seafarers issued by either of us be recognised for near-costal voyages, we will also work towards strengthening the technical and administrative capabilities regarding certifications, trainings, watchkeeping, and labour maritime affairs of our seafarers."
Mohammed Khamis Al Kaabi, UAE Permanent Representative at the IMO said, "The UAE has always been at the forefront of ensuring the progress of the maritime sector while also ensuring the welfare of our seafarers.
As a result of our collaboration with the Panama Maritime Authority, we look forward to providing better training to our seafarers, along with improved facilities, and more recognized certification for their nature of work. As part of our agreement, we will be communicating with each other regarding our training and certification procedures. This will allow us to learn from one another, and also discuss better ways to enhance theoretical and practical knowledge of our seafarers." Reference
IMO Award for exceptional bravery at sea to Indian Navy, ICG and Master along with crew of tugboat Ocean Bliss10
10 Dec 2021
In order to internationally recognise extraordinary seamanship skills and outstanding courage displayed by individuals at sea, International Maritime Organization (IMO) award for exceptional bravery at sea is conferred annually to individuals or groups who, at the risk to their own lives, perform acts of exceptional bravery in attempting to save life at sea or in attempting to prevent or mitigate damage to the marine environment.
This year, IMO council awarded Certificate of Commendation to Indian Navy, Indian Coast Guard and Master along with crew members of tugboat Ocean Bliss for exceptional and courageous efforts towards rescue operation of M/T New Diamond, which caught fire and was drifting towards the coast, laden with inflammable cargo. The rescue team members of the Indian Navy, Indian Coast Guard and the master and crew of tugboat Ocean Bliss, carried out sustained and effective fire- fighting operations and skilfully towed the vessel away from the coast, thereby preventing loss of life at sea and averted a serious marine pollution incident. Reference
Maersk unveils revolutionary new boxship design
10 Dec 2021
Looking more like a livestock carrier than a boxship, Maersk yesterday unveiled its brand new design for its next generation of green ships.
Intended to sail on green methanol with 16,000 teu of capacity, 350 m in length and a new look for container vessels, Maersk's groundbreaking new series of eight ships will deliver from Hyundai Heavy Industries in 2024.
The design allows a 20% improved energy efficiency per transported container, when comparing to the industry average for vessels in this size, Maersk claimed yesterday. Additionally, the entire series is expected to save around 1m tons of annual CO2 emissions, offering customers carbon-neutral transportation at scale on ocean trades.
The crew accommodation and bridge will be located at the bow to enable increased container capacity.
New arrangements for lifeboats and navigational lights have been developed, plus new cameras to support the captain's view when navigating.
The funnel will be in the aft, and only on one side of the vessel, thereby providing further space for cargo. This separation between accommodation and funnel will improve efficiency when at the port, Maersk suggested.
The series, classed by ABS, comes with a dual-fuel engine setup that can operate on methanol and conventional low-sulphur fuel. Reference
US House passes Ocean Shipping Reform Act
10 Dec 2021
On 8 December, the US House of Representatives passed the Ocean Shipping Reform Act that will address the ongoing supply chain crisis.
This bill is the first major overhaul of federal regulations for the global shipping industry in over 30 years and was sponsored by US Representatives Dusty Johnson (R-S.D.) and John Garamendi (D-CA).
It will provide "critical" updates to the international maritime transportation system, which has been severely impacted by COVID-19.
As explained, the act aims to "ensure a more competitive global ocean shipping industry, protect American businesses and consumers from price gouging, and establish reciprocal trade opportunities to reduce the United States' longstanding trade imbalance with export-driven countries like China".
The bipartisan legislation passed by the US House of Representatives now heads to the United States Senate for consideration.
The act is supported by more than 360 national, state and local groups and businesses. Johnson and Garamendi introduced the bill in August following months of severe supply chain delays and anti-competitive and unfair practices on behalf of foreign-flagged ocean carriers.
World Shipping Council criticizes the bill
"The House today (8 Dec) passed HR 4996 without proper debate or committee process. The bill is a political statement of frustration with supply chain challenges – frustrations that ocean carriers share," the World Shipping Council (WSC) pointed out.
"The problem is that the bill is not designed to fix the end-to-end supply chain congestion that the world is experiencing, and it will not and cannot fix that congestion."
WSC said it will continue to work with the Congress to seek "real solutions" that further strengthen the ocean transportation system. Reference
IMO International Maritime Prize awarded to Mr. Paul Sadler
09 Dec 2021
Mr. Paul Sadler awarded the International Maritime Prize for 2020 at IMO Awards ceremony.
Mr. Paul Sadler, former representative of the International Association of Classification Societies (IACS), and prior to that representative of the Government of the United Kingdom to IMO, has received the prestigious International Maritime Prize for 2020.
The prize was presented at the annual IMO Awards Ceremony held on 6 December in London and streamed online. The event also honoured exceptional bravery at sea. IACS and the Government of the United Kingdom of Great Britain and Northern Ireland nominated Mr. Sadler for the prize, which is awarded annually to the individual or organization judged to have made a significant contribution to the work and objectives of IMO.
"The International Maritime Prize was first presented in 1981 and, since then, we have seen a succession of highly distinguished people receive the award, from across the world," IMO Secretary-General Kitack Lim said. "The recipient of the 2020 International Maritime Prize is someone who has spent many days here in the IMO corridors and has dedicated his entire career to shipping safety and the maritime industry. Mr. Sadler, Paul, you are truly a worthy recipient of the International Maritime Prize."
Mr. Sadler has had an illustrious maritime career, during which he served as a surveyor for the UK Maritime and Coastguard Agency, represented the United Kingdom, then later IACS at IMO meetings and acted as a Governor of the World Maritime University (WMU). During this time, he built a reputation as an individual dedicated to ship safety.
He has voluntarily delivered academic lectures to students and maritime industry organisations in the UK and overseas on the IMO and the roles of classification societies and recognized organizations. Mr. Sadler's work at IMO and his advocacy for robust, pragmatic, and effective maritime regulation was recognized with a Distinguished Public Service Award, awarded by the United States Coast Guard in 2017.
Accepting his award, Mr. Sadler said, "I firmly believe I am only receiving this award because of all the talented, inspiring, and dedicated people I had the good fortune of working with; not just in the UK's Maritime and Coastguard Agency and IACS, but also here at the IMO.
Addressing the audience, which included representatives from Member States, he added, "I believe it is not just that the IMO is needed to facilitate global trade that spurs you, year after year, to prepare carefully for and actively participate in IMO meetings. It is also that, when you go home to your loved ones after an IMO meeting, you know you have played a vital role in getting all those who 'go down to the sea in ships' safely home to their loved ones."
Mr. Sadler was presented with his award in the form of a dolphin sculpture. Reference
Belgium Begins Booster Vaccine Campaign For Seafarers
09 Dec 2021
Following the inoculation of foreign and Belgian seafarers since June, Belgium is once again spearheading a booster vaccine campaign for these maritime workers starting 7 December.
"The booster vaccine campaign is important because seafarers spend long days at sea in closed groups. A COVID-19 outbreak on board presents a serious risk. Above all, many of the seafarers come from countries where vaccines are not fully available for them," said Belgian Deputy Prime Minister and Minister for the North Sea, Vincent Van Quickenborne.
Since the start of the seafarer vaccination campaign in June, a total of 1113 Belgian seafarers and 8658 international seafarers have received their shots.
As one of the first countries to have started the booster vaccine campaign for seafarers, Belgium once again showcases the importance it places on the shipping sector by going boldly beyond for the safeguard and growth of international maritime trade.
Source: Royal Belgian Shipowners' Association. Reference
USCG Says Sexual Assault Offenders Will Be Held Accountable
09 Dec 2021
The U.S. Coast Guard on Tuesday issued a statement expressing its commitment to crack down on sexual assault offenders in the maritime industry.
The statement comes as the Coast Guard, U.S. Department of Transportation's Maritime Administration (MARAD) and lawmakers grappled with a raft of new sexual assault and harassment allegations revealed online by current and former cadets at America's federal and state maritime academies. The U.S. Merchant Marine Academy (USMMA) recently suspended at-sea training after a midshipman came forward in the fall and described being raped while training on a U.S.-flagged Maersk containership.
The Coast Guard's recent statement is published in full below:
Since its founding in 1790, the United States Coast Guard has protected the welfare of mariners. Today, that commitment encompasses not only threats from the sea, but also from those who commit crimes upon it.
"Mariners have the right to work in a professional setting that is free from the threat of sexual offenses," said Rear Admiral John Mauger, Coast Guard Assistant Commandant for Prevention Policy. "Sexual assault is a crime. When it happens aboard a U.S. vessel it must be reported to the Coast Guard. Trained Coast Guard investigators will respond and we will hold offenders accountable."
Prevention begins as soon as a mariner seeks a credential to sail on a U.S.-flagged vessel. The Coast Guard merchant mariner credentialing application process restricts convicted sex offenders from obtaining a credential, regardless of whether the underlying crime occurred aboard a vessel.
The Coast Guard stands ready to investigate each report or tip alleging that a credentialed mariner committed a sexual assault. The Coast Guard Investigative Service (CGIS) will initiate an investigation and gather additional information for all reports of sexual assault, or other crimes at sea. Coast Guard investigators work alongside Coast Guard attorneys to ensure they gather sufficient evidence to refer the case to the Department of Justice for potential prosecution. Moreover, the Coast Guard has the authority to investigate and take enforcement action against the mariner's credential to preclude the mariner from serving as a Coast Guard-credentialed commercial mariner.
"Coast Guard investigators follow all available leads," said Michael Berkow, Coast Guard Investigative Service Director. "But too often sex crimes are not reported. We encourage victims and witnesses of assault to reach out to the Coast Guard, CGIS, or local authorities to ensure the allegations are investigated."
To facilitate timely reporting, CGIS employs a mobile app called CGIS Tips. Individuals can anonymously communicate with an agent via the app while also having the ability to upload images and additional information directly from a smart phone or computer.
The app interfaces with federal, state, and local agencies to facilitate timely information sharing. The Coast Guard receives an average of 15-20 tips per month, many of which have led to further criminal action. Reports may also be made on the Coast Guard Investigative Service website, through the Tip Form, or by contacting any CGIS regional office.
Shipboard climates, which are tolerant of assaults, undermine mariner welfare and maritime safety. Everyone has a duty to look out for their shipmates by creating a safe and respectful climate aboard. Reference
Alfa Laval gets the industry's first AIP for firing boilers with methanol
08 Dec 2021
Maritime classification society the American Bureau of Shipping (ABS) has granted Alfa Laval the first marine approval for operating boilers on methanol. Alfa Laval received an approval in principle (AIP) on 4 November 2021, based on extensive solution testing at the Alfa Laval Test & Training Centre.
Taking methanol beyond the main engines
Methanol, which is liquid at ambient temperatures and carbon-neutral if produced from green sources, is the next likely fuel step in decarbonizing the marine industry. While methanol can be found on a handful of vessels and is planned for many more, its use has so far been limited to main engines. In the future, methanol operations will need to extend to boilers.
"Alfa Laval is looking at the full scope of methanol's influence on board," says Lars Skytte Jørgensen, Vice President Technology Development, Energy Systems, Alfa Laval Marine Division. "The most natural choice for boilers is to fire them with the vessel's primary fuel, but methanol's low-flashpoint nature and the differences in its energy density require a new approach to the burner and fuel supply systems. It was important for us to develop that approach, and we are proud to have it validated by ABS."
Methanol boiler testing and approval in principle from ABS
Alfa Laval has been testing boiler operations with methanol since early 2021 at the Alfa Laval Test & Training Centre, where engine combustion tests with methanol are also underway. Tests have been conducted using a pressure-atomizing MultiFlame burner on an Alfa Laval Aalborg OS-TCi boiler, as well as a methanol valve unit (MVU) designed by Alfa Laval to meet the class requirements from ABS.
Initial results, obtained with both pure methanol and a methanol-water mixture, showed as expected that methanol is easy to ignite and results in very low emissions. Focus was therefore placed on securing the same steam output with methanol – despite its lower heat value – as would be the case using oil or gas as fuel. A solution was reached after a few adaptations, ensuing that a boiler of a given size can produce the same amount of steam regardless which fuel is used. This meant that development could move rapidly to optimizing the fuel supply system and working with ABS on the methanol AIP. Reference
USA: NTSB's Report on Dredger Fire and Explosion – 10 Safety Recommendations Issued
08 Dec 2021
According to the NTSB, Enterprise Products' pipeline TX219 was struck by the Waymon Boyd's rotating cutterhead, causing a breach in the line that allowed propane to escape and form a gas cloud that surrounded the dredge. Although the Waymon Boyd leverman attempted to swing the dredge away from the geyser of water that was carried with the escaping propane, the vessel was less than 200 feet away from the pipeline breach, and the expanding gas cloud enveloped it, the NTSB said.
Investigators concluded that propane gas released from the pipeline was drawn into the Waymon Boyd's engine room by the ventilation fans and was ignited, causing the explosion.
The NTSB determined the probable cause of the accident was Orion Marine Group's inadequate planning and risk management processes, which failed to identify the proximity of their dredging operation to Enterprise Products' pipeline TX219 and resulted in the absence of effective controls to prevent the dredge's cutterhead from striking the pipeline. Contributing to the accident were deficient dredging plans provided by Schneider Engineering and Consulting, which resulted in incomplete and inaccurate information communicated to Enterprise Products by Orion Marine Group during the one-call (call before you dig) process, which resulted in insufficient measures to protect the pipeline from excavation damage.
The NTSB identified a number of safety issues, including inadequate project planning and risk assessment, pipeline damage prevention, and pipeline hazard training.
As a result of the investigation, the NTSB issued three recommendations to the Pipeline and Hazardous Materials Safety Administration, one to Coastal and Marine Operators, two to Coastal and Marine Operators and the Council for Dredging and Marine Construction Safety, three to Orion Group Holdings and one to Enterprise Products.
The safety recommendations seek for the companies involved in the accident to implement or update policies and procedures for dredging near pipelines, and for a federal regulator and industry organizations to develop additional guidance and training specific to pipeline protection for marine dredging projects and to establish tolerance zone guidance for marine construction and dredging projects near pipelines.
"We have seen time and time again that tragedies happen when parties fail to have the appropriate policies and procedures in place for safety," said Chair Jennifer Homendy. "Orion Marine Group's inadequate planning led to this tragic event and cost lives. It is absolutely critical that when excavators conduct any dredging operations near underwater pipelines that proper precautions are in place to ensure safety.". Reference
DNV warns of safety risks from new fuels and digital technologies
07 Dec 2021
Shipping has seen a significant improvement in safety over the past decade as higher standards of ship construction and operation have cut the number of casualties, but emerging risks from new fuels and digital technologies must be mitigated to maintain progress, according to DNV.
Earlier this year, DNV warned of an emerging "safety gap" as the dual forces of decarbonisation and digitalisation present new hazards from alternative fuel technologies, such as fire and explosion risk, and issues like data security and increasingly complex digital systems.
"There can be no trade-off between safety and sustainability. As shipping pursues a path towards decarbonisation, this will require a rethink of risk management with a renewed focus on human and organisational factors to ensure safety remains at the core of the development of new fuel systems and digitalized ways of working," Ørbeck-Nilssen continued.
Around one-third of 21,746 casualties over the 10-year period occurred with vessels aged over 25 years, with older general cargo carriers and passenger vessels accounting for the highest number of casualty incidents.
Nearly half (48%) of total casualties were due to hull and machinery (H&M) damage – with machinery issues being the main cause as hull damage accounted for only 5% – and there was a surprising increase in such incidents involving vessels between 10 and 14 years of age.
In the report, Marianne Strand Valderhaug, DNV Maritime Class director for technical support, said "the prevalence of H&M issues in the statistics remains a cause for concern".
Valderhaug highlights DNV's new Operational Reliability class notation designed to tackle the high number of machinery failures and reduce the risk of blackout by minimising functional failures in propulsion, steering, electrical power and manoeuvrability.
"The major challenge is to close the safety gap emerging from cyber threats, new technologies and new fuels. Mitigation of these risks will be vital going forward to realise the enormous potential benefits of digital and low-carbon fuel technologies for safety, efficiency and sustainability towards a goal of continuous improvement," added Ørbeck-Nilssen.
"This will require a collaborative industry effort between class, shipowners, suppliers, charterers and other stakeholders to develop holistic and human-centric solutions that support the end-user.
"The welfare of seafarers and the environment must remain central to safe and sustainable ship operations to ensure incident figures remain on a downward trend. There is no room for complacency." Reference
Vaccination offered to all seafarers on Panama-flagged vessels
07 Dec 2021
Panama President Laurentino Cortizo has announced all seafarers aboard Panama-flagged vessels will be able to be vaccinated when they dock in Panama regardless of their nationality.
Some 300,000 doses of Covid-19 vaccine are already available to start the process.
The seafarers willing to receive the vaccine AstraZeneca, will need only to co-ordinate through the company's local agent local in Panama who will inform the Panama Maritime Authority and the Ministry of Health.
"The ships are important, but the seafarers are even more important because without them the ships will not move, and we are very happy to be able to provide vaccines for the "key workers" of the Panamanian fleet," said Capt Juan Maltez, head of the Panama Maritime Authority Department of Seafarers.
Seafarer vaccination lags significantly behind that of developed nations where booster shot programmes are already being rolled out. Neptune Declaration Crew Change Indicator puts seafarer vaccination coverage at 49.5% at the beginning of December, however, given the leading nature of the companies in the survey the overall industry percentage could be lower.
Speaking at Crew Connect Global Virtual Week recently Capt Faouzi Fradi, Group Director, Crewing and Training for Colombia Ship Management, flagged key waterways such as the Panama Canal, Turkish Straits and Suez Canal as locations where vaccinations for seafarers could be increased due to the large number of ships that pass through these regions. Reference
KOTUG runs first Mates-to-Masters Courses in Australia using tug simulators
07 Dec 2021
KOTUG has run its first simulator-based harbour towage Mates-to-Masters Courses in Australia, so that mates can practice manoeuvres before progressing to on-the-water training. The training was carried out using our world-class tug simulators.
The first two Mates-to-Masters simulation-based training courses were run at our Australia Ship Simulation Centre in Fremantle, Western Australia in association with KOTUG, which manages and operates nine tugs in the Port of Port Hedland, Western Australia. It was the first time KOTUG had held Mates-to-Masters courses in Australia, following obtaining full operational management of Pilbara Marine's towage operation in the Port in August 2021.
As part of KOTUG's ongoing development of crews for the ART 85-32W class Rotortug®, the programme trains existing mates operating on the tugs to become masters. The trainees spent the first eight days of the course familiarising themselves with the handling of the realistic tug manoeuvring model, created by HR Wallingford's naval architects and verified by the KOTUG training masters.
The simulation training provided the opportunity for the mates to develop their tug handling skills from performing basic manoeuvres in open water, to escort towage and assisting with complex ship movements within the port. The trainees were also able to experience realistic ship-to-tug interaction effects, as well as tug wash, in practical simulation exercises.
After the simulation element, the trainees will move onto 10 weeks of on-the-water training under the supervision of KOTUG's world-class training masters. All of the simulator-based exercises will be repeated during the on-the-water training, along with ongoing competency assessments throughout the training utilising KOTUG's electronic training app.
KOTUG training master, David Limpert, explained: "KOTUG and HR Wallingford worked together to create useful training aids within the simulation system and visual scene for the mates to hone their skills, using the extremely realistic tug manoeuvring model." Reference
Ilonggo's paintings give a glimpse of Filipinos' life at sea
06 Dec 2021
The idea of a life at sea can be an invitation to adventure for many. Sailing on the high waves, feeling the cool salted breeze on your face, and the prospect of gallivanting on different places is a quest not all can experience. But for Filipino maritime workers, it means bidding farewell to their family and other loved ones as they brave the oceans to support the people they'll be leaving behind. On the ship, homesickness is the main challenge to overcome. That's why busying themselves while off-duty is a must to keep the sadness at bay.
For Ilonggo marine engineer Joar Songcuya, getting his hands on colors and canvases has been a way for him to cope with his nautical life and an avenue for him to get really in touch with the artist within him..
"Since 2011, I started converting my cabin space or my ship bedroom into an art studio," he says. "My engineering job was really physically demanding but having this art space, making a room for creating art, had made things a little lighter and bearable… I was getting so serious about my art practice that I started to carry rolled canvas cloth aboard my ship assignments. I think I have painted over a hundred paintings and drawings during these sailing years. But most of my paintings are not publicized, or shown in any galleries."
But that is about to change now with his works being featured at Visayas Islands Visual Arts Exhibition and Conference 2021 (VIVA ExCon 2021), a Visayas-wide biennale. With this year's theme "Kalibutan: The World in Mind," Joar, with the help of historian, art critic, and University of the Philippines professor, and curator Dr. Patrick D. Flores, presents his exhibit "Atlantiko, Pasipiko, Artiko."
Chronicling his journey sailing three of the world's most prominent bodies of water, the Pacific, the Atlantic, and the Arctic, the exhibit serves as a "window to the waterworld—the world of men and women at sea."
"I must say I am not a sailor who became a painter or an artist after 10 years of being at sea. I think I was already a painter or an artist back then who happens to be a sailor," Joar says. "We all are artists in different expressions, whether you are educated or self-taught, or you are widely exhibited or not at all. This human drive to create something, to create an output serves as a testament to the very existence of mankind under this one small planet.". Reference
Note: All above news items compiled in this digest should be considered as news in brief. For detailed news, please refer to reference link, mentioned with each item.
Share it now