Share it now
Indian Coast Guard carries out beach cleaning as part of Swachh Sagar Abhiyan
18 Sep 2022
The Indian Coast Guard (ICG) cleaned beaches at 75 locations across the country on September 17 as part of the International Coastal Cleanup Day and 'Swachh Sagar Abhiyan'.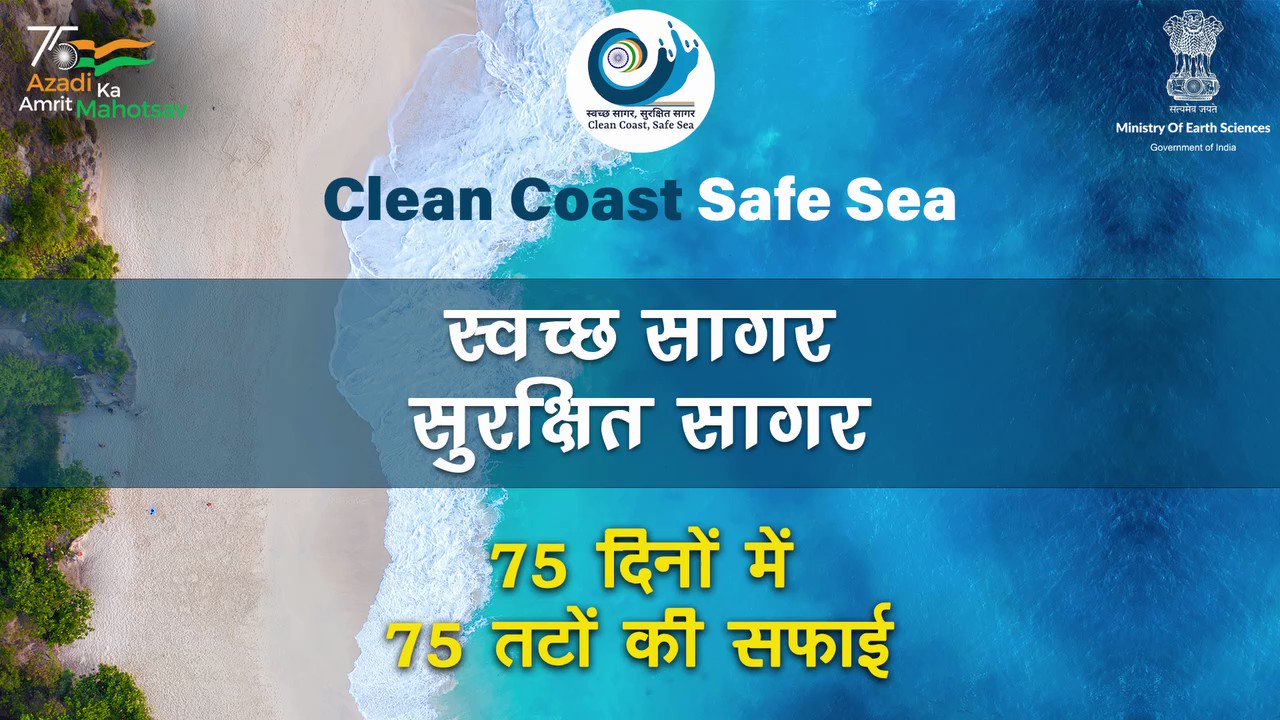 The initiative was part of 'Azadi Ka Amrit Mahotsav', marking 75 years of India's independence. The ICG, among several other roles, is responsible for taking measures necessary to preserve and protect the maritime environment.
The ICG also makes an effort to prevent and control marine pollution in the maritime zones of India.
The International Coastal Clean-up Day (ICC) is observed worldwide on the third Saturday of September, and the ICG has led this campaign in India since 2006.
The International Coastal Clean-up Day 2022 became a watershed moment, smashing all previous attendance and geographical coverage records.
The cleaning campaigns at 75 beaches along our country's 7500-kilometer coastline aimed to change societal behaviour toward pollution caused by plastics.
The ICG's efforts this year were to align with the flagship programme of the Ministry of Earth Sciences, 'Swachh Sagar-Surakshit Sagar.'
Cadets from the National Cadet Corps (NCC) also took part in large numbers across the country, as they are essential in steering the 'Puneet Sagar Abhiyan,' which aims to change societal attitudes toward the use of plastic products. Reference
India: PM Modi launches National Logistics Policy
18 Sep 2022
Prime Minister Narendra Modi on Saturday launched the National Logistics Policy (NLP) that aims to bring down the high logistics costs in the country. Speaking at the launch programme, he said it was an "important step towards the making of a developed India". He further called the policy a "solution for many problems", and said that it would lead to improvements of "all our systems".
"In the Amrit Kaal, the country has taken an important step towards the making of a developed India. The echo of Make in India and India becoming self-reliant is everywhere. India is setting big export targets and is also fulfilling them. India is emerging as a manufacturing hub. In such a situation, the National Logistics Policy has brought new energy for all sectors," Modi said.
He further said, "India is emerging as a manufacturing hub. The world has accepted India as a leader in manufacturing. The National Logistics Policy has helped the manufacturing sector."
According to the Prime Minister's Office (PMO), the need for a national policy was felt since the logistics cost in India is high compared to other developed economies. The policy reduces the logistics cost in the country for improving the competitiveness of Indian goods both in domestic as well as export markets.
The policy endeavors to improve the competitiveness of Indian goods, enhancing economic growth and increasing employment opportunities. According to the PMO, PM GatiShakti – the national master plan for multi-modal connectivity – will get further boost and complementarity with the launch of NLP.
India spends around 13 to 14 percent of the GDP on logistics costs, reported news agency ANI. According to the World Bank Logistics Index of 2018, India is ranked 44th in logistics costs. Reference
Second cohort of maritime women join leadership programme
17 Sep 2022
The second cohort of future female leaders* have joined the Leadership Accelerator Programme (LEAP) run by Maritime SheEO. IMO is again sponsoring twenty students, under its Women In Maritime programme. The course is designed to equip women with leadership skills and the confidence to progress in their careers. The course launched on 15 September 2022 and will run for a period of eight weeks. Students will complete a wide range of modules on building professional networks, strategic thinking, persuasive communication and more. The first batch of students graduated on 30 June 2022.
Students taking part are from the following countries: Algeria, Cameroon, Chile, Djibouti, Dominican Republic (the), Ghana, Guyana, Jamaica, Kenya, Malaysia, Mauritius, Nigeria, Saudi Arabia, Seychelles, Timor-Leste, Tonga, Tunisia, Zambia, and Zimbabwe.  Reference
New LNG carrier design eliminates methane slip
17 Sep 2022
Siemens Energy, Moss Maritime, DNV and Fearnleys have developed an LNG vessel design that will be powered by a hybrid combined-cycle power and propulsion plant.
Under the concept, many engine components, including the main engines can be removed from the ship. The backbone of the vessel's hybrid combined-cycle, power and propulsion plant is an SGT 400 gas turbine in combination with the heat recovery steam generator, steam turbine, the BlueVault energy storage solution for the electrical propulsion and distribution system.
As disclosed, the plant burns fuel in an efficient manner producing low levels of nitrogen oxide and practically no methane slip.
Due to the reduced number of components, less time and effort would be needed for the construction process, and there is more space for cargo.
DNV said that its studies have found that the Ocean Green system would result in an equivalent CO2 reduction of approximately 11-18% and reduce the unit freight cost by approximately 9-17% compared to today's LNG carriers and their current market operational profiles.
The challenge with LNG lies in the occurrence of the 'methane slip', the unburned fuel emitted from dual fuel internal combustion engines on ships, as well as the methane leakage that happens throughout the LNG supply chain. Various studies have pointed out that these spillages result in higher well-to-wake (WTW) CO2e emissions from ships using LNG compared with conventional marine fuels. Reference
Hundreds of seafarers still stuck in Ukraine despite grains corridor
16 Sep 2022
Around 82 ships with 418 seafarers remain stuck around Ukrainian ports despite the opening of a U.N.-backed sea corridor to ship grains with efforts to get the mariners sailing still stuck, shipping industry officials said on Thursday.
The agreement reached in July, creating a protected sea transit corridor, was designed to alleviate global food shortages, with Ukraine's customers including some of the world's poorest countries.
However, the initiative only involved dry bulk ships around three Ukrainian ports with dozens of other vessels including oil tankers not able to access the corridor and awaiting approval to leave while waterways remain controlled by Russia and other ports are blocked by Ukraine.
According to analysis by the International Chamber of Shipping (ICS) six ships, which had been stuck since Moscow's Feb. 24 invasion of Ukraine, had been able to leave Ukraine before the corridor was announced in July.
At the start of the conflict in late February approximately 2,000 seafarers from all over the world were stranded aboard up to 94 vessels in Ukrainian ports.
Grimaldi said the ICS, which represents over 80% of the world's merchant fleet, had discussions this week with U.N. shipping agency the International Maritime Organization (IMO) to speed up matters. Reference
Piracy: German freighter attacked, looted
16 Sep 2022
Maritime security company Ambrey reported piracy attack at Conakry Anchorage, Guinea, which occurred early in the morning Sep 14. Three pirates armed with firearms boarded German general cargo ship MARTINA, anchored some 16 nm south of Conakry, from a boat, crew managed to muster in citadel, so no crew were injured or kidnapped. Pirates looted the ship and, understood, fled, unhampered. Shortly after attack, MARTINA heaved anchor and left anchorage, moving further of to sea. As of 1515 UTC Sep 15, the ship was either drifting, or anchored, 65 nm west of Conakry. Reference
Training Goes Virtual
16 Sep 2022
The growing acceptance of online learning has been a boon for everyone, but not everything can be taught remotely.
Maritime education is evolving with changes in technology, and the transition has accelerated since the beginning of the pandemic. Many more courses are now available online including much of the STCW certificate coursework that seafarers need for licensing.
Classes that require an element of hands-on work can now be found in a "hybrid" or "blended" format with the practical elements conducted in-person and written instructions delivered electronically. Even basic simulation can be conducted remotely using virtual reality headsets, and the student can be thousands of miles away from the instructor.
In order to keep the industry moving, many flag states expanded the allowable scope of remote delivery for STCW coursework. Flag administrations approved more partially-online "blended trainings" and – for the first time ever – allowed remotely-proctored written exams. The green light from regulators reflects growing acceptance of an online delivery model though much of the hands-on coursework and the practical evaluations for mariners must still be done in person.
Beyond COVID safety, remote learning has advantages for both the mariner and shipowner. When attending class online, there's no need to buy an airline ticket to an academy or pay for a hotel stay during the course. Online training can even be completed during off-hours on board, giving the mariner more time off between hitches.
Many expect that virtual reality and augmented reality (VR/AR) technology will democratize simulation and make it practical for remote learning programs. Off-the-shelf VR goggles create a reasonably realistic bridge experience for just $200 in equipment, and for some applications this level of fidelity is enough.
Traditional in-person learning still has a big role to play, especially now that pandemic restrictions have lifted and some academies are expanding their campuses and course catalogues. Reference
AMC Search to launch autonomous vessel training program
15 Sep 2022
AMC Search, the training division of the Australian Maritime College, is developing a course to prepare mates and masters for the transition to autonomous shipping.
In a paper published on Tuesday, AMC Search posed the question of what seafarers will need to do to evolve with the advancing maritime industry.
It forecast significant changes over the next decade as autonomous and remotely operated vessels are integrated into the industry, however expects most changes to be procedural and regulatory.
The International Maritime Organization has reportedly committed to developing a MASS Code which will include training requirements, but the code is not expected to come into force for at least six years.
According to AMC Search, remote vessel operators will require skills in computer networking, data communication and transfer, data analysis and management, proportional-integral-derivative (PID) controls and theory and science of autonomous maritime systems. Reference
New Innovation Makes Maritime Simulation Accessible to Everyone
15 Sep 2022
VSTEP announces the release of their new maritime simulator NAUTIS Home in the last quarter of 2022. With NAUTIS Home, VSTEP aims to enable both maritime professionals and enthusiasts to experience realistic ship simulation from home, onboard or anywhere else.
Until now, professional maritime simulation was mostly accessible with large simulators at training locations or through companies and schools. "At VSTEP, it is our primary goal to enable learning by simulation," says Fabian van den Berg, Chief Executive Officer of VSTEP. On-premises maritime simulators are crucial in facilitating the right maritime education.
In the past 20 years, VSTEP has dedicated itself to working towards a safer world. They do this by developing innovative simulation solutions making maritime training available in an efficient, cost-effective, and sustainable way. With their broad range of NAUTIS simulation-based training systems, VSTEP can deliver simulation solutions fitting with the training needs of maritime training centers, schools, and fleet owners.
Combined with other factors such as travel time to on-premises simulators, travel costs and COVID-19 restrictions, a demand arose in the market for a scalable and non-location bound simulation solution.
VSTEP's vision is to ensure that simulation-based learning becomes a vital part of maritime education and training by making ship simulation accessible to everyone in the maritime industry. To achieve this, VSTEP expands their current NAUTIS portfolio with the new stand-alone ship simulator solution NAUTIS Home, designed and built by industry professionals.
NAUTIS Home brings realistic ship simulation to everyone. With nothing more than a PC with a 3D graphics card, one can take the wheel and start exploring. NAUTIS Home will contain standardized content for individual sailing, training and assessment focused on basic navigation and maneuvering. Users will be able to navigate realistic environments, such as Rotterdam, Hong Kong and New York, and sail with a variety of vessel types. Reference
IMO-Cares Project Reaches Its Final Stages
14 Sep 2022
The foundation phase of a project to bring stakeholders together from the global north and global south to tackle maritime emissions is moving towards its final stages, following a series of technical workshops across the Caribbean, Africa and the Pacific. IMO Coordinated Actions to Reduce Emissions from Shipping (IMO CARES) will support coordination to accelerate demonstration of green technologies and their deployment globally in a manner that facilitates blue economic growth in developing regions.
The preparatory phase of IMO CARES is funded by the Kingdom of Saudi Arabia and undertakes all the preparatory activities to develop and design a sustainable global CARES programme, which is expected to be a long-term initiative.
As part of the foundation phase, workshops were organized between June and August in collaboration with Maritime Technology Cooperation Centers for Caribbean, Africa and Pacific, part of a global network of MTCCs. Gathering feedback from stakeholders in the respective regions was a major step towards the establishment of a multi-stakeholder coalition with a view to the launch of the full IMO CARES Programme in 2023.
Building on from the success of the workshops, meetings were undertaken with R&D Centres, International financial institutions, UN agencies and others to identify their needs and how stakeholders might collaborate under an IMO CARES framework.  Reference
Bangladesh exports its largest ever container ship to UK
14 Sep 2022
Bangladesh, on September 13, 2022 exported a locally built 6100-ton load capacity high-speed multipurpose container ship to the UK.
This is the largest container ship built in the country that has been exported, according to the ship's builder.
Ananda Shipyard, a Bangladeshi shipbuilding company, has built the ship as per the requirements of UK-based Enzian Shipping Company Ltd.
Read: Foreign investors urged to expand businesses in Bangladesh
The vessel was officially handed over today through a ceremony held at InterContinental Dhaka. State Minister for Shipping Khalid Mahmud Chowdhury was present as the chief guest at the function. Reference
Cargo ship engineer gets one year in prison for dumping oil in ocean
14 Sep 2022
A cargo ship engineer has been sentenced to one year in federal prison for intentionally dumping oil into the ocean.
Cell phone video of the illegal activity was recorded by a whistleblower crew member, who is now set to receive more than a half million dollars for reporting the incident.
The video showed oil-contaminated bilge water being illegally pumped through a hose into a sewage tank onboard the ship.  The oily water was then dumped into the ocean while the bulk cargo ship, named Longshore, was on the high seas.
The whistleblower recorded the video at the end of 2021 and turned it over the U.S. Coast Guard when the Longshore made port in San Diego, according to federal prosecutors.
The ship's chief engineer, Dennis Plasabas, and the company managing the ship, New Trade Ship Management based in Greece, both pleaded guilty in August to falsifying records related to the oil dumping at sea.
Last week, Plasabas, 48, was sentenced to a year in prison. He remains free on bond in San Diego, where he will self-surrender in six weeks, according to Assistant U.S. Attorney Melanie Pierson.
New Trade Ship Management was ordered to pay a fine of $1.1 million.
Half of the fine will go to the whistleblower crew member who recorded the video and turned it over to authorities, Pierson said. Reference
Singapore named global premier port
13 Sep 2022
The Port of Singapore has won as "Best Global Seaport" at the 2022 Asian Freight, Logistics and Supply Chain (AFLAS) Awards.
This is the second time that the Port of Singapore has received the award, the first time in 2021.
In addition, the Port of Singapore was also named "Best Seaport in Asia" for the 34th time.
These awards recognise the contributions by the Port of Singapore to support global supply chains and its leadership in driving maritime transformation.
The annual AFLAS Awards is organised by freight and logistics publication, Asia Cargo News, to honour leading service providers in the supply chain community for demonstrating leadership as well as consistency in service quality, innovation, customer relationship management and reliability.
Winners were determined by votes cast by readers of the publication and announced on 7 September. Reference
Collaboration key to progress, trust key to collaboration
13 Sep 2022
Decarbonisation and digitalisation of the shipping industry will require widespread collaboration, which will in turn require a great deal of trust.
Panellists at the global maritime environment congress (gmec) at SMM 2022 had differing opinions on how trust is built between companies, from having "skin in the game" to transparency, to the sheer scale of the challenges ahead.
David Connolly, Chief Technologist at Silverstream Technologies spoke from his company's experience working installing their air lubrication technology at yards in Korea, yards which offer their own air lubrication systems.
"It's difficult journey. but a large chunk of the world's ships are built by Korean yards, and if you want to be a player in that market, you have to learn to work with them. It's important to remove the adversarial, and come to a more collaborative approach," said Connolly.
Collaboration also needs to be central to an organisation's ethos and approach to business, said Connolly, with no real benefit in dealing with a small offshoot granted a narrow remit by the larger company.
Chakib Abi Saab, Lloyd's Register, Chief Technology & Innovation Office said class has a key role to play in fostering collaboration, both through its connections with shipowners and technology provides, and its ability to de-risk investments for financiers.
Octavi Sadó Garriga, Ship Design Manager at the Mærsk Mc-Kinney Møller Center for Zero Carbon Shipping saw the impact of the scale of the decarbonisation on decision making.
Already there have been changes in the motivations of first movers taking new technologies, said Garriga, from a purely cost driven decision to one taking more consideration of environmental pollution.
From a finance perspective, Sebastian Blum Team Head, Maritime Industries Western Europe, Americas and Asia, KfW IPEX-Bank said the bank already had a great deal of experience in collaborating on green shipbuilding projects. Reference
A bridge over the Malacca Straits?
13 Sep 2022
A 120km link between Peninsula Malaysia and Sumatra Island, Indonesia crossing one of the world's busiest shipping lanes is set to be developed according to a Malaysian official.
The link would connect Telok Gong in Masjid Tanah, Melaka, with Dumai in Sumatrae either via a bridge or a tunnel, Malaysian news agency Bernama reported.
Melaka Investment, Industry, Entrepreneur Development and Cooperatives Committee chairman Ab Rauf Yusoh said the proposed development, which would involve the construction of a tunnel or bridge, taking some 20 years to complete.
He said it would be built using the "One belt, one road" concept, although there was no mention of Chinese involvement in the project.
Ab Rauf said the link would have a major impact on the economic development of both Malaysia and Indonesia. Social media posts, however, questioned where the traffic would come from for such a link.
The proposed link would cross one of the world's busiest shipping lanes and any bridge would need to allow sufficient air draught for some the world's largest vessels both VLCCs and ultra-large containerships to pass. The Malacca Strait is the main shipping route linking Asia to Europe and the Middle East and sees around 100,000 vessels transits annually. Reference
Seafarers Emergency Fund Supports Widow Facing Loss of Family Home
13 Sep 2022
When a seafarer or their family is involved in a sudden and unforeseen crisis, they may need urgent financial support. In cases where no other help is available, the Seafarers' Emergency Fund (SEF), managed by the International Seafarers' Welfare and Assistance Network (ISWAN), can provide immediate, essential aid.
In one recent charitable case addressed by the SEF, the crew of a ship had not been paid and the captain was owed over $11,000. When he returned home to Georgia, the captain became ill and needed an operation, which he had in Tbilisi. The operation did not go well. The wages had still not been paid and there was a court case trying to secure them for the captain and crew.
Meanwhile, the captain's wife, Mariam (name changed to protect privacy) and her daughter were living in extreme financial hardship. Mariam had not been able to make any contact with the lawyer pursuing the unpaid wages, who was based in another country. Mariam traveled to the hospital in Tbilisi to look after her husband, and due to the outstanding medical bills and debts for household expenses, she left her financial affairs in the hands of a lawyer in her home town.
Sadly, after some time the captain died. When Mariam returned home, she found that the lawyer had not managed things very well and had re-mortgaged her apartment. Even worse, the family was going to be evicted if she could not make the mortgage payment.
Mariam approached a local union who applied to the SEF for an emergency grant so that she could cover the mortgage payment and keep her home. The application was approved and the family were able to stay in their home. The SEF provided timely help for Mariam in this stressful situation after the loss of her husband, for which she was very grateful. Reference
India: Vichara Kendram asks Church to allow Vizhinjam Port
12 Sep 2022
As the fisherfolk, led by the Latin Archdiocese, continued their protest against the Vizhinjam port project, a Sangh Parivar organisation has asked the church leadership to support the project as it would be economically beneficial to the country.
The Bharatheeya Vichara Kendram, the Sangh Parivar outfit, said that when the Kerala government was ready to accept most of the demands of the protestors, the latter should not be "adamant" that the project be stopped for a fresh coastal erosion study.
It claimed that the project, already delayed due to the COVID-19 pandemic, was progressing at a fast pace when the protest put the work in "jeopardy".
It said there were also allegations that some international interests in the freight transportation and shipping industry were also behind the protests. Reference
Iran to Let Crews of Seized Greek Tankers Go
12 Sep 2022
Iran is releasing the crews of two Greek tankers it seized in May, a Greek merchant marine group said Sunday.
Iran agreed to the replacement during a recent visit by a Greek delegation, the Greek Union of Merchant Marine Sailors said on its website. The stranded crew members "will immediately return to their countries of origin" starting as soon as Monday, according to the group.
Greek authorities in coordination with US counterparts stopped an Iranian tanker, the Lana, and confiscated its cargo on May 25. Iran retaliated by seizing two Greek tankers in Persian Gulf waters and diverting the ships, each loaded with about 1 million barrels of oil, into Iranian territorial waters on May 27.
A Greek court overturned the Lana's confiscation in June and Greece's Supreme Court sustained the verdict. The oil seized by Greek authorities was returned to the Lana in late August.  Reference
On The Leading Edge Of Shipping Digitalization
12 Sep 2022
In the world of shipping, 20 years is tiny blip on the historic timeline of the industry, less than the typical life expectancy of a modern vessel. However, with the onset of the global digital revolution, the past 20 years have led to technological advancements in shipping software comparable to the advent of propulsion engines in ships two centuries ago.  
 
As such, the digitalization of shipping has been a constantly evolving process running for over two decades now, and at an unprecedented speed. Nowadays, many companies fill many niches of the market – from live tracking of vessels through satellite signals, to calculators allowing quick estimations on every detail of a cargo voyage. Thus, the choice for any shipping professional becomes abundant in the modern era of shipping.
AXSMarine, a pioneer in the provision of advanced solutions for shipping professionals born in the very early days of the Dotcom boom, says it has the recipe of tomorrow. The company provides not only single tools tailored to suit specific needs, but an entire ecosystem of data and communications that covers virtually all aspects of the modern-day industry.
Its platform entails a multitude of modules designed to streamline ship chartering and market analysis for owners, managers, operators, brokers, etc. Whether you're involved with Dry Bulkers, Tankers, or Containerships, AXSMarine claims it's got you covered anytime and anywhere. With services that are entirely web-based and hosted in a secure environment, its software does not require local installation and is accessible with a simple internet connection.
AXSMarine's package offers the combination of vessel and cargo management software, live ports and bunkers monitoring, voyage calculation tools, indices and freight rates data, automatic email scanning and data translation, fixtures module and historic database, multiple options for market analysis of commodity movements and trends from the micro- to the macro-level, interactive platform for report generation, and more.
AXSMarine says one of its latest products developed addresses the challenge of handling Big Data in the modern shipping market. Through the use of APIs, it provides its users with full interoperability, advanced integration, data security, analysis customization and workflow optimization.   Reference
Note: All above news items compiled in this digest should be considered as news in brief. For detailed news, please refer to reference link, mentioned with each item
Share it now