Share it now
Following Stories compiled in this News Digest for the week from 04 Apr 2022 to 10 Apr 2022 in descending order:
NSML bemoans global shortage of competent seafarers
10 Apr 2022
The Nigeria Liquefied Natural Gas Ship Management Limited has lamented a global shortfall of skilled officers in the maritime industry.
Addressing journalists in Lagos, the Managing Director and Chief Executive Officer, NSML, Abddulkadir Ahmed, said that there was an increasing demand for qualified seafarers, particularly officers.
He noted that the situation was expected to persist into the future, blaming diminishing attractiveness of careers at sea as the reason.
"There is a global shortage of skilled officers in the maritime industry. Industry sources point to an increasing demand for qualified seafarers, particularly the officers, and this situation is expected to persist into the future. Diminishing attractiveness of a career at sea, coupled with rising man-berth ratios and a continued fleet growth is likely to result in the highest shortfall of officers in the coming years".
Speaking further, he said that lately, the focus of maritime regulators had shifted to the Green House Gas reduction, noting that the changes would account for 90 per cent global trade.
"The global maritime industry continues to be shaped by stringent environmental regulations and requirements. Lately, the focus of maritime regulators has shifted firmly to GHG emissions from international shipping. De-carbonization is also a key focus of regulators in the maritime industry and there are rafts of changes being considered in the industry that is reputed to account for over 90% of global trade."
"The landscape of the maritime industry is shifting with the rising trends in technology. Industry sources posit that the trends are emerging out of necessity. Advances in shipbuilding, propulsion, smart shipping, advanced materials, big data and analytics, robotics, sensors, artificial intelligence, and communications are all impacting the maritime industry," he said. Reference
ILO and IMO call for urgent action on seafarers stranded in Ukraine
09 Apr 2022
The heads of the International Labour Organization (ILO) and the International Maritime Organization (IMO) have called for urgent action to protect seafarers and vessels stranded in Ukrainian ports and nearby waters following the Russian aggression against the country.
In a joint letter to the heads of the United Nations High Commissioner for Refugees (UNHCR), International Committee of the Red Cross (ICRC) and Médecins Sans Frontières (MSF), ILO Director-General, Guy Ryder and IMO Secretary-General, Kitack Lim, outline the plight of seafarers on more than 100 trading vessels who are unable to leave the ports of Ukraine and nearby waters.
According to the IMO, as many as 1,000 seafarers are trapped, including in the besieged city of Mariupol, and on vessels in the Sea of Azov.
'As well as the dangers arising from bombardment, many of the ships concerned now lack food, fuel, fresh water and other vital supplies. The situation of the seafarers from many countries is becoming increasingly untenable as a result, presenting grave risks to their health and well-being.'
The letter asks the three agencies to 'take urgent action' to assist in the reprovisioning of the ships concerned with the vital supplies needed by seafarers on board.
The move by the ILO and IMO follows urgent communications about the situation sent by the International Chamber of Shipping (ICS) and the International Transport Workers' Federation (ITF). Reference
MPA steps up talent development efforts through partnering with maritime companies, unions and universities
09 Apr 2022
The Maritime Manpower Forum at the Singapore Maritime Week 2022 brought together government, union and industry leaders to discuss ways to attract and retain talent and transform workplaces in the maritime sector. The forum emphasised the importance of tripartite partnerships through collaboration amongst unions, employers and the government in advancing transformation and growth in the maritime industry.
During his keynote address at the forum, Mr Chee Hong Tat, Senior Minister of State for Transport said, "It is not a given that we will achieve the ITM targets because we are now operating in a more challenging global environment than before. However, we have confidence in our strengths and capabilities, which can be seen from the sector's resilience during the pandemic. In addition, we have an important enabler in Singapore which is our strong tripartite partnership between the Government, industry, and unions. This is a pillar of strength for Maritime Singapore as we embark on industry, company and workforce transformation."
Mr Chee also added maritime workers make important contributions to a vital industry that underpins Singapore's survival and prosperity. They play a key role in keeping global supply chains going, and that it was important to attract good people to join the maritime sector by offering rewarding careers with ample opportunities for continuous learning and skills upgrading, for both seafaring and shore-based roles.
In a global business like maritime, local talents must have international exposure in order to take on senior leadership roles. MPA offers the Overseas Attachment Scheme and Global Talent Programme to encourage companies to provide such opportunities for locals. The schemes would enable local talents to gain experience and exposure through structured rotations and overseas attachments. Between 2019 and 2021, 84 local talents have gone on overseas attachments.
MPA will enhance the co-funding support under the Overseas Attachment scheme and Global Talent Programme for talents to place greater emphasis on Southeast Asia. The quantum of support under these programmes will be 20% higher for employees who are sent to ASEAN countries, compared to other locations around the world. This means that MPA's co-funding support for employees who are sent to ASEAN countries will be increased from 50% to 70% for the Overseas Attachment scheme and 70% to 90% for the Global Talent Programme.
At SMW, MPA also launched the inaugural Maritime Transformation & Innovation Programme (MTIP), which is a training programme to support the key agenda of the International Maritime Organization (IMO). The programme focuses on driving innovation and efficiency within the maritime community.
Participants will gain insights into transformational strategy and effective change management practices as they exchange ideas with industry practitioners and peers from around the world. The MTIP brought together 20 senior officers in maritime administrations from 15 countries from around the world, to learn and share valuable insights on innovation, transformation, and change management in their organisations.
The Tripartite Maritime Scholarship (TMSS) was introduced in 2002 to help build up a core group of local mariners by aiming to attract and encourage locals to take up seafaring as a career. The scholarship, sponsored by MPA, seafarer unions (Singapore Maritime Officers' Union & Singapore Organisation of Seamen) and shipping companies, aims to groom promising students or fresh graduates to be Ship Captains or Chief Engineers of ocean-going merchant ships, with the potential to be the future leaders of Singapore's maritime industry. A total of more than 200 participants have been awarded the TMSS thus far.
TMSS is open to students pursuing the Diploma in Nautical Studies or Diploma in Marine Engineering at the Singapore Maritime Academy (SMA), Singapore Polytechnic (SP). In 2021, 14 Tripartite Maritime Scholarships (TMSS) worth about S$1 million were awarded. Application for the TMSS is open once a year and interested paritcipants for the next intake can sign up by 22 April.
To provide more support for our local seafarers, MPA and tripartite partners (unions and industry) have recently launched the Sail Milestone Achievement Programme (SailMAP) to provide each seafarer with up to $50,000 when they attain key career milestones, including a sign-on bonus of $10,000 when they sign-on their first vessel as a Certificate of Competency (CoC) Class 3 (deck officer) or 5 (marine engineer) holder.
The incentive payments help to support their income when they are not sailing, so that they can focus on upgrading their seafaring skills and knowledge during these periods. Reference
Key maritime stakeholders launch Seafarers' Human Sustainability Declaration
08 Apr 2022
Global healthcare specialist Vikand and key maritime stakeholders have launched the Seafarers' Human Sustainability Declaration during the U.S. Coast Guard AMVER awards ceremony at the US Ambassador's Residence in Oslo, during Nor-Shipping.
This Declaration aims to recognise and improve how the global maritime community meets the human sustainability needs of seafarers both today and into the future.
During his speech to launch the Declaration Vikand's CEO Peter Hult said, "Our goal is to develop a global platform for sustainable seafaring to ensure the future commercial viability of the maritime industry. We want to encourage dialogue around the principles of seafarer wellbeing so that the maritime industry can develop and adopt best practices for those working at sea and their loved ones back home. We need to develop a sustainable seafaring community to future proof the maritime sector."
The Seafarers' Human Sustainability Declaration has the support of key maritime businesses including Inmarsat, ABS, Aon, Fraser, FrontM, Global Maritime Forum, MHG, Psy-Fyi, Scoutbase, ShipMoney, Simwave and Thetius.
The ultimate aim of the declaration is to kick-start discussions in the maritime industry and make seafarer human sustainability a priority for the whole of the shipping industry.
"Only by working together as maritime colleagues can we start to make long-lasting improvements to the overall welfare and well-being of our seafarers which in turn will safeguard the future viability of the shipping industry," Hult continued.
For its part Vikand wants to establish a 'culture of care' onboard by providing a proactive healthcare approach which improves seafarer quality of life, reduces significant medical claims and deaths, resulting in decreased major medical claims and ship diversions. Reference
World's first use of SNG in commercial shipping cuts GHG emissions
08 Apr 2022
A 1,036 TEU containership has reduced its greenhouse gas (GHG) emissions by 27% by operating on a blend of climate-neutral, synthetic natural gas (SNG) and conventional liquefied natural gas (LNG), compared to LNG alone.
Compared with heavy fuel oil (HFO), GHG emission reduction was even as high as 34%, German engine manufacturer MAN Energy Solutions said.
The ship in question is ElbBLUE, the former Wes Amelie, which in 2017 became the world's first boxship retrofitted with LNG.
The data has emerged from measurements initially carried out on board the ship in September 2021 when the ElbBLUE became the first container ship worldwide to replace a portion of its bunkered gas fuel (around 50%) with SNG.
"With this project, we have proven the technical viability of our concept of the maritime energy transition. Today, more than ever, we are convinced that climate-neutral, synthetic fuels point the way to green shipping – and even further beyond," Uwe Lauber, CEO of MAN Energy Solutions, commented.
"With this pilot project, we have proven that any LNG-powered ship can also operate with green SNG from power-to-X," Stefan Eefting, Senior Vice President and Head of MAN PrimeServ Augsburg, said.
"Even with a blend of just 50% SNG, GHG and pollutant emissions are significantly reduced. When operated exclusively on SNG, we would expect a reduction of at least 80% in GHG emissions for modern ships."
SNG is considered a carbon-neutral fuel as its combustion releases only as much CO2 as captured during its production using power-to-X technology.
However, just like LNG, SNG consists largely of methane (CH4) and, during operation, small unburned quantities of the gas can escape – so-called methane slip. Reference
Industry partners to study ammonia bunkering safety, promote fuel supply base
07 Apr 2022
Japenese ITOCHU Corporation has launched the joint study framework (JSF) for ammonia bunkering safety and signed a memorandum of understanding (MoU) with the Maritime and Port Authority of Singapore (MPA) to jointly promote the development of an ammonia fuel supply base in Singapore.
The events took place on 6 April 2022 during the Singapore Maritime Week 2022 being held from 4 to 8 April.
Together with 16 port authorities, R&D centres and shipping and energy companies, ITOCHU launched the JSF for sharing issues and knowledge on safety and guidelines for ammonia bunkering with the aim of social implementation of ammonia as a marine fuel.
The participant companies and organisations are Brunsbüttel Ports, the French Naval Fire Brigade of Marseille, Fundacion Valenciaport, Great Port of Marseille, HAROPA PORT, Maritime and Port Authority of Singapore, Port Authority of Huelva, Port Authority of Valencia, Port of Algeciras, Port of Rotterdam, ENEOS Ocean Corporation, Mabanaft, Mitsui O.S.K. Lines, Navigator Gas, and Planning and Design Center for Greener Ships.
In addition, the Ports and Harbours Bureau of the Ministry of Land, Infrastructure, Transport and Tourism (MLIT), Japan and the Embassy of France to Singapore are planned to participate as observers, which demonstrates the high expectations and interest in the use of ammonia as a marine fuel.
This JSF for ammonia bunkering safety is the second phase following the existing JSF launched in 2021 by 34 companies and organisations. It will also establish collaborations with the existing JSF of 34 participants and will seek to share opinions, views, expertise and experience from a wide range of relevant ammonia producers, research institutions and financial institutions.
A consortium of six companies including ITOCHU, TotalEnergies Marine Fuels, Pavilion Energy, Vopax Terminal Singapore, Mitsui O.S.K. Lines and ITOCHU Enex, signed an MoU with the MPA to jointly promote the development of an ammonia fuel supply base in Singapore.
The partnership aims to further promote the development of a safe fuel supply system and ammonia bunkering vessels.
Both JSF for ammonia bunkering safety and the MoU are deemed important milestones for the implementation of ammonia as a marine fuel on a global scale. Reference
New Rolls-Royce System for Ships Can Autonomously Control a Voyage from Start to Finish
07 Apr 2022
One of the many ways of potentially transforming maritime transportation into a green sector is by implementing next-generation technology onboard vessels capable of optimizing routes and fuel consumption, which in turn leads to lower CO2 emission levels. The ships of the future may be ones that can conduct autonomously-controlled voyages routinely, with a focus on efficiency.
Rolls-Royce announced its collaboration with Sea Machine Robotics for the development of the autonomous vessel control system in September 2021 and has now added three new products to that range. Each offers a different level of pilot assistance, remote command, and autonomous control.
The mtu Nautiq Cooperate, which allowed Nellie Bly to complete its pioneering journey, is the medium option in the new range. It can take over routine tasks onboard, allowing crew members to focus on the more important tasks. This system is designed for off-boat remote command, including all the payloads on the ship.
The most advanced option is an intelligent pilot assist system, the mtu Nautiq CoPilot. According to Rolls-Royce, it can autonomously control an entire planned voyage, from start to finish. But it can also not intervene at all and only act as a guide for the operator.
It incorporates advanced sensors, AI algorithms, embedded electronic charts, and a top-level computer vision system that claims to be the world's best. By enabling a very high degree of precision and predictability, this technology helps save fuel and reduce costs. Reference
India: PM recalls glorious maritime history on National Maritime Day
06 Apr 2022
The Prime Minister, Shri Narendra Modi has recalled India's glorious maritime history on National Maritime Day. Stating the importance of the maritime sector towards India's economic growth, he said that in the last 8 years Government of India has focussed on port-led development which is essential for economic growth and building an Aatmanirbhar Bharat. He also emphasized that the Government of India is taking adequate care to ensure the marine eco-system and diversity.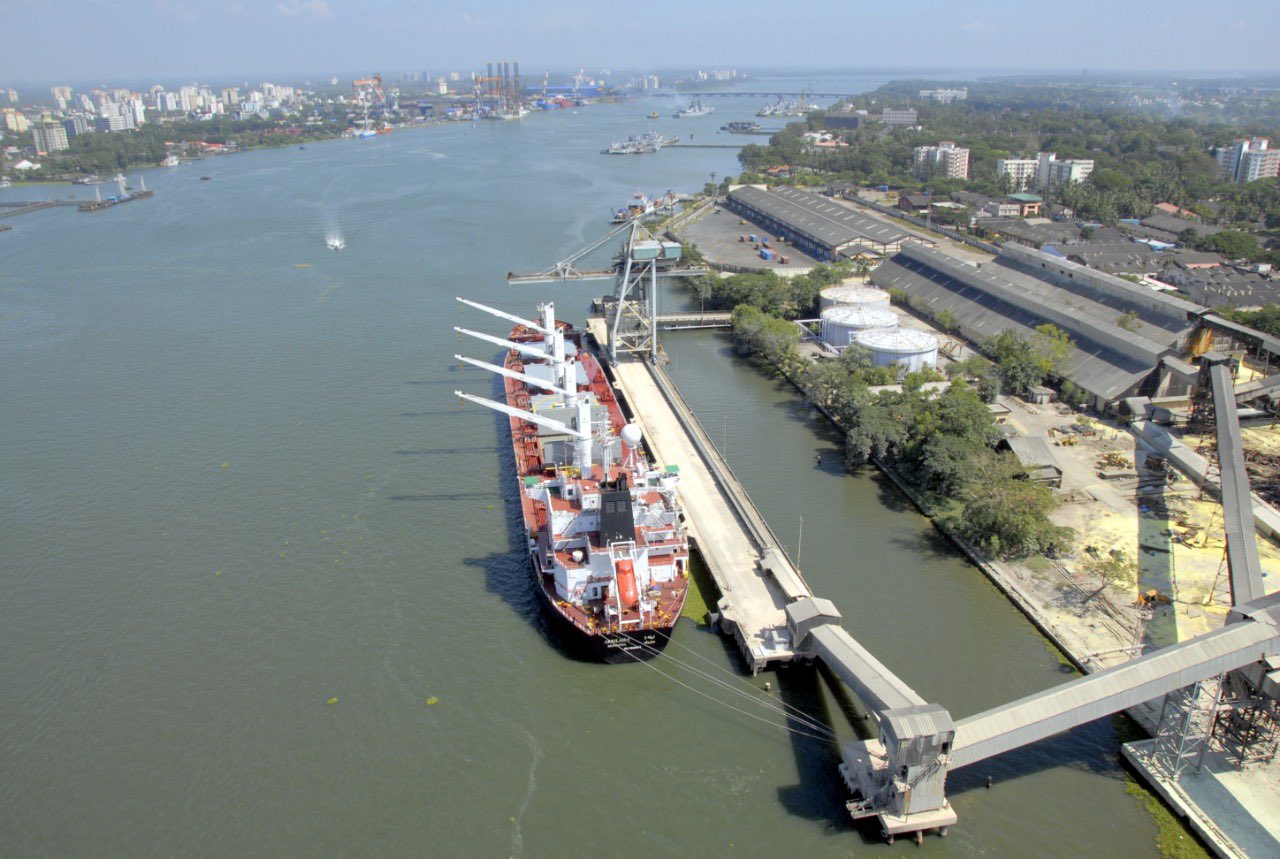 "Today, on National Maritime Day, we recall our glorious maritime history and highlight the importance of the maritime sector towards India's economic growth. In the last 8 years, our maritime sector has scaled new heights and contributed to boosting trade and commercial activities."
"In the last 8 years, the Government of India has focussed on port-led development, which includes expanding port capacities and making the existing systems even more efficient. Waterways are being harnessed to ensure Indian products get access to new markets."
"While we are leveraging the maritime sector for economic progress and building an Aatmanirbhar Bharat, we are also taking adequate care to ensure the marine eco-system and diversity which India is proud of is safeguarded." Reference
Piracy, sea robberies in the Singapore Strait on the rise: Anti-piracy group
06 Apr 2022
Cases of piracy and sea robberies among trading ships and oil tankers have been on the rise in major shipping lanes near Singapore, which have been flagged as areas of concern by sea crime watch group Recaap.
The Singapore Strait, which is one of the world's busiest shipping lanes, recorded 17 cases of sea robberies between January and March this year – more than double that of the same period in 2021.
The increase was likely due to the economic impact of Covid-19, which may have led people to resort to crime on the high seas, said Recaap Information Sharing Centre (ISC) assistant director of research Lee Yin Mui on Tuesday (April 5).
Piracy and armed robbery cases in the Singapore Strait hit a six-year high in 2021 when 49 incidents were reported.
Ms Lee was speaking at the Piracy and Sea Robbery Conference conducted by Recaap, which is the Regional Cooperation Agreement on Combating Piracy and Armed Robbery against Ships in Asia.
These incidents were relatively low between 2016 and 2019, but reports of sea robberies and piracy started to climb in 2020.
According to the official definition, piracy refers to attacks in international waters, while armed robbery refers to attacks within a state's territorial waters.
She said to some 150 audience members who attended online: "The pandemic has also made enforcement more challenging, which is why there must be greater cooperation during this time."
Ms Lee said perpetrators were armed with knives in six of the cases in the Singapore Strait. She added that no crew were harmed in any of the incidents, which involved mainly tankers and carriers.
Items stolen included engine parts and welding equipment, though some left empty-handed. Reference
'We'll treat Russian seafarers fairly,' say shipping leaders
06 Apr 2022
RUSSIAN seafarers should be treated fairly and equally despite the invasion of Ukraine, according to shipping leaders.
"It's really important for us to remember that just because someone is Russian, it doesn't mean they are pro-war. And these people have families to feed and careers to build on," said Taylor Maritime chief executive Edward Buttery.
The Hong Kong-based shipowner and manager employees nearly 300 seafarers from Russia and 230 from Ukraine, who are often sailing together.
Mr Buttery told a Marine Money session as part of Singapore Maritime Week, his company would not be lifting Russian cargo but will be supportive of the country's crew.
"We don't regard the Russian seafarers as the enemy here. We are more than happy to employ them on board," said Rene Piil Pedersen, managing director of AP Moller-Maersk Singapore.
The container shipping giant has several dozen Russians and about 500 Ukrainians in its crew team.
There are, however, practical challenges to continue hiring the former group.
While travel restrictions are affecting their mobility, sanctions against Russian banks, for example, have also caused difficulties in salary payment, Mr Pedersen pointed out.
He added that Maersk is currently striving to help the Ukrainian seafarers and their families evacuate to the neighbouring countries on the west side.
"We hope these will also be the seafarers that will serve on our vessels in future."
Similar views were also expressed by other speakers, including Ocean Network Express chief executive Jeremy Nixon and his counterpart in X-Press Feeders Shmuel Yoskovitz.
"We have tremendous respect for the Ukrainian and Russian seafarers. They are very good seafarers. I'm sure the industry will stand by them. We want to see them back on our vessels," said Mr Nixon. Reference
Combating the sea of corruption in the maritime sector
06 Apr 2022
Grand corruption in Africa's maritime sector has led to overfishing, resource scarcity and a rise in criminality, with coastal communities most affected. The problem is highlighted by two ongoing trials in Southern Africa – Namibia's Fishrot scandal and Mozambique's Hidden Debt scandal. And due to the international stakeholders involved, both have had consequences extending well beyond their country's borders.
The trials reveal the intricate web of corruption, money laundering, illicit financial flows and offshore accounts coupled with the complicity of global businesses and government officials. More importantly, they show that the maritime sector desperately needs better governance structures and systems of accountability and transparency.
Awareness of maritime issues is low among most African countries. This sea-blindness makes it an ideal industry to target for corruption, as oversight mechanisms are weak. According to the Stable Seas Maritime Security Index, most African countries received a low rule of law score due to their weak judiciary and legislative branches. Poor governance in remote coastal areas and a lack of capacity to oversee the entire coastline are also factors.
There are several forms of fraud and corruption in the maritime sector. Under-invoicing is a common type of fraud whereby the importer asks the exporter to declare on the invoice that the goods are of lower value than the actual sale price.
Corruption can involve facilitation payments to customs officers to allow illegal goods through or turn a blind eye to specific procedural requirements. Bribes are also paid to gain contracts, affect quota allocation or influence tenders. These forms of grand corruption often involve international businesses and government officials and are widespread in the fishing industry.
According to the United Nations Office on Drugs and Crime, most countries haven't undertaken even a basic corruption risk assessment of their fishing industries, leaving them vulnerable.
A critical vulnerability associated with lucrative maritime contracts is the lack of transparency in the sector. This needs specific attention, along with more general anti-corruption measures. African governments that have signed the United Nations Convention against Corruption must take the next step and implement it. This is vital for establishing procurement systems based on openness and accountability.
Anti-corruption and anti-bribery training for government officials should include awareness about maritime governance. Electronic communication and digitisation, which removes the human factor, can reduce opportunities for fraud at a practical level. In the maritime sector, especially at ports, digitisation could improve governance and efficiency, although it does come with new risks. Reference
World's First Ammonia-Powered VLCC on Track for 2025 Launch
05 Apr 2022
Just two years after announcing plans for a joint development project to explore ammonia-fueled tankers, three of the partners in the project announced they are proceeding with the design and construction of two VLCC likely to become the first large ammonia-fueled vessels in service. Lloyd's Register, Samsung Heavy Industries, and Malaysian shipping company MISC through its Singapore-based tanker company AET signed the memorandum of understanding calling for the dual-fuel ammonia VLCCS to enter service in late 2025 and early 2026.
Designs for the vessels are coming from a project the companies announced in January 2020 along with MAN Energy Solutions to collaborate on exploring ammonia as a marine fuel. At the time, the partners said they recognized that the shipping industry would need to explore multiple decarbonization pathways and hoped their collaboration would spur others in the maritime industry to join forces on addressing the global challenge. Expanded in 2021 to include additional participants they named the collaboration The Castor Initiative.
Samsung reported progress with the design concepts and in September 2020 received the first basic certification from Lloyd's Register for the designs. They reported they had developed concepts for an Aframax tanker between 80,000 and 120,000. After receiving the Approval in Principle, they said would proceed to commercialization targeting 2024.
While proceeding with the design process, the companies also said they would expand the project to focus on identifying green shipping corridors to facilitate the bunkering of these vessels. The Castor Initiative members will also be looking into the establishment of an approved training syllabus for seafarers in at least two maritime training institutions. Reference
Industry's first: Furetank granted green credit guarantee
05 Apr 2022
Furetank has become the first shipping company in Sweden to receive a green credit guarantee by the Swedish Export Credit Agency for financing a vessel of "top-class environmental and climate standard".
The guarantee applies to the pre-financing of Furetank's next product and chemical tanker and cover 80% of the risk for the lender Tjörns Sparbank. It was described as a milestone for Furetank and Swedish shipping.
According to Furetank, the approval is pioneering for shipping, enabling vast investments in the green technology required to achieve European climate goals.
This is also only the second time that the Swedish Export Credit Agency grants this guarantee overall since the possibility was introduced in the autumn of 2021 to enable critical investments in the sustainable industry.
Granting the approval, the agency remarked that the ship is of "top-class environmental standard" thanks to LNG / LBG propulsion and an energy consumption already lower than the IMO objectives for 2050.
Furetank's environmentally optimised transport patterns and ambition to eliminate carbon dioxide emissions from the vessels through exclusive biogas agreements were also taken into account.
The Swedish Shipowners' Association sees that approval as a progress for shipping as a whole. Reference
NYK remote monitoring centre gets ClassNK certification
05 Apr 2022
NYK has been granted ClassNK's highest rating of Class S on its Innovation Endorsement (IE) certification programme for new technologies, following an evaluation of its NYK Remote Diagnostic Center (RDC) in the Philippines.
The RDC provides remote diagnosis and monitoring for operating ships. NYK is the first company to receive Class S IE certification since this system was introduced by ClassNK in 2020.
The facility in Manila supports data-driven ship management procedures, such as an anomaly detection system that uses AI to constantly remotely monitor and diagnose the engine plants aboard about 200 ships equipped with SIMS, NYK's in-house Ship Information Management System.
At the centre, a marine engineer with specialised knowledge of the engine plant will examine the AI detection results, and will determine if repairs or inspections are necessary, analysing the cause of the abnormality and disseminating that information to the ship and the shipmanagement company.
This 'Expert-in-the-Loop' concept allows the company to provide more accurate information than can be created solely based on AI detection results. Reference
Ships are dumping bilge water into European waters up to 3,000 times a year, much more than what's reported
04 Apr 2022
A higher incidence of illegal discharge of oil by commercial ships on European waters may be happening than publicly acknowledged, said a report
Up to 3,000 cases of bilge water, which is a mix of potentially toxic substances, are illegally dumped in the European waters every year to cut down on operational costs of treating it, a report by European non-profit newsroom Lighthouse Reports and nine European publications revealed.
Dumping oil wastewater into the ocean has been banned for decades. However, seafarers use different techniques to bypass pollution laws and dump oily wastewater in the ocean, endangering life underwater.
With the help of satellite data from environmental group SkyTruth, hundreds of potential dumps across the globe had been identified in 2021. However, the number of oil spills may be higher as SkyTruth satellites cover less than one-fifth of the world's oceans.
The report estimates the amount of oily water that makes its way into the ocean could be over 52.8 million gallons annually, nearly five times the amount spilled in the 1989 Exxon Valdez disaster in Alaska.
Despite the use of sophisticated technology in capturing spills, countries have been slow in taking action or prosecuting the perpetrators, leading to a culture of impunity, The Guardian reported.
In Europe, the European Maritime Safety Agency (EMSA) monitors oil spills in the ocean waters through its CleanSeaNet initiative. CleanSeaNet analyses satellite images and reports potential oil discharges from ships.
According to a report by EMSA and European Environment Agency, if a country takes longer time to inspect the detection, the chances of it being reported as "nothing observed" become higher.
Another problem is that even if countries identify potential illegal dumping of bilge water, they are not bound to report the subsequent action taken by them.
Merchant ships can be penalised with hefty fines for illegal dumping of bilge water. In 2016, Carnival's Princess Cruises was fined $40 million for dumping bilge along the British coast. Reference
First Taiwan-built offshore wind installation vessel launched
04 Apr 2022
A launching ceremony was held in Kaohsiung on Sunday for the "Green Jade," Taiwan's first indigenously built floating, heavy lift and installation vessel for offshore wind facilities, setting a milestone for the local shipbuilding industry.
Cheng Wen-lon, chairman of the company said the ship was the first to be engineered, designed and built in Taiwan capable of transporting and installing huge, multi-megawatt offshore wind power turbines and other components, and it will serve the Hai Long and Zhong Neng offshore wind projects.
The vessel was commissioned by the CSBC-DEME Wind Engineering (CDWE) joint venture between CSBC Corporation and Belgium-based Dredging, Environmental and Marine Engineering NV (DEME Offshore).
CDWE said the 216.5-meter long ship, with a 4,000 metric ton capacity crane and DP3 (dynamic positioning) capability, was named after Taiwan's highest peak, Yushan (Jade Mountain) to reflect the Green Jade's projected contributions to bring clean, green energy to Taiwan.
According to the Global Offshore Wind Speeds Ranking, the top six offhsore wind sites either under development or in use with the fastest wind speeds are in the Atlantic Ocean off the coast of northwestern Africa.
Fifteen of the next 20 top wind speeds, however, are in the Taiwan Strait.
Also speaking at the ceremony, CDWE Project Director Marco Kanaar said there were barely a handful of ships whose specifications could match those of the Green Jade, and they tend to be docked in Europe before being deployed around the world. Reference
Note: All above news items compiled in this digest should be considered as news in brief. For detailed news, please refer to reference link, mentioned with each item.
Share it now