Share it now
Following Stories compiled in this News Digest for the week from 14 Mar 2022 to 20 Mar 2022 in descending order:
Revoke licences of P&O Ferries, maritime union urges UK transport secretary
20 Mar 2022
A MARITIME UNION has urged the UK Transport Secretary to revoke P&O Ferries' licences in British waters as the operator resumed services on one of its routes.
Nautilus International general secretary Mark Dickinson has written to Grant Shapps encouraging the Government to take urgent action against the ferry operator after it sacked 800 workers two days ago.
In a letter, published on Twitter, Dickinson called for Shapps to "hold P&O to account" in six ways, including revoking its licences to operate in British waters and pursuing "any legal option available" over how P&O handled the mass redundancies.
He wrote: "The action of P&O Ferries, terminating the employment of 800 British seafarers with immediate effect and without any consultation, is deplorable and a betrayal of British workers.
"This decision by P&O is a major blow to the British maritime industry… we cannot sit back and allow P&O Ferries to sink the nation's maritime strategy."
It comes after the ferry operator said it was cutting the jobs in a "very difficult but necessary" decision as it was "not a viable business" in its current state.
Sailings were halted on Thursday morning following the announcement, with P&O Ferries telling passengers they would remain suspended "for the next few days".
However on Saturday, P&O said it had resumed one of its services crossing the Irish sea.
Shadow transport secretary Louise Haigh said the firm must not be allowed to resume sailings with replacement workers.
Meanwhile, the Rail, Maritime and Transport (RMT) union said around 300 people attended a demonstration near the Conservative Party spring forum in Blackpool.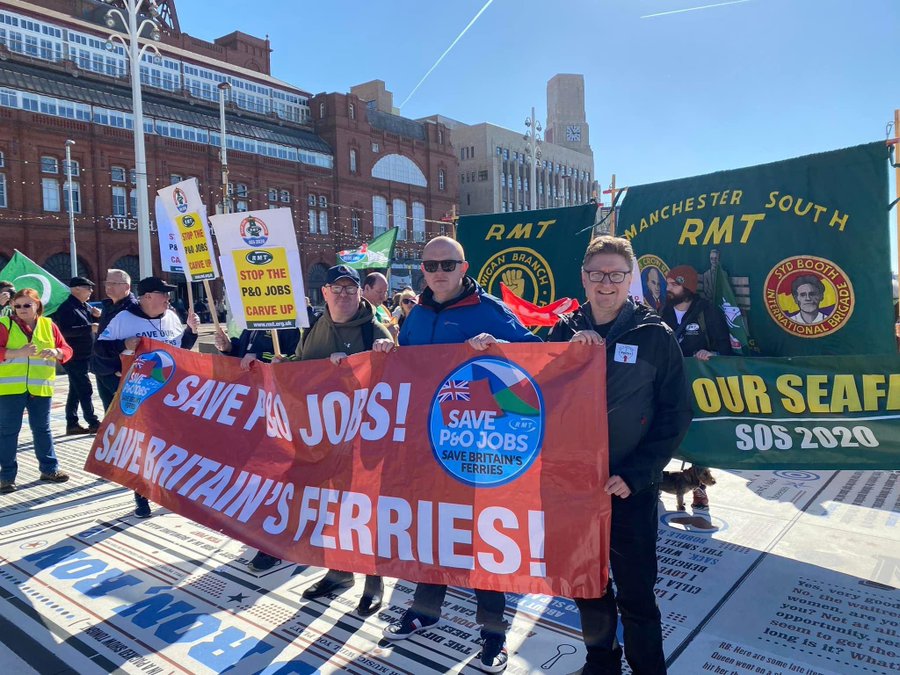 RMT was in attendance at the protest, which was organised by Nautilus International.
A spokesman for P&O Ferries said: "We took this difficult decision as a last resort and only after full consideration of all other options but, ultimately, we concluded that the business wouldn't survive without fundamentally changed crewing arrangements, which in turn would inevitably result in redundancies.
"We also took the view, in good faith, that reaching agreement on the way forward would be impossible and against this background that the process itself would be highly disruptive, not just for the business but for UK trade and tourism.
"We have offered enhanced severance terms to those affected to properly and promptly compensate them for the lack of warning and consultation.
"The changes we've made bring us into line with standard industry practice."
He added that all affected crew who were working at the time were notified face-to-face and in-person on board their vessels. Those who were off were called, emailed or texted. Reference
Caribbean Platform Developed for Maritime Jobs
19 Mar 2022
A new platform, ACMF-CAREX, has just hit the jobs market in the Caribbean, which could change how maritime jobs are pursued and acquired in the region.
ACMF-CAREX is a jobs platform for the maritime sector which was recently launched by the American Caribbean Maritime Foundation (ACMF), which is a non-profit foundation committed to alleviating poverty and transformation through maritime education and community development.
It currently supports 71 scholarship recipients and grantees from St Lucia, St Vincent and the Grenadines, Jamaica, Trinidad, Grenada, Guyana, The Bahamas, and Dominica.
First onboard the new platform are over two hundred maritime graduates and soon-to-be graduates from across the Caribbean, who trained at the Caribbean Maritime University (CMU), the LJM Maritime Academy in The Bahamas, and the University of Trinidad and Tobago. The first of its kind, exclusively for the Caribbean, the jobs board www.acmf-carex.org is only accessible to employees in the region.
Job seekers living outside of the Caribbean are not able to register on the site. However, prospective employers anywhere in the world can register and will have full access to the qualified workers profiled on the site who are looking for job opportunities.
The ACMF began with five scholarships in 2017 at the CMU, has now funded bachelor's and Bachelors of Science for almost 70 scholars and grantees at four academic institutions across the Caribbean — the CMU, LJM Maritime Academy in The Bahamas, MatPal in Guyana, and the University of Trinidad and Tobago. Reference
Dutch Researchers Developing Maritime Crash Barriers for Wind Turbines
19 Mar 2022
A team of Dutch maritime researchers is working on solutions to avoid collisions between ships and the growing number of offshore wind turbines in the North Sea. According to the team, the risk of a collision is growing rapidly as the number of wind turbines expands and they believe that they have identified several promising "crash barrier" methods to reduce the risks associated with a collision similar to one that occurred earlier this year.
The Maritime Research Institute Netherlands (MARIN) conducted research for the Dutch government reporting that the risk of a turbine being hit by a ship is increasing by around 1.5 to 2.5 times a year. They noted that the risk is increasingly urgent as some 2,500 wind turbines are set to be installed in the North Sea by 2030.
According to the researchers, around 80 ships are reported drifting in the North Sea each year. They noted that while the Julietta D incident did not result in a catastrophic accident, a collision with an installed wind turbine carries a real risk of the turbine toppling onto the vessel, seriously endangering crew, passengers, the ship itself, and the environment.
A group of 20 experts from MARIN and the maritime community has been researching the possible options. They point out that currently it requires active intervention by the crew to either successfully anchor a drifting ship or the rapid response by emergency towing vessels to advert the danger of collisions.
MARIN's general director Bas Buchner explained that their mission was to go beyond simply drawing attention to the dangers in search of solutions to prevent accidents. The team developed three concepts for maritime crash barriers between shipping routes and windfarms during a February 23 workshop and now plans to work with experts from the offshore sector in refining the concepts.
The first concept involves a string of surface buoys secured by drag anchors. The second concept comprises a smart suspension net between fixed poles and the third is an anchored underwater hook line designed to catch the anchor of the drifting vessel. MARIN built scale models of all three solutions and ran tests in its Offshore Basin to see if the barriers were capable of deflecting a scale model comparable to the Julietta D in storm conditions.
In the coming months, the researchers will go on to assess the various pros and cons of these systems. Reference
Calls for 'blue corridor' to let stranded seafarers leave Ukraine war zone
18 Mar 2022
Hundreds of seafarers on more than 100 foreign-flagged cargo vessels are stranded in Ukrainian waters in the Black Sea and Sea of Azov "in the middle of the line of fire".
The International Chamber of Shipping and unions are calling for the immediate creation of safe "blue corridors" to enable the ships and their crews to leave without risk of missile or mine strikes. The UN's International Maritime Organization, which held an emergency meeting last week to address the situation, estimates that up to 2,000 men could be affected, although some may have been repatriated, it said.
One man, Hadisur Rahman, 27, was killed at the port of Olvia, near Mykolaiv on the Dnipro-Bug estuary, earlier this month after a missile struck his Bangladesh-flagged cargo ship.
The same night, six crew had to be rescued from the icy waters after an Estonian cargo vessel, the Helt, sank after an explosion near Odesa. A further three vessels have been hit by projectiles since the invasion began.
After the missile strike, Ukraine accused the Russian military of targeting the port, while Russia's embassy in Dhaka said the circumstances of the incident were "being established", Reuters reported. Russia denies targeting civilians.
Natalie Shaw, of the International Chamber of Shipping, said between 90 and 140 ships were stranded in the Black Sea region, typically with a crew of 16 to 24.
Nataliya Yefrimenko, an inspector at the International Transport Workers' Federation (ITF), said the initial hits happened to ships at anchorage.
Last week, the IMO's secretary general, Kitack Lim, indicated "his commitment to take immediate action" towards establishing a safe maritime corridor with "the cooperation and collaboration of the relevant parties, including littoral states". This would allow the "evacuation of seafarers and ships" from the Black Sea and Sea of Azov to a safer place.
Capt Kuba Szymanski, secretary general of InterManager, which represents the managers of about 5,000 ships and 250,000 seafarers, said they had evacuated four ships in Black Sea ports and were providing funds for the families of Ukrainian seafarers to help get them into safe countries, including Romania, Poland and Moldova.
Rostyslav Inzhestoikov, the assistant chaplain in Odesa of Stella Maris, a charity for seafarers, said: "Some of the crews have been evacuated, some remain onboard, continuing to maintain the ship. Reference
Ancient seafarers built the Mediterranean's largest known sacred pool
18 Mar 2022
On a tiny island off Sicily's west coast, a huge pool long ago displayed the star-studded reflections of the gods.
Scientists have long thought that an ancient rectangular basin, on the island of Motya, served as an artificial inner harbor, or perhaps a dry dock, for Phoenician mariners roughly 2,550 years ago. Instead, the water-filled structure is the largest known sacred pool from the ancient Mediterranean world, says archaeologist Lorenzo Nigro of Sapienza University of Rome.
Phoenicians, who adopted cultural influences from many Mediterranean societies on their sea travels, put the pool at the center of a religious compound in a port city also dubbed Motya, Nigro reports in the April Antiquity.
The pool and three nearby temples were aligned with the positions of specific stars and constellations on key days of the year, such as the summer and winter solstices, Nigro found. Each of those celestial bodies was associated with a particular Phoenician god.
An ability to incorporate other people's deities into their own religion "was probably one of the keys to Phoenicians' success throughout the Mediterranean," says archaeologist Susan Sherratt of the University of Sheffield in England, who did not participate in the new study.
Seafaring traders now called Phoenicians lived in eastern Mediterranean cities founded more than 3,000 years ago (SN: 1/25/06). Phoenicians established settlements from Cyprus to Spain's Atlantic coast. Some researchers suspect that Phoenicians lacked a unifying cultural or ethnic identity.
At night, the reflecting surface of the pool, which was slightly longer and wider than an Olympic-sized swimming pool, was used to make astronomical observations by marking stars' positions with poles, Nigro suspects. Discoveries of a navigation instrument's pointer in one temple and the worn statue of an Egyptian god associated with astronomy found in a corner of the pool support that possibility.
It was an archaeologist who explored Motya around a century ago who first described the large pool as a harbor that connected to the sea by a channel. A similar harbor had previously been discovered at Carthage, a Phoenician city on North Africa's coast.
But excavations and radiocarbon dating conducted at Motya since 2002 by Nigro, working with the Superintendence of Trapani in Sicily and the G. Whitaker Foundation in Palermo, have overturned that view. Reference
India: 29 maritime rescue centres on the cards
17 Mar 2022
The government has cleared plans to create 29 new maritime rescue sub-centres and also strengthen the country's coastal surveillance network, defence secretary Ajay Kumar said on Wednesday.
"To improve our blue economy and strengthen the Coast Guard, the Centre has plans to expand the capabilities. The first thing is that four new ALH (advanced light helicopter) squadrons will be raised. It has been sanctioned besides 29 maritime rescue sub-centres," Kumar said after commissioning the Indian Coast Guard's latest off-shore patrol vessel 'Saksham'.
The Coast Guard has a fleet of 159 ships and aims to have 200 vessels and 80 aircraft by December 2023. The force has placed orders for more vessels, with a contract for eight fast patrol vessels likely to be bagged by Goa Shipyard Ltd (GSL). GSL chairman and managing director B B Nagpal said that the GSL has emerged as the lowest bidder.
"We are strengthening the coastal surveillance network. Our indigenously designed coastal radar system has been installed at various places. The data from the radar systems is being integrated with the various sensors and is being analysed by the network. That is being strengthened," the defence secretary said.
He emphasised on the need to indigenise components used in the ship building sector, particularly weapon systems and propulsion systems.
"The good thing is that ICGS Saksham has been indigenously built. Usually, the 'float' component of the ships are made in India but in this ship, the propulsion, transmission gear, electronic equipment has also been indigenised. This will benefit all the warships being built in the country and is a good start," Kumar said.
Director General Indian Coast Guard V S Pathania said that the GSL has delivered ICGS Saksham within the timelines despite modifying the ship to accommodate trainee officers and additional crew members. Reference
Fund for Merchant Navy seafarers reaches 10-year milestone
17 Mar 2022
A fund that supports charities caring for UK Merchant Navy seafarers and their families is celebrating its ten-year anniversary this year.
The Merchant Navy Welfare Board (MNWB) and The Seafarers' Charity launched the Merchant Navy Fund in 2012 following an idea from MNWB's then Chief Executive, Captain David Parsons, who felt 'there should be a benevolent fund for the Merchant Navy to give our people a chance to support those from our own background'.
The fund recognised that some of our older seafarers faced retirement with few savings and little or no pension and younger individuals and families may need support for varied reasons, including the loss of a partner, serious illness and mental health issues.
Since its inception, the Merchant Navy Fund has received donations, legacies and corporate support totalling £720,000, with over £700k awarded in grants to support UK serving or retired MN seafarers in need and their families. All monies raised go directly to support those in most need.
Stuart Rivers, Chief Executive of the MNWB, said:
"The maritime sector is among those who have been hit hard by the pandemic, particularly frontline workers from the Merchant Navy and their families. So being able to support those in a time of need is imperative, and this Fund offers a lifeline for many. Over a decade, the fund has raised nearly three quarters of a million pounds which has been used in a variety of ways to boost the health and wellbeing of both serving and retired seafarers."
The Merchant Navy Fund's Spring Appeal will be held in April. Reference
Amendments sent to IMO to accelerate adoption of $5 billion maritime R&D fund
17 Mar 2022
The World Shipping Council (WSC) together with maritime nations and organisations representing all shipping sectors continues to work for the early adoption of an industry-financed and IMO-led research and development (R&D) fund as a critical pathway to accelerate the development of technologies for zero-carbon shipping.
In a joint submittal to the IMO MEPC 78, the sponsors have further detailed the proposal for an International Maritime Research and Development Board (IMRB) and International Maritime Research and Development Fund (IMRF) to ensure the equitable use of funds as well as fair and equal access to patents and technologies globally.
Apart from WSC, the co-sponsors include Singapore, Palau, Liberia, Nigeria, BIMCO, ICS, CLIA, INTERCARGO, INTERFERRY, INTERTANKO, IMCA and IPTA.
As informed, the joint submittal includes suggested modifications and amendments to the IMRB/IMRF proposal to address specific matters raised at MEPC 77.
"Accelerating R&D investments into zero carbon technologies is the first pathway the member nations of the IMO should adopt in order to enable progress across other regulatory areas such as market based measures," John Butler, President & CEO of WSC, commented.
"The transition to zero carbon shipping presents a unique opportunity for nations with abundant resources for green energy such as sun, wind and waves to develop as suppliers of alternative maritime fuels. The IMRB/IMRF is ready to implement, and the amendments now proposed further ensure its ability to provide equitable access to both funding and outputs." Reference
Seafarers' Charity funds research on women seafarers' needs
16 Mar 2022
SEAFARER'S Charity, a United Kingdom-based charitable institution for maritime advocacies, will fund research that will identify the needs of women seafarers working onboard cargo ships.
The study will be conducted by the Seafarers International Research Centre (SIRC), which operates under the auspices of Cardiff University School of Social Sciences.
The research also aims to explore the extent to which women seafarers' needs are currently met.
The research aims to interview 30 women seafarers of different nationalities about their experience and use of port-based welfare facilities, the perceived barriers to their use of port welfare facilities, their experiences and views of innovative methods implemented during the pandemic, and their preferences for the delivery and scope of welfare services in the future.
Chaplains and volunteers providing port-based welfare services will also be interviewed to explore their views on how the services provided at the port can be developed to ensure they are supportive of the needs of women seafarers.
"We recognize that seafaring is a male-dominated industry and that creates an assumption that the welfare needs of women seafarers may be similar to those of men. However, with this new research project, we want to explore that assumption.If women seafarers have unique or different welfare needs, we want to understand this and if necessary, use our grant funding to ensure that the welfare needs of women seafarers are as well supported as their male colleagues," Catherine Spence, chief executive officer of Seafarers' Charity, said.
Figures show that currently, only one percent of crew on cargo ships are women. Thus, the anticipated challenges in finding participants will be relieved by cooperating with ship operators and crewing agencies.
The researchers will also reach out to other groups promoting diversity and inclusivity in the maritime sector and seek support from maritime training centers and colleges. Reference
Déjà Vu: Another Evergreen Ship Stuck
16 Mar 2022
While not the same as the Ever Given incident in the Suez Canal, refloating the Ever Forward likely won't come easy.
Déjà vu… Nearly one year after the Ever Given grounded in the Suez Canal, blocking the waterway for six days, another Evergreen ship has become stranded in Maryland's Chesapeake Bay.
A spokesperson for the Coast Guard said the Ever Forward grounded at around 9 p.m. Sunday night after straying from the Craigshill Channel, between buoys 16 and 14, off Gibson Island, as it departed the Port of Baltimore with a pilot onboard.
At 334 meters in length and 12,100 TEU capacity, Ever Forward is smaller than the nearly 400-meter-long, 20,000 TEU Ever Given—both of which are operated by Evergreen Marine, a Taiwanese container shipping company.
This is hardly the same situation as the Suez Canal incident. In this case, Ever Forward is not blocking ship traffic in and out of Baltimore, let alone the Suez Canal which handles approximately 12% of global trade. There's also plenty of room for other vessels to maneuver. But that's not to say that the effort to refloat Ever Forward will be easy.
A look at the AIS shows Ever Forward was travelling at about 13 knots when it came to an abrupt stop seemingly in the middle of the bay, but a closer look at Ever Forward's track superimposed onto a navigational chart shows it may have strayed from the narrow shipping channel.
At that speed, a big ship can become stuck hard, especially on a soft mud seabed, meaning they will need a lot of pulling power, favorable tide conditions (coming later in the month), or perhaps some dredging or fuel removal (or cargo) in order to refloat the vessel, if not all of the above.
While the vessel is aground outside of the navigation channel and is not currently a hazard to navigation, for now the Coast Guard is enforcing a 500-yard safety zone. Reference
Maersk 1st shipping firm to join the Climate Pledge
16 Mar 2022
Danish shipping and logistics giant Maersk has joined The Climate Pledge, a cross-sector community of companies and organizations that have committed to decarbonizing their businesses.
On 14 March 2022, the climate action initiative welcomed nearly 100 new signatories including Maersk, US marine robotics company Ocean Infinity and others.
Together, pledge signatories in total generate over $3.5 trillion in global annual revenues and have more than 8 million employees across 51 industries in 29 countries – demonstrating the collective impact The Climate Pledge can have in addressing climate change.
In 2019, Amazon and Global Optimism co-founded The Climate Pledge, a commitment to reach the Paris Agreement 10 years early and be net zero carbon by 2040.
Now, 312 organizations have signed The Climate Pledge, sending an important signal that there will be rapid growth in demand for products and services that help reduce carbon emissions.
Specifically, signatories to The Climate Pledge must agree to:
Measure and report greenhouse gas emissions on a regular basis;

Implement decarbonization strategies in line with the Paris Agreement through real business changes and innovations, including efficiency improvements, renewable energy, materials reductions, and other carbon emission elimination strategies;

Neutralize any remaining emissions with additional, quantifiable, real, permanent, and socially beneficial offsets to achieve net-zero annual carbon emissions by 2040.
In January this year, Maersk set ambitious targets for the entire group to achieve net-zero greenhouse gas (GHG) emissions in 2040 – one decade ahead of its initial 2050 ambition.
The company unveiled new aspiring emission targets expected to align the company with the Net Zero criteria of the Science Based Targets initiative (SBTi) pathway to limit global warming to 1.5°C.
They include a societal commitment to act now and drive material impact in this decade, and a commitment to deliver net-zero supply chains to customers by 2040. Reference
Digital tools to improve health of sailors on merchant ships
15 Mar 2022
The results of the EU-funded interdisciplinary "E-Healthy Ship" project to improve health management on vessels with no doctors aboard were presented Tuesday (March 1, 2022). The project targets shipping companies in particular as more than 1.5 million people worldwide work as seafarers, according to the German Seamen's Mission.
The Hamburg-based Central Institute for Occupational and Maritime Medicine (ZfAM), which is responsible for the project, said it first drafted questionnaires and explored suitable scientific methods in 2017. A year later, it began gathering data such as UV exposure, sleep and fitness levels, work and exercise and the blood data of crews aboard ships operated by shipping companies in Hamburg. Based thereon, the e-learning platform "Crewhealthy" and software modules for the maritime computer programme "Cloud Fleet Manager" emerged.
The e-learning platform will include visually appealing tips on nutrition, exercise, mental health, sleep and relaxation techniques. Learning courses, weekly quizzes, a cookbook, and a food ordering tool are also part of the offer, ZfAM said. To encourage the regular use of the platform, shipping companies could opt to use an individual performance-based evaluation according to points.
ZfAM's team developed new health-related modules for the existing "Cloud Fleet Manager" application designed by Hanseaticsoft in Hamburg. Digital medical records will be kept on board, and medications will be managed and dispensed aboard the ship. Crew members would be able to access their own health files and view all the related information.
Prof. Dr. Volker Harth, Director of ZfAM, expressed satisfaction withe the project: "The E-Healthy Ship project has proven that the range of health promotion and health protection on board can be significantly expanded through digital learning and digitally enabled interaction." The total volume of the project came to some EUR 1.8 million with funds from the European Regional Development Fund (ERDF), the Ministry for Health and Consumer Protection in Hamburg and various partners. Reference
Superyacht Crew Jobs and Hierarchy
15 Mar 2022
When you first start looking for Superyacht crew jobs, you'll most likely be considering becoming a Deckhand or Stewardess.
What's just as important to know however is the hierarchy of those crew members; not only so that you know who to report to in different situations, but so that, if you want to progress your career beyond the Deckhand or Stewardess role, you'll have an idea of the best path to take!
To help you out, we've outlined the hierarchy of a Superyacht crew for you below…
Depending on the size of the Superyacht, the hierarchy of a Superyacht crew goes something like this:
In sum, the hierarchy of Superyacht crew jobs is straightforward – but offers a wealth of exciting career possibilities to the most dedicated of seafarers!
Earnings on Superyacht depends on the size of the Superyacht, salaries can vary in these different roles. .
If you can see yourself taking up an office on the ocean and climbing the Superyacht career ladder, be sure to take a look at our Superyacht training courses. Reference
Indian Coast Guard ships rescue stranded merchant vessel off Beypore
14 Mar 2022
Two Coast Guard vessels towed back to Beypore in Kozhikode MSV Bilal, a dhow that was on its way to Lakshadweep to deliver provisions and other goods, but reported water ingress and engine failure, 18 nautical miles off Beypore on Saturday.
On board the dhow were eight crew members. Indian Coast Guard Ship (ICGS) Vikram that was on patrol duty monitored a distressed call from the vessel and promptly swung into action. Interceptor Boat C-404 on patrol too was diverted for augmenting the rescue effort as a support unit, official sources said.
Considering the gravity of the situation, ICGS Vikram swiftly deployed its technical team who boarded the stranded vessel for situational assessment. On ascertaining that the water ingress resulted in engine breakdown which warranted immediate repairs, the vessel was towed to Beypore by the Coast Guard Ship, in coordination with the interceptor boat. Reference
Medium Range Tankers: Going From 'Just in Time' to 'Just in Case'
14 Mar 2022
There has never been a disclaimer like this (at least that I can remember) on an investor presentation: "Given the rapidly evolving situation, this written presentation may be 'out of synch' with the realities at the time of reading. We will discuss the up-to-date impact of these events during the presentation."
Two weeks into the fighting in the Ukraine, Ardmore Shipping Corp (NYSE: "ASC"), operator of handy sized tankers (most typically- the "MR" sizes around 47,000 – 50,000 dwt.) in the refined oil products and chemicals trades, gave a very candid and informative presentation, through investment specialist Capital Link's "Company Presentation Series."
This program, transmitted through the medium of a Zoom webinar, differed dramatically from the typically dry and very rigid format normally seen, with ASC's Chief Executive Officer, Anthony Gurnee providing a real view of the market for smaller sized tankers. The company operates two dozen tankers- mostly MR's.
He explained that ASC is doing everything it can for its seafarers (with Ukrainians and Russians composing around 2% of its staff). Importantly, Mr. Gurnee explained that ASC is "Avoiding Russian cargoes and service providers from both a moral and practical standpoint."
In talking about the tanker market, he said that the market had shifted around dramatically in the past few weeks, with the mentality of charterers morphing from "just in time" (where cargo is transported as needed) to "just in case" (where inventories are built up in the face of uncertainties). He said that there has been a run on diesel fuel, and that "diesel is now being stock-piled" by nervous charterers.
The result for Ardmore has been a near doubling daily hires on fixtures of open MR vessels. He said that time charter equivalents ("TCE"- which is a $/day cash flow to ship operators after deducting fuel, port and canal costs) "have been rising in spite of higher bunker prices." He added that: "The oil market and normal trade patterns have been scrambled," providing the micro perspective that "Russian exports of crude and refined oil to Europe have been significantly reduced; [and are] already being replaced with seaborne volumes from U.S. and A.G."
In describing a composite of daily hires for MR tankers in trans-Atlantic trades (the "TC2" westbound and "TC14" eastbound runs), provided by a London shipbroker, ASC presented a graph showing day rates (a per diem hire that can be compared with TCEs) around $10,000/day in late January 2022, moving up to roughly $25,000/day two weeks into the fighting in Ukraine. Reference
Note: All above news items compiled in this digest should be considered as news in brief. For detailed news, please refer to reference link, mentioned with each item.
Share it now