Share it now
Following Stories compiled in this News Digest for the week from 21 Mar 2022 to 27 Mar 2022 in descending order:
All-female crew breaking down barriers in maritime industry
27 Mar 2022
With women making up an estimated 1 to 2 per cent in seafaring roles, women are steering change, becoming the succesful seafarers.
All female crew navigates a sea of change in maritime. Video Source: koreaherald.com
The maritime industry is predominantly a man's game and women make up just a fraction of the workforce. But in the world's largest coal port, women are breaking down barriers and hoping to inspire the next generation in the process. Reference
India: National Maritime Heritage Complex to be built by TATA Projects
26 Mar 2022
TATA Projects Limited has signed an approximately Rs 500 crore contract agreement for development of National Maritime Heritage Complex (NMHC) in Lothal region, Gujarat. To be completed in 24-months, the NMHC will be dedicated to the maritime heritage of India and shall showcase the nation's rich and diverse maritime glory.
The project has been awarded by Ministry of Shipping (MoS) through Indian Port Rail & Rope Way Corporation Limited (IPRCL) and involves construction, testing and commissioning of National Maritime Heritage Complex (Phase- IA) on EPC basis. It includes museum building, artificial water body & jetty, prototype of ancient Lothal town and its rich heritage, museum galleries to establish a timeline of the known facts about India's maritime history and parking facilities.
NMHC shall house National Maritime Museum; Maritime Heritage based Theme Park, Maritime Research Institute, Nature Conservation Park, Resorts and Hotels, etc. NMHC shall remain under the ownership of MoS and IPRCL shall be the custodian of the assets created.
NHMC will consolidate all diverse and vibrant artefacts from ancient to modern times and provide access to the public – while spreading awareness and inspiring public about maritime heritage.
The location – 'Lothal' is significant since it is one of the prominent cities of the ancient Indus valley civilization dating to 2400 BC, located 76-kms from Ahmedabad in Gujarat. Archaeological excavations have discovered the oldest man-made dockyard, over 5000 years old, in Lothal. Reference
Carnival Eyes Profitability in the Post Pandemic Season
26 Mar 2022
Carnival continues its return to entire operations from the pandemic slump brought on. The cruise liner released its financial report for the first quarter of 2022 on 22nd March. There is a reported loss of $1.89 billion, but the company's return to profitability seems imminent given the substantial revenues and passenger occupancy despite the spread of the omicron variant.
The company expects a net loss in 2022, although there are strong indications that it will turn profitable in the third quarter. Carnival has disposed of as many as 22 cruise ships and plans to let 3 more go. But 6 new LNG-powered cruise ships have joined their fleet. Since Carnival was the first to resume operations in July, they managed to serve over 2.2 million passengers, have resumed 75% of operations, and rapidly mobilized the rest of the fleet. They expect to capitalize on the summer season. The cruise liner has historically made most of its money and intend total operational capacity in the brands under its umbrella in the Northern Hemisphere, barring China. The company's Australian subsidiary will resume operations in May 2022.
Carnival is optimistic regarding the future. They have refinanced over $9 billion of debt, have $7.2 billion of liquidity, and the ship occupancy that was suppressed due to safety guidelines is coming back to normal. Reference
IMO Meets on High Risk to Seafarers in Black Sea and the Sea of Azov
25 Mar 2022
IMO Extraordinary Council Session held to discuss the impacts on shipping and seafarers of the situation in the Black Sea and Sea of Azov.
The International Maritime Organization (IMO) held an extraordinary session of its Council (C/ES.35) on 10 and 11 March to address the impacts on shipping and seafarers of the situation in the Black Sea and the Sea of Azov.
The IMO Council made 12 point decisions, listed on IMO website.
The Council agreed to encourage the establishment, as a provisional and urgent measure, of a blue safe maritime corridor to allow the safe evacuation of seafarers and ships from the high-risk and affected areas in the Black Sea and the Sea of Azov to a safe place in order to protect the life of seafarers, ensure the mobilization and commercial navigation of vessels intending to use this corridor by avoiding military attacks and protecting and securing the maritime domain.
The Council, in this regard, taking into account the sensitivities of the matter, invited the Secretary-General to collaborate with the relevant parties and take necessary immediate actions to initiate the establishment and support the implementation of a blue safe maritime corridor in the Black Sea and the Sea of Azov and keep Member States informed of developments and report to the next session of the Council.
The Secretary-General has indicated his commitment to take immediate action to realize the blue safe maritime corridor with the cooperation and collaboration of the relevant parties including littoral states.
The Council welcomed the proposal that a number of steps should be taken to reduce the suffering of seafarers and their families. Reference
Green shore power has potential to cut emissions in ports by 90%
25 Mar 2022
Green shore power could reduce emissions in ports by more than 90%, as well as minimise noise and air pollution levels, a new feasibility study released by Scotland's Aberdeen Harbour shows.
The comprehensive study, delivered in partnership with Connected Places Catapult, also found that 78% of port emissions in Aberdeen North Harbour are attributed to vessels at berth.
Moreover, the study revealed that a proposed demonstrator project could provide green shore power in North Harbour within two years. Technical assessment and solution comparison has been completed and provides a clear way ahead, according to the study.
The project involved extensive stakeholder engagement and data analysis which helped to build a detailed picture of the needs and expectations of shipowners and port users.
Connected Places Catapult supported Aberdeen Harbour by connecting with other UK port regions and providing a place-centred blueprint of the future green port that can be utilised by other ports across the country. Buro Happold and Tyndall Centre also provided support to the project.
The Feasibility Study for Shore Power is part of the Clean Maritime Demonstration Competition (CMDC) launched in March 2021, funded by the Department for Transport and delivered in partnership with Innovate UK.
As part of the CMDC, the department allocated more than £23 million to 55 projects supported by 208 organisations from across the UK. Reference
Over 350 vessels and at least 1000 seafarers are stuck in Ukraine
25 Mar 2022
OVER 300 vessels and at least 1,000 seafarers are stuck in Ukraine, unable to escape the fighting and running dangerously low on food and medical supplies.
While a few hundred seafarers are thought to have been evacuated, the International Chamber of Shipping and International Transport Workers' Federation said that around 140 foreign flagged vessels with over 1,000 seafarers from 20 countries were stuck on vessels with supplies dwindling on board.
Analysis of Lloyd's List Intelligence data suggests the number of vessels stuck in Ukrainian ports could be significantly higher than those initial estimates, although it is unclear how many vessels still have crew on board.
Of the 347 vessels identifiable by Automatic Identification System signals, which stopped moving after fighting broke out in Ukraine and have remained inside ports or anchorages, the majority are either Russia- or Ukraine-flagged ships. Many of them are smaller domestic tonnage for which it is assumed crew would have already been evacuated.
It is unclear how many seafarers have been evacuated from Ukraine, but the experience of Liberia-flagged vessels offers an indicative measure. According to flag officials around 350 seafarers were on board Liberian ships in Ukrainian ports at the outbreak of war.
Flag officials, owners and industry bodies are liaising daily with the International Maritime Organization, which last week proposed the establishment of a so-called blue corridor to allow ships and their crews out. According to the ICS, however that has proved "very difficult, challenging and dangerous" in practice.
At least five merchant vessels have been hit by projectiles since the outbreak of war and while only two seafarers have been confirmed as having died in the conflict, industry officials stress that details are still being corroborated and it is likely that figure has already increased.
ITF general secretary Stephen Cotton said: "Speaking to our members in Kyiv, there are days when there is no food at all, and there is no water… the same situation will apply to those ships that are stuck either in port or at anchor off the ports for fear of getting hit. So that's what I think our biggest concern will be, how can we help? How can you get a supply of food or fuel into these areas which are literally locked off by both sides for different reasons?" Reference
MACN plans to set up anti-corruption tools in maritime sector
24 Mar 2022
In an effort to curb unethical activities in the maritime sector, the Maritime Anti-Corruption Network (MACN) is planning to deploy some of its tested anti-corruption tools across Indian ports.
It also aims to deepen its engagement in India by expanding to additional ports including Chennai.
This was said by the MACN officials at a webinar organised in coordination with Maritime Association of Nationwide Shipping Agencies (MANSA).
The webinar kick-started the `Say No' campaign with an objective to reduce integrity issues and bottlenecks to trade during operations in Indian ports.
In 2019, MACN had launched a Port Integrity Campaign in India to reduce and in the long term eliminate integrity issues and bottlenecks to trade during operations at Indian ports with a pilot campaign at Mumbai and JNPT port. Reference
From Ever Given to Ever Forward
24 Mar 2022
A year ago, MV Ever Given rammed its bow into Asia, ran its stern onto Africa, and her midships straddled the Suez Canal for six days. The world was transfixed on the vessel that launched a thousand memes and choked off twelve percent of the world's trade.
This one ultra-large container vessel demonstrated to everyone the fragility of the global supply chain. For months before this, the nation had been experiencing issues, who can forget the great toilet and paper towel shortage of 2020. But on March 23, 2021, we all discovered that high winds and human decisions could lead to near disaster and the potential crippling of the world's trade.
On March 13, 2022, when MV Ever Forward went aground departing Baltimore, Maryland en route to Norfolk, Virginia, Many people will look at the events unfolding with Ever Forward and draw different conclusions. Some are asking how this could happen again. Some have stated that this incident is nowhere near as important.
Dismissing an event like Ever Forward fails to acknowledge several critical issues. One is while we have been expanding ports on the East and Gulf coasts to accommodate these new neo-Panamax vessels, we still lack the requisite tugs, salvage equipment, and dredges when an accident occurs. Second, the fact that ships as large as Ever Forward are calling at ports like Baltimore is an indication of a shift in cargo from the congested ports of Los Angeles and Long Beach through the Panama Canal. This has led to new delays in ports like Houston, Savannah, Charleston, Norfolk, and New York/New Jersey.
Third, the grounding of Ever Forward in many ways is an equal if not more dangerous scenario than Ever Given. Ever Given grounded her bow and stern and was able to be twisted off through a combination of high-power dredging, large salvage tugs, and a large tide. All of these are currently missing from the Ever Forward site. Additionally, the full grounding of the Ever Forward presents risks to the hull and a potential leak of fuel. While the US Coast Guard has stated there is no indication of this and the crew is sounding the tanks, the lack of a containment boom on site is a concern. Should a leak occur, the transportation of a boom from shore will take hours before it can be deployed.
Finally, the issue with both Ever Given and Ever Forward has to do with the cause of the accidents. While we are still investigating Ever Forward, we have yet to see any official report on Ever Given a year later. Was it her high speed (approximately 13 knots), the gusts of winds, mechanical issues, or human error by the pilot or master? With Ever Forward we have many of the same concerns and issues with no information being released by the US Coast Guard or National Transportation Safety Board.
As ships like Ever Given and Ever Forward get larger, we are not keeping up with the technology to monitor and safeguard these ships. Many ships go aground every year. Yet as ships get larger and the supply chain requires greater speed, and as we reduce the size of crews and prolong their times aboard ships, accidents will increase along with their severity. Many ports lack vessel tracking systems to monitor passages. Nearly all ships rely on humans to steer vessels in confined waters when automated systems could provide backup to alert crews when they are deviating from their courses or track lines Reference
Adani Ports crosses 300 MMT cargo handling
24 Mar 2022
India has said it is on track to clock $400 billion in merchandise exports this year.
Adani Ports & SEZ crossed 300 million metric tons in cargo handling at its ports on March 20 for the first time in its 22-year history, with the milestone of the last 100 million tons reached in just three years.
The increase in global trade, with steady expansion in India's merchandise exports, has helped the company accelerate the pace of growth.
"Growth in the maritime sector for the current fiscal was sharply augmented by the rise in trade. India's exports and imports (in value terms) have clocked robust 46.49% and 59.96% growth, respectively, after a two-year hiatus owing to the pandemic-led weak demand in domestic and global markets," Adani Ports said.
This growth in trade has resulted in 6-7% growth in cargo handling at all Indian ports. Container handling at Indian ports has sharply grown at 13.4% over 11 months in FY22, in sync with the overall growth in trade.
APSEZ claimed it has grown 28%, more than four times the rate of growth nationally. It runs the largest container handling facility in India. The Mundra port, the largest commercial port in India, emerged as the largest container handling port in FY 2020-21 (surpassing JNPT) with a market share of 32% (a gain of around 5%), according to the conglomerate's latest annual report.
The company leads in handling the trade in most bulk commodities. Reference
India: INS Shivaji recognised as the Centre of Excellence in Marine Engineering by MSDE
23 Mar 2022
With an aim to motivate military organisations and recognise their efforts towards skill and technology development, the Ministry of Skill Development and Entrepreneurship (MSDE) recognised INS Shivaji as the Centre of Excellence (CoE) in the field of Marine Engineering (ME) on 22nd March 2022. The recognition was given to INS Shivaji after a thorough examination of the infrastructure and facilities available, as well as the training provided to improve the skills of Indian Navy personnel, friendly foreign navies, and the entire eco-system. The recognition certificate was presented by the Honorable Secretary MSDE, Shri Rajesh Aggarwal, IAS to CMDE Arvind Rawal, Commanding Officer, INS Shivaji. The certification took place at the Ministry of Skill Development & Entrepreneurship, Shram Shakti Bhawan, New Delhi.
INS Shivaji is an Indian naval station in Lonavla, Maharashtra. It houses the Naval College of Engineering, which educates and trains Indian Navy and Coast Guard officials. The organisation was commissioned as HMIS Shivaji on February 15, 1945. INS Shivaji's Centre of Excellence (Marine Engineering) was established in 2014 with a broad mandate that included the induction of niche technologies for naval applications, quality research in collaboration with R&D and academic institutes of high reputation. The larger goal here was to improve the skills of the personnel across the Indian Navy, Friendly Foreign Navies, and the entire ecosystem.
The Ministry of Skill Development and Entrepreneurship (MSDE) has designated a Centre of Excellence (CoE) as a body that provides leadership, best practices, research, support, training of trainers, and skill training for a specific sector or sectors. The Centre of Excellence in the skilling ecosystem is envisioned as a one-stop resource centre established/working in partnership with industry to raise training standards, boost productivity, address emerging skill gaps, and align training and research with industry needs.
MSDE's designation of INS Shivaji as a Centre of Excellence is the first of its kind for any military organisation, and it reflects the INS Shivaji's continued commitment to skill and technology development. Reference
U.S. start-up developing battery-swapping electric cargo ships
23 Mar 2022
A New Orleans-based start-up is working to develop a fleet of smaller, more efficient, electric-powered ships to help decarbonise the shipping industry that is responsible for about 3% of all carbon emissions worldwide.
A team of the U.S. Merchant Marine Academy graduates have started Fleetzero to deploy a fleet of electric cargo ships that run on a battery-swapping system.
My Climate Journey (MCJ), an investment fund that supports founders of scaling climate solutions, has invested in the start-up that gathers Y Combinator and Flexport as partners.
Fleetzero has developed a 2 MWh lithium iron phosphate battery pack that can fit in a standard 20-foot cargo container.
The prototype of the containerized battery was produced at the company's Alabama facility, MCJ informed.
Fleetzero is currently seeking regulatory approval of its battery pack design and is aiming to launch the maiden voyage of its first electric vessel in mid-2023, carrying cargo for its pilot partners.
As described, on the way to their destination, Fleetzero ships dock at ports along their journey, unloading depleted lithium batteries and replenishing themselves with a fully-charged complement of new ones.
Stored and assembled in transportable containers, batteries are shared across the fleet and allow for shorter stays at port than would be the case if each ship were recharged while at the dock.
Along with shorter port stays, battery swapping and sharing is said to offer the economic benefit of reduced costs as a result of requiring fewer batteries per ship. Reference
Saudi Ports to automate operations
23 Mar 2022
The Saudi Ports Authority (Mawani) has launched a new initiative aiming at automating operations in the country's ports.
During the launching ceremony of the Smart Ports initiative, Mawani signed three memoranda of understanding (MOUs) with telecommunications firms Ericsson and Huawei, port operator Saudi Global Ports Company (SGP), the Red Sea Gateway Terminal Company (RSGT) and port developer and operator DP World.
All parties will cooperate in accelerating and implementing 5G technology in both the logistics and operation sector to contribute to the automation of port operations. The partners will also cooperate in providing communications and information technology services as well as infrastructure, cloud computing services development, cybersecurity, application services, and platforms.
The shift to smart ports is expected to contribute to stimulating and attracting investments in the sectors of ports, marine transport, logistics services, and developing Saudi exports and imports to and from local and global markets.
The initiative also aims contribute to preserving the marine environment through the adoption of clean and renewable energy and implementing the latest technology equipment in all operational processes in domestic ports. Reference
India enters new era of cargo drones; more sectors to see their deployment
22 Mar 2022
The recent Indian Budget for fiscal year 2022-23 saw drones emerging not only as a key talkabout, but also found its place in the GoI's large scheme of Make in India, which emphasized on encouraging drones' development business in India. Various corporate sectors have expressed interest in incorporating cargo drones into their operations.
The government's heightened emphasis on the drone sector was evident when Finance Minister Nirmala Sitharaman mentioned it in this year's Union Budget. It was another step forward in the government's plan to make India a drone center by 2030. The drone business in India may be in its infancy, but it has already piqued the interest of the government and major enterprises. Drone services would be pushed for which the government has already implemented various production-linked incentive programmes (PLIs) for the drone sector.
Cargo drones in India are increasing in popularity among corporate sectors as well. Previously, the government was involved in drone initiatives, but Swiggy's entry into the industry demonstrates the relevance of the technology and the fact that many people can come forward and accomplish it.
Indian drone manufacturers are now working on the country's first heavy lift drones, which will be capable of transporting up to 150kg of freight across a distance of 150km. Because many of India's highways are notoriously in poor condition, a cargo drone might reduce delivery times, making e-commerce more mainstream and accessible to rural regions. 2022 will witness the market flooded with Indian manufactured drones because the demand for drones have gone beyond agriculture, surveillance and mining.
According to the Union Civil Aviation Minister Jyotiraditya Scindia, the government's goal is to make India a global drone hub by 2030, in which logistics will play a major role.
India notified the Drone Certification Scheme on 26 January this year, in order to build an ecosystem that would enable easier, quicker, and more transparent type-certification of drones.
Over the next three years, the government plans to attract ? 5,000 crore in investment in the drone manufacturing industry, creating over 10,000 job possibilities. It would be interesting to see how the cargo drone sector evolves and how India implements technologies for fast, seamless, and easy freight delivery. Reference
UK National Crime Agency Warns Maritime Industry of Criminal Targeting
22 Mar 2022
The National Crime Agency (NCA) of United Kingdom has renewed an appeal to the U.K. maritime industry to beware of organized crime groups targeting them to obtain small boats for people smugglers.
The appeal is backed by a new social media and leaflet campaign, supported by Border Force and the charity Crimestoppers, which will spell out the warning.
Additionally, the NCA are asking vendors to report unusual purchases of untreated plywood boards, PVC tarpaulin sheets and duct tape. These materials are often used by people smugglers to re-inforce or modify inflatables used in attempted crossings.
In December 2021 the NCA warned that crime groups were using ever more dangerous and un-seaworthy boats in efforts to smuggle people across the Channel, increasing the risk to life.
Boat owners are also being asked to take extra security measures to protect their vessels and equipment and report suspicious behavior, following cases of theft or attempted thefts of boats and equipment.
NCA Deputy Director Andrea Wilson said: "As the weather starts to improve, making small boat crossings more likely, we are taking this opportunity to reinforce our appeals to those within the marine and maritime industries to help us stop those involved in organized people smuggling. Reference
Ukrainian seafarers step in to keep evacuated ships safe
21 Mar 2022
International shipowners are looking for creative approaches to get their seafarers out of harm's way in the maritime war zone as the Russian attack on Ukraine continues by land and sea.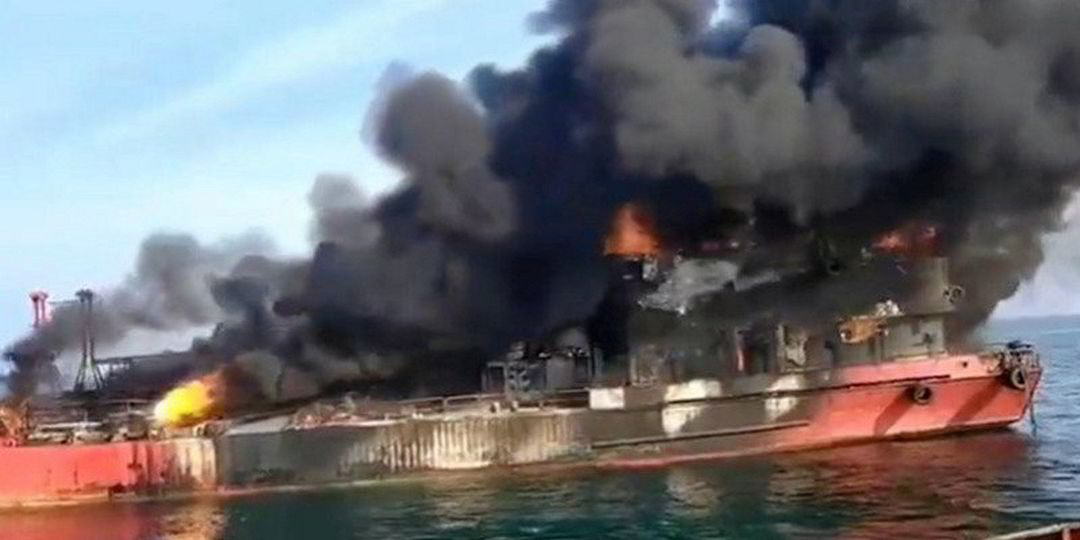 One group of Greek and other shipowners has turned to the Panama Maritime Authority's representative in the south-western port of Odessa to replace international crews with Ukrainian seafarers and avoid the prospect of abandoned vessels.
Another group of owners and managers including Hong Kong's Fleet Management has approached embassies and local port authorities.
Common to all owners caught in Ukraine is the challenge of avoiding abandoned vessels. So far no corridor for safe evacuation has been negotiated with Russia, whose warships are blockading Odessa and other Ukrainian ports.
Ukrainian authorities have identified about 100 foreign-flag vessels under blockade in their ports. TradeWinds has previously reported on 40 larger ships of more than 20,000 dwt caught by the hostilities.
Greek owners that recently replaced their crews with locals include Seastar Chartering with its 32,600-dwt open-hatch handysize bulker Polarstar (built 2006) at Odessa; and Star Bulk Carriers, whose 82,200-dwt Star Laura (built 2006) is at nearby Chernomorsk, said maritime lawyer Evgeniy Sukachev.
Some 40 seafarers from Myanmar, the Philippines and India have already been replaced with Ukrainian nationals. Sukachev said the owner of a third ship declined to identify itself, as did the local manning agency that is supplying the Ukrainian mariners.
Getting crew out has been comparatively easy so far in Odessa, but Sukachev told TradeWinds he is also working on the more challenging job of swapping crews in the embattled ports of Mykolaiv (Nikolayev) and Kherson. Reference
P&O Ferries 'big bang' backfires
21 Mar 2022
Even taking into account the lamentable record of the shipping industry's general treatment of its seafaring workforce throughout history, the cack-handed instant dismissal of 800 ferry workers by P&O Ferries seemed to mark a new low.
Maybe they thought that with so much else going on in the world, "it would be a good day to bury bad news". Perhaps the bean-counters in DP World Central had, as it is alleged of President Putin, "gone Tonto" and told the UK management it was this or the nuclear option of shutting down for ever. Maybe the reality of slow recovery post-pandemic, Brexit problems and new Irish competitors in the Straits had sunk in and patience among the paymasters had just run out.
Whatever provoked the summary dismissal of the crews, the lack of due process, the appalling insensitivity of employing security guards to clear the ships and the general chaos vested upon the customers, the company clearly did not anticipate the reaction from politicians of all flavours. Goodness know what damage has been done to the P&O Ferries brand as everyone piled in to condemn the action, demanding inquiries into its legality, threatening criminal action or even retaliation upon the parent's port-related enterprises in the UK.
The truth is that the shipping industry has a long and undistinguishable record of treating its crews as a commodity and changing them at the drop of a hat. Mostly it happens in foreign ports and far from the limelight, with contracts cancelled and the new crew on the wharf as the ship comes alongside. Nobody will make a fuss and the dismissed crew, whose fault would have been a few extra dollars per head in their monthly rate, compared with their replacements, will have packed their bags and silently dispersed.
That is business, in a world where crew managers compare the monthly costs of Philippine crews against the price of Chinese and Indian, and weigh up the cost of Croatian captains against the willingness of Indonesians to work for twice the contract length. And in the great international crewing bazaar, North Europeans must surely rank as luxury items.
The ferry sector has form in this sort of behaviour, although perhaps not as overtly we have seen with the recent mass sackings. The end of last century saw a terrible row in the Baltic, when Fred Olsen decided to replace his Norwegian crews with staff from the Philippines, with threats to break into the English Channel trades. P&O Ferries, still a British brand in the 90s, had to backtrack when news of their plan to employ Chinese catering staff sourced from some chap in Hamburg, leaked out.
Operating ferries in North Europe has never been easy, what with generally overheated competition, fuel costs, the ending of Duty-Free sales and – always – labour costs. So, we have seen flagging out, the gradual use of agency staff, cheaper Asian and East European seafarers and a lot of redundancies with different crewing arrangements and more automation. Reference
Note: All above news items compiled in this digest should be considered as news in brief. For detailed news, please refer to reference link, mentioned with each item.
Share it now