Share it now
Paradip Port achieves another milestone by handling highest ever cargo traffic of 6,49,730 Metric Tonnes in a single day
18 Dec 2022
Paradip Port achieved another milestone by handling highest ever cargo traffic of 6,49,730 Metric Tonnes in a single day on 14th December 2022. While congratulating Team PPA on this stupendous performance, Shri P.L.Haranadh, Chairman, PPA has also offered his heartfelt thanks to all Stakeholders for their constant support and immense contribution.
This is to be noted that after dredging of northern dock, recently, Paradip Port had successfully berthed MV Golden Barnet, a Cape vessel of 16.20 mtr draft carrying 1,46,554 Tonnes of Coking Coal at KICT Berth.
As the Port Is vying for the coveted 125 MMT Cargo Handling mark in the current fiscal, it urges the Stakeholders to take advantage of Cape handling facilities in Paradip Port to achieve better efficiency and economies of scale. Reference
Reinsurers Could Prohibit Black Sea Voyages Starting January 1st
18 Dec 2022
Insurers may refuse to cover planes flying to Ukraine or ships sailing through the Black Sea as reinsurers – who insure the insurers – propose excluding the region from policies from next month, four industry sources said.
Reinsurers typically renew their 12-month contracts with insurance clients on Jan. 1, meaning they have the first opportunity to scale back exposure since the war in Ukraine started, after being hit this year by losses related to the conflict and from Hurricane Ian in Florida.
A proposed contract clause being circulated by reinsurers excludes war-related claims for planes or ships in Ukraine, Belarus and Russia, the four sources told Reuters.
Without the backing of the reinsurers, insurers themselves may be unwilling to provide cover for the region, they added.
Reinsurers are particularly concerned about the loss of planes owned by aircraft leasing companies that are stuck in Russia and have already generated $8 billion in legal claims.
As they operate on an "aggregation" basis with marine and aviation war risk insurance, totting up the losses as one, claims in one area make reinsurers wary about the whole war risk sector, David Smith, head of hull and marine liabilities at broker McGill and Partners said. Reference
India: Govt proposed to establish the National Centre of Excellence in Green Port and Shipping
17 Dec 2022
The Government has proposed to establish the National Centre of Excellence in Green Port and Shipping (NCoEGPS) recently. The Centre would aim to identify the technologies, alternative fuels, renewable energy sources and targets for the shipping and port sector to reduce GHG emissions in line with the Govt. of India commitment for the sector. The legal framework developed by the centre will support research and cooperation on green shipping and will aid to formulate policy that will best suit the industry. The Center will work with all ports, shipping companies, and maritime states  to understand their problems and offer solutions based on research.
The broad focus areas of NCoEGPS are Policy, Regulatory and Research, Human Resource development, Network- Key Partners, Strategic collaborators, Engage- Past events, upcoming events, dissemination, Explore- Area of work, outcomes, projects and resources.
The Memorandum of Agreement was signed on November 18, 2022 between Ministry of Ports, Shipping and Waterways (MoPSW) along with Deendayal Port Authority, Kandla;Paradip Port Authority,Paradip; V.O. Chidambaranar Port Authority,Thoothukudi; Cochin Shipyard Limited, Kochi& The Energy & Resource Institute (TERI).
India has been selected by IMO Green Voyage to be the first country for piloting green shipping projects and coordinated by Directorate General of Shipping.  Reference
World's 1st shipment of certified blue ammonia reaches Ulsan Port
16 Dec 2022
LOTTE Fine Chemical Co. received yesterday the world's first certified blue ammonia cargo, which is independently certified, sent by SABIC AGRI-Nutrients (SABIC AN) and Saudi Aramco, amounting to 25,000 metric tons.
The ship, loaded with cargo, sailed from King Fahd Industrial Port in Jubail, Saudi Arabia, in November 2022, and docked Wednesday in Ulsan port, South Korea. This shipment, the first of its kind, marks a new milestone in the development of carbon-neutral solutions, as blue ammonia is considered a low-carbon alternative to traditional gray ammonia.
Earlier this year, SABIC AN and Aramco received the world's first independent certifications recognizing blue ammonia and blue hydrogen production from TUV Rheinland, a leading independent testing, inspection and certification agency, based in Germany. The shipment of blue ammonia to South Korea will be the first to capitalize on this major certification achievement. Reference
Kongsberg Maritime Launches New Retractable Azimuth Thrusters
16 Dec 2022
The Norwegian maritime equipment and technology company Kongsberg Maritime has launched a new series of retractable azimuth thrusters.
Kongsberg said that the units, of the ULE PM type, are smaller than competing units but maintain thrust power. Because of their compact size, the new thrusters could be used on modern offshore wind, fishing, and naval vessels with limited space on board. The ULE PM type thruster has an integrated electric prime mover mounted very low between the steering gear. This saves more than a meter in vertical space in an engineering compartment. The ULE PM Type is the smallest retractable unit on the market for any given power requirement.
All ULE PM-type thrusters are available as a Combi unit, which functions as an azimuth for maneuvering and dynamic positioning, or as a tunnel thruster when retracted into a tunnel. Reference
Over 100 leaders join IMO and WISTA Speakers Bureau
15 Dec 2022
Over 100 female leaders from the maritime and related industries have signed up to a speakers bureau created by WISTA and the IMO.
The Maritime Speakers Bureau was set up by Women's International Shipping and Trading Association (WISTA) International and the International Maritime Organization (IMO) to improve representation of women on industry conference panels and programmes.
In less than one month, over a hundred women leaders and experts have registered as speakers for the directory, and event organisers are encouraged to use the directory to bring an end to all-male speaker line-ups.
IMO and WISTA believe the directory will help bring a diversity of thought to industry discussions, with speakers already signed up with expertise covering topics from decarbonisation, law and regulations through to AI, robotics, naval architecture and more. Reference
New international medical app available for all seafarers
15 Dec 2022
Gard and the Norwegian Centre for Maritime and Diving Medicine have launched an innovative international digital medical guide to improve medical treatment onboard and potentially save seafarers' lives.
The Mariners Medico Guide is a unique app, designed and tailored for seafarers. It provides step-by-step guidance for treating crew onboard. Fully downloadable, it can be used without a signal mid-ocean and in remote parts of a ship. It is available free of charge to all seafarers.
The app is built around guiding the user through their symptoms as a navigation tool. It has been designed and written by doctors specialised in maritime medicine and working in Radio Medico. Guidance is set out in simple steps and language for users with limited medical experience. The app also aims to lower the threshold for seeking professional support from doctors ashore, guiding the user when to seek support from telemedical assistance services.
Download your Mariners Medico Guide today for free on both desktop and mobile devices. Please visit www.medicoguide.no for more information. Reference
World's First Metaverse Cruise Ship Launched by Celebrity Cruises
15 Dec 2022
Celebrity Cruises has launched a virtual experience called "Wonderverse" that allows guests to explore a digital version of their newest ship, Celebrity Beyond, and interact with designers and even Captain Kate McCue as digital avatars.
The experience features the ship's signature spaces and moments, such as the Martini Bar Flair Show, and allows guests to visit top destinations that Celebrity sails to. The Wonderverse will provide feature guests with a great insight into what they can expect from their cruise onboard Celebrity Beyond.
In what the cruise line calls its own experience in the Metaverse, Celebrity Cruises has launched a brand-new digital ship experience tool where guests can fully immerse themselves in the Celebrity cruise experience. Called the Wonderverse, the new experience launched on, December 14, 2022. 
Website visitors can explore and book vacation itineraries, learn more about how the ship was designed by chatting with interior designer Nate Berkus, talk to ground-breaking Captain Kate McCue, or even interact with President and CEO Lisa Lutoff-Perlo.
The Wonderverse will give guests the opportunity to make a digital visit to all the fantastic spaces onboard Celebrity Beyond, such as the Magic Carpet, the Grand Plaza, and the Resort Deck.
However, the experience goes much further than that. Guests can also visit some of the areas that the Celebrity ships sail to, such as Endicott Arm & Dawes Glacier in Alaska, St. Lucia in the Caribbean, Santorini in Europe, and Tokyo, Japan. Reference
ITF: 85% of public believe seafarers deserve global working protections
14 Dec 2022
The International Transport Workers Federation (ITF) and YouGov carried out a poll of 16,464 people, finding out that 85% are supporting robust workplace protection for transport workers working across borders or in international waters/airspace.
Most specifically, the COVID-19 crew change crisis, that kept 400,000 seafarers stranded on ships and cut off from their families, sometimes for years, exposed shortfalls in the system that maintain good working conditions for this crucial global workforce.
The data, broken down regionally, shows public support for transport workers having protection regardless of where they work holds across the globe. Latin America (89%), APAC (88%) and Africa (87%) were the most likely to think it was important transport workers have protections regardless of where they work, with support following closely in the G20 (85%), North America (82%) and Europe (81%).
Reacting to the findings, Stephen Cotton, general secretary of the International Transport Workers' Federation, commented:
Seafarers are the backbone of the global economy. Each day, we wake up to food in our fridges and fuel in our cars because of their unwavering dedication to their trade. But their working protections are being eroded, ironically making it harder for transport workers to purchase the very goods they help move
He further added that "global governments convening at the ILO-IMO Tripartite in Geneva must recognise the will of people around the world and use this moment to improve protections for seafarers." Reference
Turkey Reaches Deal Over New Tanker Insurance Regulations
14 Dec 2022
Turkey welcomed an agreement reached with its counterparts on Tuesday that allows the continuation of a new regulation requiring crude oil tankers to present an insurance confirmation letter before transiting Turkish straits.
The Turkish measures, which came into effect on Dec. 1, requires vessels to provide proof of insurance for the duration of transit through the Bosphorus or when calling at Turkish ports.
The regulation has caused shipping delays, with up to 20 tankers waiting at the same time in the Black Sea last week, as they worked to present the necessary documents. 
Western insurers have said the regulations would mean they would have to provide cover even in the event of ship being in breach of sanctions against countries including Russia, which is something they were not prepared to do.
Industry sources said the new template had already been used by some of the Western insurers to enable some of the tankers that were stuck to sail.
The average waiting time at the Bosphorus for southbound tankers fell to 2.9 days to 3.4 days from 3.8 days to 4.3 days on Monday, the Tribeca shipping agency said. Average waiting time peaked at above 6 days last week. Reference
New Mobile App From North P&I Eases Evidence Gathering Burden For Marine Professionals
14 Dec 2022
A new mobile app from North P&I will make collecting evidence on incidents faster, easier and more accurate while enhancing reporting consistency in future claims.
Launched on 12 December 2022, the 'The MRCE Handbook' app from North will help senior officers, surveyors and shore-based technical and marine personnel gather evidence quickly and efficiently, using standardised formats on mobile phones and tablets.
The MRCE Handbook app has been developed by North's in-house Loss Prevention Team using proven methodologies established in The Mariner's Role in Collecting Evidence Handbook. Published by North, the source Handbook outlines the most commonly occurring incidents and accidents on board ship, offering evidence collection checklists for each. It is widely regarded as a leading reference guide for seafarers.
Compatible with iPhones, Androids and tablets, the app is free to access for all North entered Members and Correspondents. It offers clear guidance on best practice in evidence-gathering methods and covers incidents such as those involving people or cargo, those caused by vessels (including pollution), and those relating to H&M claims or commercial disputes. Reference
235 Nigerians to train in India and Greece
13 Dec 2022
The Nigerian Maritime Administration and Safety Agency NIMASA has sent 235 Nigerians to India and Greece as batch B of the 435 young Nigerians to be trained as Licenced Deck and Engine Officers including Naval Architects under the Nigerian Seafarers Development Programme, NSDP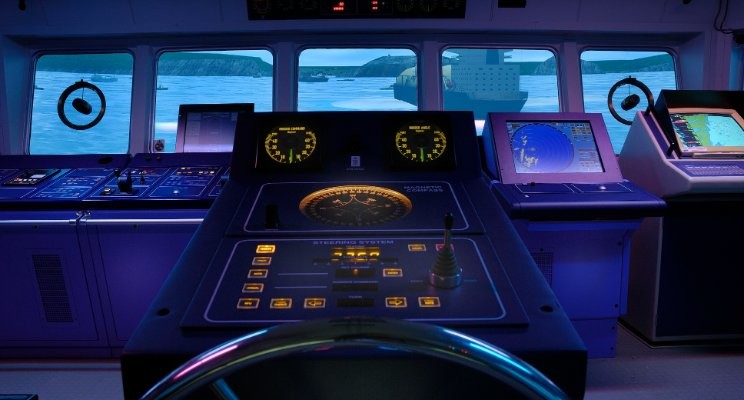 While acknowledging some teething challenges experienced by the NSDP scholarship scheme in the earlier Phases, the NIMASA DG maintained that all grey areas have been addressed to ensure a better deal for both beneficiaries and the Nigerian Government.
Stakeholders at the event urged the beneficiaries to be good ambassadors of the country
It would be recalled that in 2008, NIMASA initiated the NSDP with the sole mandate of training Nigerian youths to become seafarers and Naval Architects in fulfilling one of its core in the area of Maritime Capacity Building.
The programme was designed to train Nigerian youths up to degree level in Marine Engineering, Nautical Sciences and Naval Architecture in some of the best Maritime Training Institutions (MTIs) abroad and to position them to compete effectively in the global Maritime Industry.
It was noted that the number of Nigerian seafarers on ocean-going vessels as at then had depleted over the years and the urgent need to boost it adequately for effective implementation of the coastal and inland shipping policy of the Government, informed the initiative. Reference
New Maritime Simulator Aims To Open Access
13 Dec 2022
VSTEP launched its latest maritime simulator — NAUTIS Home — for maritime professionals, students or enthusiasts, effectively aiming to make ship simulation available on a larger scale.
"Simulation-based training is essential when it comes to improving the safety, efficiency and sustainability of the maritime industry," said Fabian van den Berg, CEO, VSTEP. The maritime industry is evolving constantly, powering innovation but simultaneously bringing new challenges to the surface. Technological advances are pushing maritime professionals and future seafarers to learn and train new skills and competences. Simulation-based learning can assist to prepare the maritime professionals, especially in the current market with a shortage of qualified personnel."
NAUTIS Home licenses start from €5.95 per month.
VSTEP launched its new maritime simulation solution NAUTIS Home in Early Access, aiming for a feature complete product by the end of 2023. Reference
Philippines determined to comply with EU standards for seafarers
13 Dec 2022
The national government will do "everything" to address deficiencies in local seafarer training and education to prevent job losses among Filipino seafarers deployed to work for European Union (EU) vessels, President Ferdinand R. Marcos Jr. said Sunday.
Marcos assured that his administration will enhance its efforts to comply with the European Maritime Safety Agency (EMSA) standards after the EU flagged the Philippines for deficiencies in local seafarer training and education earlier this year.
He expressed confidence that once deficiencies are addressed, the Philippines would pass the international standards for seafarers' training.
Marcos is expected to raise maritime cooperation and security in his meetings with EU officials during the ASEAN-EU Commemorative Summit.
About 50,000 Filipino seafarers working in European vessels are reportedly at risk of losing their jobs due to the Philippines' repeated failure to hurdle the European Maritime Safety Agency's (EMSA) evaluation in the last 16 years.
The President earlier ordered a collective effort involving various government bodies to ensure that the country's training initiatives and accreditation scheme for seafarers would pass the standards of the EU. Reference
Robotic Ship Class 'Armada' Could Be the Future of Offshore Support Vessels
12 Dec 2022
A new 'robotic' ship that could be the future of offshore support vessels is currently undergoing sea trials in Vietnam after launching to sea this past summer.
The first of the Armada class of 78m service and survey vessels is being touted by its creators at Ocean Infinity as "designed for today's tasks but with tomorrow's in mind".
Aside from its fuel efficiency, with a design readied for the latest fuel cell technology, a key aspect of the Armada is that it can sail with a skeleton crew while being controlled remotely from the shore.
The ship currently undergoing trials is designed and built by VARD, the international shipbuilding group headquartered in Norway.
Following the on-schedule delivery of the ship, it will soon begin a transit to Norway where it will undergo fit-out of its remote system.
It will then begin integration with Ocean Infinity's Remote Control Centre to enable lean-crewed operations for a range of maritime tasks, initially supporting offshore energy. Reference
Why are researchers concerned over 'rogue waves' off Israel's coast?
12 Dec 2022
Researchers in Georgia, Haifa study dangerous waves in eastern Mediterranean Sea • Team uses novel theory of space-time wave extremes.
The eastern Mediterranean Sea, a large basin surrounded by ancient cultural sites with Israel at its farthest end, is also a climatology hotspot that has received comparatively little attention when it comes to understanding the extreme sea states that produce massive and potentially catastrophic waves.
According to climate experts, in light of global warming, weather events are likely to become more severe and hazardous to coastal and offshore structures and maritime navigation. Not only does this relate to vast oceans, but also to large basins such as the Black Sea and the Mediterranean Sea. 
An international team of researchers led by Prof. Francesco Fedele in the School of Civil and Environmental Engineering at the Georgia Institute of Technology in Atlanta that included experts from the Technion-Israel Institute of Technology and the CAMERI Coastal and Marine Engineering Research Institute in Haifa studied this phenomenon.
Their findings illuminate the nature of extreme waves in the Mediterranean Sea and could advance technology for rogue wave predictions and maritime navigation in extreme weather conditions.
They discovered that, because the eastern Mediterranean basin is characterized by waves coming from all directions, rogue waves do not "steal" energy from neighboring waves or grow at their expense. This effect, known as modulational instability, has been employed in the past to understand rogue waves. But, according to Fedele, it is only relevant when waves travel in the same direction, like through a long channel, and therefore does not apply in realistic seas. Reference
Note: All above news items compiled in this digest should be considered as news in brief. For detailed news, please refer to reference link, mentioned with each item.
Share it now