Share it now
Following Stories compiled in this News Digest for the week from 16 May 2022 to 22 May 2022 in descending order:
1909 Sailing Ship Will Launch Sailcargo's Operations This Year
22 May 2022
A start-up that is promoting the use of sailing ships to provide environmentally-friendly logistics purchased a 113-year-old sailing vessel announcing that they plan to launch operations in the fourth quarter of this year. The company is accelerating its planned launch a year earlier than anticipated as it also continues to build a new sailing ship that it anticipates launching in 2023.
Sailcargo purchased the cargo vessel S/V Vega Gamleby, built in 1909 that will be able to transport approximately 148 cubic meters (82 tons) of cargo. They plan to launch the operation transporting green coffee beans and other dry goods between Santa Marta, Colombia and New Jersey in the United States. Café William, a coffee company based in Canada, has booked all northbound cargo voyages to ship their coffee beans.
Vega is a three-masted, square top sail wooden cargo schooner originally built in Sweden in 1909. Vega successfully served as an industrial cargo ship for nearly 60 years. Currently registered at 140 gross tons, the sailing ship is 137 feet in length. She hoists 14 standard sails and six additional studding sails for a total of 7,000 square feet of sail area. She retired from shipping cargo in 1967 and fell into disrepair and sank in Stockholm harbor. According to the company, she was headed for the scrapyard when the Bergstöm family purchased her and begin an extensive reconstruction. In 1993 a fire at the shipyard destroyed the majority of the original vessel, changing the plans from a restoration into essentially a new build.
The new Vega retains about 15 percent of the original vessel, "preserving the rich history, inside a ship built to exacting modern standards," said Sailcargo. Vega was reintroduced in 2008 operating as a sail training ship able to accommodate up to 48 people. Over the past decade, she won the sail training Tall Ships Races several times, but the family now wants to see the ship return to her original purpose as a cargo ship.
The plan calls for Vega to commence her delivery voyage across the Atlantic Ocean in mid-May, 2022. Once she arrives in the Caribbean, Vega will be refit to maximize the cargo holds before beginning her new life sailing products from Colombia to the United States. Vega's Swedish crew and Sailcargo's crew are currently working together to prepare her for the Atlantic crossing. During the delivery voyage, the Swedish crew will train her new Costa Rican sailors.Vega will be operated with a crew of up to 14 with the capacity for four passengers. Reference
UG/PG/Diploma Admissions at Indian Maritime University: Apply by May 24
21 May 2022
Indian Maritime University IMU), a Central University; East Coast Road, Semmencherry, Chennai- 600 119, has invited applications for admission to the Diploma, Undergraduate & Postgraduate Programmes for 2022-23 offered at various Campuses of IMU located at Chennai, Navi Mumbai, Mumbai Port, Kolkata, Visakhapatnam and Kochi. IMU also has 17 Affiliated Institutes across India.
The Programmes offered by IMU at its own Campuses and/or Affiliated Institutes are the following:
Undergraduate programmes: (i) 4-Year B.Tech (Marine Engineering) – Chennai, Kolkata & Mumbai Port campuses (ii) 4-year B.Tech (Naval Architecture & Ocean Engineering) – Visakhapatnam (iii) 3-Year B.Sc (Nautical Science) – Chennai, Kochi & Navi Mumbai (iv) 3-Year BBA (Logistics, Retailing & E-Commerce) – Chennai & Kochi (v) 3-year Apprenticeship embedded BBA – Maritime Logistics- Visakhapatnam (vi) 1-Year Diploma in Nautical Science (DNS) -Chennai & Navi Mumbai (vii) 3-Year B.Sc (Ship Building & Repair) (Offered only at IMU's Affiliated Institute – College of Ship Technology(CST), Palakkad)
Postgraduate programmes: (i) M.Tech (Naval Architecture & Ocean Engineering) – Visakhapatnam (ii) M.Tech (Dredging & Harbour Engineering) – Visakhapatnam (iii) M.Tech (Marine Engineering & Management) – Kolkata (iv) MBA (International Transportation & Logistics Management) – Chennai, Kolkata, Visakhapatnam & Kochi (v) MBA (Port & Shipping Management) – Chennai & Kochi. All are of 2 years' duration.
The details regarding the eligibility for admission are available in the Academic Brochure that can be downloaded from https://www.imu.edu.in/
Selection Process: Admission to the Diploma/UG Programmes (except BBA and B.Sc-Ship Building & Repair) and PG Programs will be based on Computer Based IMU Common Entrance Tests (IMU-CET) to be conducted on 11th June, 2022 at centres across the country. Details of the IMU CET are available in the Academic Brochure.
For BBA, admissions will be based on a suitable mechanism to be decided in due course of time. For B.Sc -Ship Building & Repair, admission will be done by the institute directly as per IMU's eligibility criteria.
Application: Applications can be submitted online at https://www.imu.edu.in/ latest by 24.5.2022. Last date for registration for BBA Programs is 25.05.2022. Reference
Armon Shipyards Launches World's First Hydrogen-Powered Tug
21 May 2022
The Port of Antwerp-Bruges and CMB are preparing to welcome the world's first hydrogen-powered tugboat, the Hydrotug.
This one-of-a-kind vessel is a midsize harbor tug powered by twin 2,600 horsepower dual fuel medium speed engines, which run on a combination of hydrogen and conventional fuel. The new "BeHydro" engine is a JV between the Saverys family's Company Maritim Belge (CMB) and engine builder Anglo Belgian Corporation (ABC), and it comes in dual-fuel and hydrogen-only variants. According to the consortium, the dual-fuel version reduces CO2 by 85 percent in operation, and it meets IMO Tier III with aftertreatment.
According to Port of Antwerp-Bruges operations manager Rob Smeets, it fits particularly well with the port's vision for its future development: Antwerp-Bruges aims to have green hydrogen available by 2028, and it is investigating the possibility of a hydrogen delivery pipeline between the twin ports and into the European hinterland.
"We are delighted that Port of Antwerp-Bruges will be the first user of Hydrotug, the world's largest hydrogen-powered vessel. The technology has been approved by Lloyd's Register and we are ready to approach the global market of 10.000 tugs," said CTO of CMB.TECH Roy Campe. "With this technology we can significantly improve the air quality in ports and bring hydrogen technology to every port worldwide."
The Hydrotug was launched at Armón Shipyards in Navia, Spain on Monday. Reference
$60bn first quarter windfall for container sector
21 May 2022
The container industry made a $59.3bn profit in the first quarter, the sixth consecutive record quarterly profit for the sector.
The McCown Container Results Observer noted that the result marked more than a threefold improvement over the same quarter last year, a record at the time.
Profitability also increased, with net income representing 45.1% of revenue compared to 25.2% in the first and 41.8% in the final quarter of 2021.
"By any and all financial measures, the 1Q22 results were the best actual quarterly performance by the container shipping industry in its history," said the report.
Beneath the record profit figures, Container Trade Statistics data showed worldwide box volume falling 1.8% in the first quarter, adding to a 1.1% drop in Q4 2021 and 1.2% drop in Q3 2021.
A previous edition of the McCown report noted that container line profits in the third quarter of 2021 had exceeded those of the tech giants. The box sector continued to outperform Facebook, Amazon, Netflix and google, in Q1 2022 and even extended its lead as the tech companies experienced their usual seasonal Q1 dip in profits, and the container sector's seasonal low failed to materialise.
The container sector has benefited from the fallout of the COVID pandemic, as a change in consumer habits in the West conspired with closures of ports and factories to disrupt supply chains. The interruption to the flow of equipment and vessels continues to effectively restrict transportation supply on many routes, leading the freight market higher. Effective capacity is still restricted by around 13%.
The McCown report noted that the highest profit margins were at those companies serving the Asia-Europe and Asia-North America routes, along with companies that had capacity to take on new business in recent quarters. Reference
Report explores key challenges faced by women seafarers
20 May 2022
The Mission to Seafarers has published a report called 'Beyond the 2%, Women Seafarers and their Lives at Sea: Reflecting on Our Call to Care.' The report is intended to act as a discussion document for the charity and other maritime welfare providers. It considers the unique challenges faced by women at sea and how organisations can tailor their support to contribute towards a better future for female seafarers.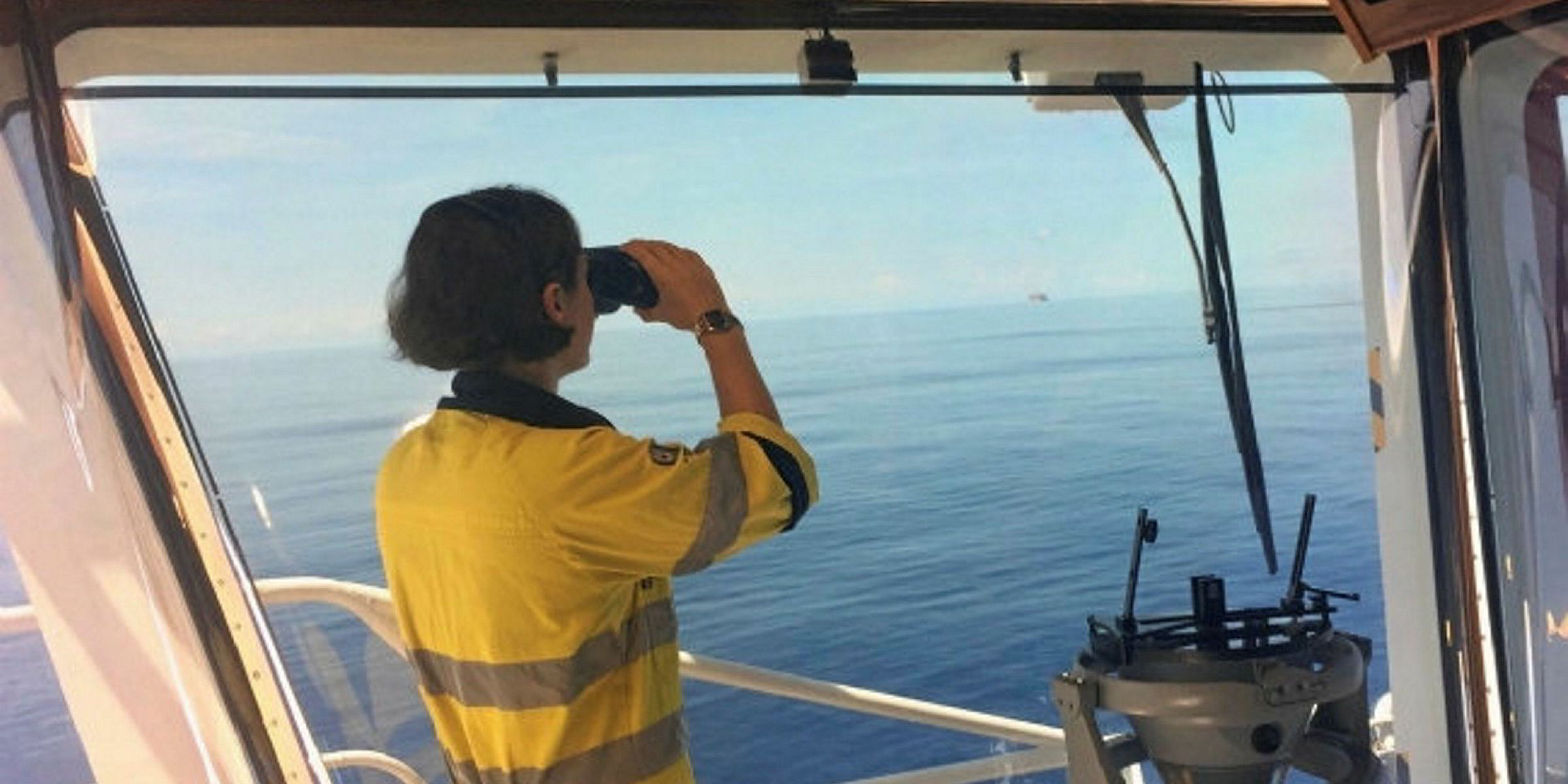 The impact of the pandemic is still being experienced by seafarers as a whole. However, in light of the first International Day for Women in Maritime, the Mission feel that now is an opportune time to focus on the experiences of women at sea.
Despite many initiatives, women are still under-represented in the maritime industry and make up just 2% of the world's estimated 1.2 million seafarers. More needs to be done to attract and retain women in the industry.
Both male and female seafarers experience a range of challenges when working at sea, but there are some that are specific to women as they must adapt to a male dominated working environment. The Mission aims to highlight some of the difficulties that women still encounter at sea in this report, including challenges specific to different vessels, such as cargo ships, cruise ships and superyachts.
It is hoped that the report will help The Mission to Seafarers and other maritime welfare providers to reflect on our relationship with women seafarers, the care we provide to them, and how we might shape our services for the future so that we meet the needs of the women seafarers who visit ports and our centres around the world.
As an international organisation, The Mission to Seafarers is well placed to discuss these challenges and share ideas within our global Mission family. Reference
H2 Industries develops ship concept that converts plastic waste into clean hydrogen
20 May 2022
New York-based hydrogen company H2 Industries and naval architecture firm TECHNOLOG Services have developed 3D designs for a concept ship that collects plastic waste and converts it into clean hydrogen.
According to an assessment by the UNEP, plastic pollution in oceans continues to grow sharply and could more than double by 2030. Plastic debris currently makes up 80 per cent of all marine debris found from surface waters to deep-sea sediments. In addition, at least 14 million tonnes of plastic end up in the ocean every year.
This new design for an innovative concept shows a ship that will collect plastic waste and then convert it into clean hydrogen, allowing surplus hydrogen to be shipped back to shore.
The vessel will be more than 150 metres in length. It is to travel at four knots with the waste plastic collected by two smaller vessels towing a two-mile net that funnels the waste from the surface and up to ten metres below it. The most novel feature of the vessel will be the open bow design that allows the collected plastic waste to be fed onto conveyors and into the storage hold.
This waste will then be converted into hydrogen by the same thermolysis process that the H2-Industries' plants will be using onshore. For every 600 kilograms of waste, approximately 100 kilograms of hydrogen can be produced and then, stored in liquid organic hydrogen carrier (LOHC) in 20-foot containers. These containers will be transferred to smaller vessels by onboard cranes for delivery to shore.
The ship will run on electric motors using the LOHC produced, on board, as its fuel and creating electricity using H2-Industries' racks. Each rack will hold 48 kilowatts of installed power and there will be multiple racks to deliver the approximately two megawatts that a ship of this size will require.
This is the same technology H2-Industries has developed and which it intends to deploy in cruise liners, super-tankers, and large container ships.
The company has received preliminary approval to build its first LOHC hub in East Port Said in Egypt and is currently in discussions with more than 20 countries and, as well, with several ports worldwide. Reference
Dubai uses advanced technology to put out marine fires
20 May 2022
The Dubai civil defence teams brought under control a fire that broke out in a cargo ship in Hamriya Port. No casualties were reported as a result of the fire. According to a Dubai Civil Defense source, teams from Al Hamriyah station as well as firefighting and maritime rescue units arrived in the scene within 7 minutes after a report was received by the operations room at 11:54am on Thursday, stating that a fire had erupted in a wooden cargo ship in Al Hamriya Port.
The firefighting teams started evacuating the ship and putting out the fire, the source added, noting that the accident did not result in any casualties or deaths and that the smoke was due to the nature of the materials contained in the ship.
The source stated that the civil defence men brought the fire under control within 23 minutes and then began cooling the site until 1:49pm. Reference
CSSC Launches World's First "Drone Carrier"
20 May 2022
CSSC Huangpu Wenchong has launched what may be the world's first "unmanned vehicle carrier," a research ship purpose-built for carrying and deploying unmanned aircraft, surface vessels and submersibles.
The newly-launched Zhu Hai Yun is owned by Southern Marine Science and Engineering Guangdong Laboratory (Zhuhai), also known as the "Southern Ocean Laboratory" of Sun Yat-sen University. According to its sponsors, it is intended to help China's oceanographers to expand their research through the use of unmanned and autonomous tools.
The 290-foot vessel is designed to carry "dozens" of unmanned systems fitted with scientific instruments. The ship's developers attempted to maximize domestic content, including its propulsion, power systems, survey systems and automation systems.
The project's overarching objective is to deploy unmanned devices en masse for a 3D, networked observation system, above and below the surface – an "Intelligent and Agile Ocean Stereoscopic Observation System" covering an area about 50 nm in diameter. Like other civilian maritime autonomy projects – for example, the Chinese Academy of Sciences' Sea Wing glider or Yunzhou Tech's swarming drones – the concept could have additional utility for naval applications.
Construction of the vessel began in July 2021, and its sponsors described it as a challenging project due to its sophistication. Reference
UN marks first ever international day spotlighting women working in the maritime industry
19 May 2022
"Women account for just 20 per cent of the workforce in the maritime authorities of Member States and 29 percent…across subsectors in the maritime industry," International Maritime Organization (IMO) chief Kitack Lim told the virtual Symposium on Training-Visibility-Recognition: Supporting a barrier-free working environment for Women in Maritime.
Noting that these numbers are "significantly higher than those at sea, where women make up as little as two per cent of the workforce," he added, "we can and must do better".
The day intends to celebrate and promote the recruitment, retention and sustained employment of women in the maritime sector.
By raising the profile of women in maritime, IMO is strengthening its commitment to the fifth Sustainable Development Goal 5 (SDG5) of gender equality while addressing gender imbalances in maritime.
"IMO is committed to gender inclusivity," underscored Mr. Lim.
Ample evidence supports that investing in women is the most effective way to lift up communities, companies, and even countries. Countries with more gender equality, enjoy better economic growth.
Across the world, IMO has helped to establish eight thriving Women in Maritime Associations (WIMAs): three in Africa and one each representing Arab States, Asia, the Caribbean, Latin America and the Pacific.
There women can gain technical expertise via IMO-funded opportunities at the IMO International Maritime Law Institute, Women in Port Management course and most recently the Maritime SheEO leadership accelerator programme, which was launched in March.
Despite the challenges of the COVID pandemic, IMO was able to conduct a global survey that lays bare the sector's gender gap.
The 2021 IMO-Women's International Shipping and Trading Association (WISTA) Women in Maritime Survey Report details the proportion and distribution of women working in the maritime sector from IMO Member States and the maritime industry.
Launching the publication, he said gender diversity in maritime was "extremely fragmented by sector".
"Benchmarking the current state of the sector is vital to measure where we are, and where we need to go," added the IMO chief. Reference
ILO Adopts New Minimum Wage for Seafarers
19 May 2022
A subcommittiee of the International Labour Organization (ILO) has agreed to raise the minimum wage for seafarers to up to $673 per month following the conclusion of negotiations between shipowners and seafarers' unions.
Under the resolution agreed by a subcommittee of the ILO's Joint Maritime Commission (JMC), the minimum basic wage for able seafarers will increase each year for three years starting in January 2023 until the next meeting of the JMC in 2025. Under the agreement, the minimum wage will be raised to$658 starting January 1, 2023, $666 in 2024, and $673 in 2025.
During the previous round of negotiations in September of last year, shipowners and seafarer unions set the minimum wage to $648 per month beginning 1 July 2022.
During those negotiations, the International Transport Workers' Federation (ITF), representing the seafarers, originally asked to increase the minimum wage to $683 per month, up 6.5% or a $1.40 per day from the $641 monthly minimum wage that had been in place since 2018. But shipowners unions, represented by the International Chamber of Shipping, rejected the offer and put forward a plan to increase wages by just 3% over three years, maxing out at $660 per month in 2024.
While the ILO minimum wage is low by most standards in the developed world, it is widely recognized by the global shipping industry as being a positive contribution to decent work and employment for the world's seafarers. Reference
Eastern Pacific Tests First Plug and Play Carbon Capture on Tankers
19 May 2022
Singapore-based shipowner Eastern Pacific Shipping is seeking to accelerate the decarbonization of the shipping industry with plans to retrofit at least five medium-range tankers with carbon capture systems. Eastern Pacific is working with Rotterdam's Value Maritime to install the first carbon capture and filtering systems onboard a pair of the company's tankers as a test to fill a gap in its decarbonization strategy.
The retrofit on the two tankers, M/T Pacific Cobalt and M/T Pacific Gold, will make them the largest ocean-going vessels to date fitted with the technology. Engineering and planning are underway with the installation of the system onboard Pacific Cobalt expected to be completed by the end of this year while the installation on Pacific Gold is scheduled to be completed by the end of the first quarter in 2023. Eastern Pacific also has an option based on the test results to equip three more vessels with the technology.
The 2020-built, 49,700 dwt sister vessels will be fitted with Value Maritime's Filtree system, a prefabricated gas cleaning system that filters sulfur and 99 percent of particulate matter. The system will include a carbon capture module charging a CO2 battery onboard. The charged CO2 battery will be discharged in port and subsequently used by CO2 customers, such as greenhouses, or injected into carbon sequestration networks. The discharged battery will be returned to the vessel for CO2 recharging.
According to the company, the "plug and play" approach allows vessels to capture up to 40 percent of CO2 emissions and has the potential of exceeding 90 percent in the future. They called it a development that is critical in cutting emissions in the shipping industry.
In addition to its carbon capture capabilities, the system developed for small and medium-sized ships also removes oil residue and particulate matter from the wash water, ensuring its PH value is neutralized and contributes to reducing the acidification of seawater. Reference
First ammonia cracker prototype turns zero-emission shipping into a reality
18 May 2022
Helbio, a subsidiary of Sweden-based energy system developer Metacon, has delivered the first "ammonia cracker" prototype to the Norwegian maritime technology company Pherousa Green Technologies.
As explained, ammonia-to-hydrogen conversion rates greater than 99,3% were achieved irrespectively of load and the hydrogen purification unit was able to remove 100% of the ammonia traces, enabling feed of a PEM fuel cell with fuel quality according to ISO 14687:2019.
Pherousa has received exclusive licensed rights to market the ammonia-to-hydrogen cracker in the maritime sector worldwide, as well as rights to the required Helbio intellectual property for the ammonia cracking technology for use in the sector worldwide.
Metacon holds rights to serve as the supplier of the core reactor (cracking) modules to Pherousa. Metacon also retains exclusive rights to this technology for the production of hydrogen from ammonia in all other applications outside the maritime market including on-land hydrogen storage.
The need to rapidly clean up all parts of the transport sector is huge and urgent in order to limit increased global warming. Calculations have shown that if the global shipping industry would be treated as a country, it would occupy place number six among the world's biggest greenhouse gas emitters. Therefore, the shipping industry in many places of the world is facing rapidly increased regulatory-, tax- and market-driven pressure to decarbonise.
Ammonia is interesting in the context of green fuels as it is a very capable, highly available, easily liquified, and non-explosive carrier of hydrogen. The ammonia molecule consists of one nitrogen atom and three hydrogen atoms (NH3) and is thus, free from carbon. For this reason, ammonia is commonly referred to as the key to enabling a "carbon free economy".
Furthermore, ammonia contains over four times as much hydrogen per volume unit as highly compressed hydrogen gas. It has however not been very easy chemically to find a suitable technical solution for splitting the ammonia molecule effectively to yield usable hydrogen.
Pherousa therefore initiated collaboration with Helbio for constructing and manufacturing an effective cracker proof-of-concept system. It is this first prototype under the partnership that has now been delivered with very promising results. This breakthrough could allow the shipping industry to use ammonia as a hydrogen storage medium within the global shipping market, providing the industry with a long sought-after zero-emission propulsion technology. Reference
India: Early administration of precaution dose provision relieves seafarersA
18 May 2022
Seafarers community on Tuesday expressed relief as the Ministry of Health and Family Welfare has approved early administration of precaution dose as required by the destination country, for overseas travellers. Earlier under the National Covid vaccination programme it was available for all adults who have completed nine months or 39 weeks after the second dose.
The competent authority has approved early administration of precaution dose as required by the destination country, for these overseas travellers subject to a minimum period of 90 days between 2nd dose and the precaution dose. Reference
Single window for ship data exchange to become mandatory under FAL treaty amendments
18 May 2022
IMO's Facilitation Committee has adopted amendments to the Facilitation (FAL) Convention which will make the single window for data exchange mandatory in ports around the world. Amongst other matters, the Committee approved guidelines for the prevention and suppression of the smuggling of wildlife on ships engaged in international maritime traffic.
Single window for ship data exchange to become mandatory under FAL treaty amendments
IMO's Facilitation Committee has adopted amendments to the Facilitation (FAL) Convention which will make the single window for data exchange mandatory in ports around the world, marking a significant step in the acceleration of digitalization in shipping.
Other amendments adopted include lessons learnt from the COVID-19 pandemic and add new and amended Recommended Practices to prevent corruption and illicit activities in the maritime sector.
The Facilitation Convention was adopted in 1965 and contains standards and recommended practices and rules for simplifying formalities, documentary requirements and procedures on ships' arrival, stay and departure. The Convention has been updated continuously, embracing digitalization and automation for procedures.
The amendments adopted at this session are expected to enter into force on 1 January 2024. Reference
'Come, Cruise in India' – Exploring River Cruise Tourism!
17 May 2022
River cruise industry could become a new tourism avenue in India in the coming years. Union Tourism Minister, G. Kishan Reddy while addressing the 1st Incredible India International Cruise Conference (IIICC) in Mumbai on May 15, stressed the vast potential of the river cruise industry in the country. Aligning in the direction, he also invited domestic and international tourists to 'Come, Cruise in India.'
The conference provided a platform for discussions on strategies for developing India as a cruise hub, policy initiatives, and port infrastructure, the potential of river cruise tourism, the role of technology in the post-pandemic world, and more. In recent years, the Government has been focusing on sustainable development that also takes care of the environment. It has taken several initiatives. One among them is the river cleanliness and rejuvenation programmes under which significant efforts have been made to clean and rejuvenate our rivers. Namami Gange Project is part of the initiative and can provide a major boost to river-based tourist activities in the country.
Come, Cruise in India
According to the Union Tourism Minister, the Government is currently working towards a comprehensive Indian National Tourism Policy and cruise tourism will be a priority sector. The tourism sector is one of the most vibrant and fast-growing sectors. With Government initiatives like the PM GatiShakti National Master Plan, tourism-related infrastructure is also being developed with a focus on shipping, river tourism, and forest and wildlife tourism.
Citing upcoming opportunities, Union Minister Reddy also said that there are around 150 conferences planned at various places in the G-20 countries that would help in tapping the cruise tourism potential of India. These platforms could be used for showcasing the tourism potential in India. Further, the promotion of coastal tourism through Beach tourism, Lighthouse tourism, and Cruise tourism will also help communities such as fishing communities to find other livelihood opportunities and supplement their existing income. Reference
The 3-D printed vessel – Innovations in Ferry Design and Construction
17 May 2022
Vessels fashioned in a 3D printer, rather than a shipyard, will be the subject of a presentation at a Worldwide Ferry Safety Association (WFSA) event. The virtual gathering, Innovations in Ferry Design and Vessel Construction, will be held in conjunction with the presentation of awards in WFSA's Annual Student Design Competition, now in its ninth year, to be held on May 18th, 2022.
The keynote speaker, Dr. Habib Dagher, from the University of Maine, Advanced Structures and Composites Sector, will talk about the Center's design and construction of the world's largest 3 D printed vessels. In 2019 the Center fabricated 3D printed a bio-based 25-foot 5,000 lb. vessel, garnering three Guinness book of records (world's largest prototype polymer 3D printer, largest solid 3D-printed object, and largest 3D-printed boat). A video of the vessel can be seen below:
The Center has a track record of effective and inventive fabrications in the fields of energy generation, infrastructure and transport. In a more recent project, from February 2022, the Composites Center completed two prototype vessels for the US Marines. One vessel is capable of carrying two twenty-foot containers; the other can carry a rifle squad with three days of supplies. The vessels are able to be fabricated quickly, and can be linked together.
The 9th Annual Student Design Competition for a Safe Affordable Ferry is for a RoPax Ferry for the Brahmaputra River in Assam, India. The Brahmaputra is one of the largest rivers of the world in terms of drainage area. Its challenges include a high degree of sedimentation, and great seasonal variation in river height and width. Twenty-two student teams from Asia, Europe, and North America registered for the competition and twelve submitted designs. Reference
Orca AI-driven autonomous ship sails 800 km in Tokyo Bay without human assistance
16 May 2022
Orca AI specialises in developing software, especially for maritime vessels, and claims to be working toward reducing human-caused errors. Know details here.
A 749 gross-ton autonomous vessel successfully completed a 40-hour-long journey without any human assistance. Touted as the world's first autonomous commercial cargo ship, it was equipped with Orca AI's technology which helped it travel through the congested waters of Tokyo Bay. Interestingly, the vessel was able to avoid hundreds of collisions along its way and completed 99% of its journey alone, Electrek reported.
Based in Israel, Orca AI specialises in developing software, especially for maritime vessels. "We ensure safety in waterways and deep waters by staying committed to our vision to reduce human-caused errors through intelligent automated vessels", the company says. It claims to work toward reducing human-caused errors by providing an accurate view of the environment in real-time. Founded by two naval experts in 2018, Orca AI has been working to make autonomous ships a reality.
The ship conducted 107 manoeuvres to dodge around 500 vessels
The technology provided by Orca AI combined sensors with the vessel's existing safety systems onboard allowing it to navigate through congested waterways with improved safety. The trial run for the vessel named Suzaka began at Tokyo bay and concluded at the port of Tsumatsusaka in the Ise Bay. The ship covered a distance of 790 kilometres in what is considered one of the most congested waterways.
During Suzaka's autonomous trial run, the ship was able to avoid between 400-500 other vessels on the water through 107 collision avoidance manoeuvres it performed. Notably, the manoeuvres were possible due to the AI technology that provided a 360° view using 18 cameras onboard the ship. These cameras were used for real-time detection, tracking, classification, and range estimation during the voyage. Reference
Note: All above news items compiled in this digest should be considered as news in brief. For detailed news, please refer to reference link, mentioned with each item.
Share it now