Share it now
Following Stories compiled in this News Digest for the week from 09 May 2022 to 15 May 2022 in descending order:
Mediterranean Shipping Company & SCOPE Group Collaborate on Climate
15 May 2022
Ship Review platform, developed by SCOPE Group in co-operation with Green Maré Services Lda & Comandita, a maritime information and knowledge provider, allows ship owners and operators such as MSC Mediterranean Shipping Company to implement a scoring system to further measure and improve the environmental performance of their fleet.
There are many different internal and external pressures upon shipowners to decarbonise. These include international measures via the UN International Maritime Organization (IMO), and those at the national or regional level. One example is that for the first time, the maritime transport industry has been considered for inclusion within the EU Emissions Trading System (ETS) by covering all ships above a gross tonnage of 5.000 calling on ports in the EU regardless of their flag. This is in addition to other proposed measures currently under consideration by the EU institutions.
Ship Review provides environmental and sustainability assessments of more than 70,000 ships and was the first dedicated product to display Carbon Intensity Indicator ratings, one of the new IMO requirements being introduced to help the shipping industry hit its target of halving its carbon intensity by 2050.
A variety of existing and emerging internally driven, commercial, and regulatory requirements will combine to greatly increase the need to accurately measure and reduce greenhouse gas emissions from ships. A platform like Ship Review can significantly enhance the ability to do that, and to facilitate enhancements to improve overall environmental protection efforts such as undertaken by MSC.
In addition to measures related to decarbonisation, consumers and the financing industry demand more transparency on the social and governance aspects of ESG. Many of the UN SDGs include social aspects from good health and well-being to decent work and reduced inequalities. Ship owners and operators need to be ready to demonstrate performance on environmental and other sustainability factors, including a need to show that achievements are real and not only aspirational.
MSC has further expressed its confidence in the underlying concept of Ship Review by deciding to acquire a minority stake in GMS. Reference
India: PPP terms for port projects revised
15 May 2022
The ministry of ports, shipping and waterways has come out with detailed guidelines to deal with stressed public-private-partnership (PPP) projects at major ports, a move which it expects to unlock 27 million tonne per annum cargo-handling capacity. "In case of the projects which became stressed during construction stage i.e., pre-COD stage, the concessioning authority (major port) would pay to the concessionaire or to the lenders of the concessionaire, as full and final settlement for taking over the useful assets created by the concessionaire," said an official statement.
The settlement amount would be equal to the lower of the value of the work done by the concessionaire in accordance with the concession agreement and found useful by the major port or 90% of debt due as defined in the concession agreement. In projects where the work has stopped due to inability of concessionaire to continue with the execution of the project and the borrowings of the concessionaire having been categorised by lenders as non-performing assets or proceedings initiated, the due process under the Insolvency and Bankruptcy Code 2016 or under the Companies Act 2013 will be followed. "These guidelines will facilitate for early resolution of various issues and revival of stressed projects along with unlocking the immense potential of those projects resulting in creation of more trade and job opportunities," said Sarbananda Sonowal, minister for ports, shipping and waterways.
The ministry said the aim of the guidelines is to facilitate revival of the projects falling in the category of stressed projects. These guidelines will pave the way for resolution of the cases under arbitration. The port asset is likely to be put to use through re-bidding. "This will definitely result in unlocking the blocked cargo handling capacity of approximately 27 MTPA thereby creating better trade opportunities for the prospective investors and port authority will start generating revenue. It will repose confidence in the investors or concessionaires and also generate employment opportunities," the statement said. Reference
India: Maersk launches seafarers' cadet programme for women
14 May 2022
Global container logistics major Maersk on Friday announced the launch of the country's first seafarers' cadet programme for women in partnership with Chennai-based Academy of Maritime Education and Training.
Maersk said by 2027, it aims to increase the proportion of women among the fresh cadets to 50 per cent from a baseline of 7.6 per cent in 2021, and to achieve this ambitious target, it is creating a talent pool of women seafarers through this programme.
The company said it has partnered with AMET (Academy of Maritime Education and Training), Chennai to roll-out a cadet programme which will offer appropriate opportunities necessary for honing the technical and social skills required for the women aspiring to enter the profession.
The company, under the programme, will offer a three-year Bachelors in Nautical Science or the four-year Bachelors in Engineering degree courses to those female candidates who have completed their high school (10+2), Maersk said in a release.
By promoting women to take up these courses and ensuring that they get access to the right academics in the right environment, Maersk is truly committing itself to improve Diversity, Equality and Inclusion (DEI) in the long run, it said.
Noting that women make just 0.5 per cent of the total Indian seafarers today, he said "this gender imbalance can be improved, if the whole industry makes efforts to provide proper career counselling to young women and their parents at the right age, facilitate the right academics, create job opportunities, ensure a safe and healthy work environment at sea and ensure fair employment in the long-term to the women." This programme will ensure infrastructural advancements at the facility that are suitable and desirable for residential female students, undertake cultural enhancement that takes care of a psychologically and physically safe environment and implement a vigilant administrative practice at the educational institute, it said.
Maersk will play an active role in providing constant care to the students enrolling for the programme through regular visits to the facility, one-on-one interactions with students, direct contact with Maersk representatives and several other initiatives. Reference
UAE innovation poised to revolutionise remote offshore inspections
14 May 2022
A UAE company offering renewables and oil and gas operators the possibility to activate drones capable of both airborne and submersible remote activity across continents is poised to unlock a new chapter in the maritime inspection of offshore assets of several types.
Defuzzy Labs, a robotics company specialising in unmanned systems based in Sharjah, UAE, has collaborated with SubUAS, the US company behind the Naviator Air-Sea Drone platform, to demonstrate its latest robotics fleet management solution in a way that could revolutionise the future of offshore inspections.
A demonstration held at the AWS Energy Symposium in Houston last week (May 5) featured the Sharjah-based operator instructing a Naviator drone fleet to perform an inspection from over 11,000 kilometres away, alongside the SubUAS team based in New Jersey, in the US.
Defuzzy has also designed and developed crewless solutions, such as unmanned surface vessels (USVs), underwater remotely operated vessels (ROVs), and unmanned ground vehicles (UGVs).
"We are pleased to announce that Defuzzy's robotics fleet management solution will be used to command a fleet of offshore robotic platforms, which will not just be limited to drones, but a combination of USVs and other drones," said Adnane ElSoussi, CEO & Co-founder, Defuzzy.
"Our robotic fleet management solution eliminates many challenges associated with inspections of offshore facilities, such as adverse weather and harsh operational conditions, limited and poor communication, availability of multi-talented inspectors, difficulty to access spaces requiring special tooling and equipment, high risk operational environment, and lastly, high operational costs."
ElSoussi told Seatrade Maritime News the drones could, as well as operating in the air, function at depths of 100 feet and more. "That opens a lot of opportunity for inspection and security operations," he said. Reference
World's first liquefied hydrogen ship completes voyage in Japan
13 May 2022
The world's first liquefied hydrogen carrier ship has completed its first maritime transport of liquefied hydrogen (LH2), including loading and unloading of its cargo.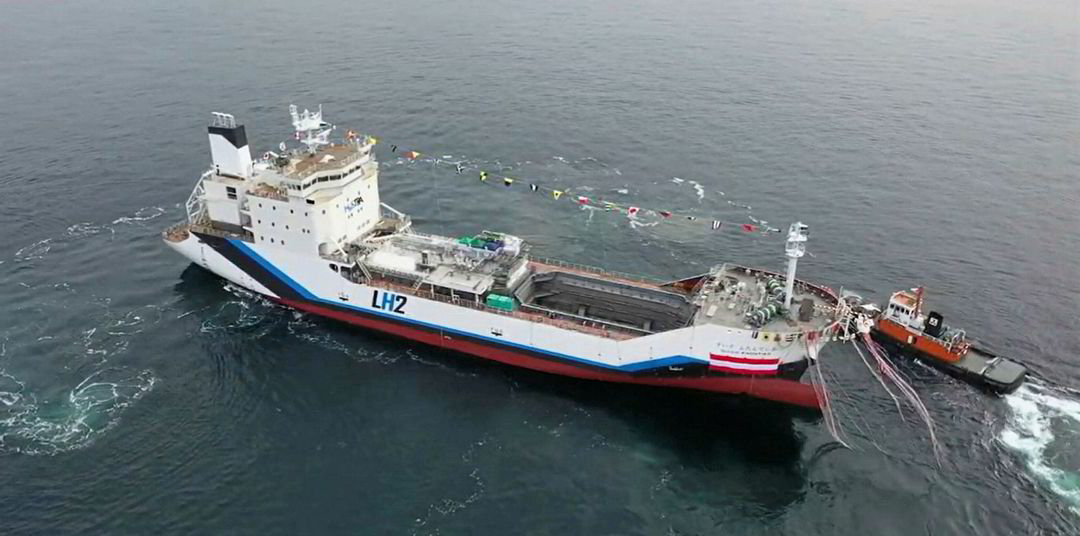 The HESC pilot project was developed by the government of Japan, the Australian federal government and Victoria state government. It aim was to produce and transport clean LH2 from Australia to Japan, with an objective to "demonstrate an end-to-end supply chain between both countries".
Renewables expert Karah Howard of Pinsent Masons said: "Transportation of LH2 is extremely difficult, due to the need to maintain the -253degrees Celsius temperature and compress the LH2 to 1/800 of its original gas-state volume. Therefore, this world's first in the maritime transport of LH2 is an immense achievement."
"HSEC is part funded by Hydrogen Energy Supply Chain Technology Research Association (HySTRA), a consortium of Iwatani Corporation, KHI, Shell Japan, J-Power, Marubeni, ENEOS, and Kawasaki Kisen Kaisha. HSEC and HySTRA's main goal and vision are to build a global hydrogen supply chain, to promote hydrogen as a fuel source. HySTRA explains that the hydrogen is produced through brown coal gasification, a low ranked coal of limited on-site applications. It is then transported to a loading facility in Port of Hastings, Victoria, for liquefaction to -253 degrees to allow for more efficient transportation and distribution of more hydrogen," she said. Reference
Singtel launches iSHIP platform
13 May 2022
Singtel has launched its new iSHIP platform for the maritime industry, combining satellite-enabled connectivity with digital services for operations, cyber security and crew welfare.
"Our seas are a major mode of global trade and transport. But the pandemic has disrupted global supply chains and shipping operations, driving strained crews, who are more accustomed to traditional or manual processing methods, to navigate fragmented digital resources and applications," said Ooi Seng Keat, Vice President, Carrier Services, Over-the-Top & Satellite, Group Enterprise, Singtel.
Services within the iSHIP portfolio include Smart Connect, Smart Care, Smart Operations, Smart Crew and Smart Security.
Smart Connect covers satellite communications, while Smart Care involves the provision of teleadvisory services (to be introduced in Q3) to give seafarers direct access to a trained medical professional, who can render assistance in situations beyond the skills of the medic onboard.
Smart Operations will leverage Internet-of-Things (IoT) and data analytics to manage and improve operational efficiency, while Smart Security provides protection against malicious cyber intrusion attempts as well as education and assessment courses for seafarers.
The Smart Crew service includes a range of of crew management systems, from incentive schemes to entertainment packages with access to local news, internet radio, movies and television series. An automated data management feature is included to ensure data-heavy content like movies will be downloaded via satellite during off-peak periods. Reference
IMO Maritime Safety Committee Highlights Importance of Safe and Inclusive Culture for Maritime Professionals
13 May 2022
Sexual assault and harassment in the maritime environment pose significant risks to the safety and well-being of seafarers and to the safety of the vessel itself because of detrimental effects on the health, safety, and performance of seafarers. These adverse effects include declining seafarers' mental health, safety and well-being, with subsequent negative effects on recruitment and attrition rates of seafarers. The IMO has recognized the importance of developing a maritime workplace culture that is safe and inclusive for all seafarers and maritime professionals as a means of improving operational safety and security in the maritime industry.
Safety and welfare of seafarers is a shared responsibility between IMO and ILO. During the 105th session of the IMO Maritime Safety Committee, members agreed to the establishment of an IMO/ILO joint group to consider bullying and harassment in the maritime sector, including sexual assault and sexual harassment, taking into account information submitted by interested parties, with a view to providing recommendations for future steps, including the development of legislation, mechanisms and policies, and the launching of awareness campaigns by relevant stakeholders, aimed at reporting and addressing these matters.
In the next meeting of the HTW subcommittee, amendments to the STCW Convention will be developed to address bullying and harassment in the maritime sector, including sexual assault and sexual harassment as a matter of priority. By changing the maritime culture and encouraging Member States to implement mechanisms and adopt relevant policies and legislation to protect seafarers, the IMO is making every effort to tackle these issues and take corrective actions against unacceptable behavior and practices of this nature. Reference
Autonomous Containership Trialed in Japan
12 May 2022
An autonomous containership was recently trialed in the congested waters off Japan's east coast, marking another stepping stone on the path toward full-scale commercial adoption of autonomous vessel technologies.
The 749-gross-ton vessel Suzaku, powered by artificial intelligence (AI) and deep learning technologies from Israel-based Orca AI, completed 40 hours of navigation with full autonomy being activated 99% of time.
The test run was performed by The Nippon Foundation in partnership with the Designing the Future of Full Autonomous Ships (DFFAS) consortium, comprising 30 Japanese companies and led by NYK group company – Japan Marine Science Inc. (JMS) and MTI.Co., Ltd.
The 790-kilometer voyage took place in one of the world's busiest shipping routes, starting from Tokyo Bay toward the port of Tsumatsusaka in the Ise Bay. During the trial, the vessel automatically performed 107 collision avoidance maneuvers on the outbound voyage alone, with the program director at the consortium suggesting that the system avoided a total of 400 to 500 ships.
The vessel is equipped with Orca AI's safety navigation system, which acted as a watchkeeper and provided real-time detection, tracking, classification and range estimation with the help of 18 onboard cameras that provide 360° views, day and night.
Orca AI's algorithms were trained on data collected over a year from Suzaku to identify targets in the complex Japanese shorelines environment. The information from the cameras reflected to the fleet operations center in Tokyo, hundreds of kilometers away. Reference
Inmarsat Launches Fleet Xpress For Shipyards
12 May 2022
Mobile satellite communications company Inmarsat aid it has made its Fleet Xpress maritime broadband service available to shipyards. Installed during new building, Fleet Xpress for Shipyards eliminates time-consuming and costly installation works in port, offering owners a pre-fitted very small aperture terminal (VSAT) solution included in the initial cost of the vessel, the company said.
"Fleet Xpress for Shipyards is a game-changer for shipbuilders and owners alike, streamlining installation, providing remote connectivity from vessel launch and enabling optimal integration between integral onboard systems," said Ben Palmer, President, Inmarsat Maritime. "We are delighted to collaborate on the shipyard offering with JRC and Intellian, two of our Value-added Manufacturers and trusted partners."
Inmarsat's newly-launched service enables delivery of Fleet Xpress capability to the shipyard during vessel construction. All terminals, cables and below deck units are installed as a Fleet Xpress line-fit service, allowing the yard to deliver a one-stop solution to the owner.
For shipyards, early installation of Fleet Xpress will enhance responsiveness to growing customer demand for high-speed communications and provide remote vessel monitoring and maintenance capabilities upon delivery, according to Inmarsat. Furthermore, by using data to counter improper claims and ensure preventive operations, shipyards can minimize warranty costs.
With the vessel featuring VSAT equipment at launch, owners and managers are assured that their bandwidth needs are fully integrated and sea-trialed at the point of handover, while the crew has access to fast, ultra-reliable connectivity as soon as they step onboard, Inmarsat said. In addition, Fleet Xpress allows the implementation of a range of digital services and automation onboard the vessel that further delivers advantages for ship performance and crew wellbeing. Reference
Platform identifying global maritime corruption risks launched
11 May 2022
The Maritime Anti-Corruption Network (MACN) has launched a new platform to enable parties to identify risks in different ports around the world.
MACN's Global Port Integrity Platform (GPLP) uses 50,000 incident reports since 2011 and vetted external data sources to provide users comparative risk profiles in terms of corruption.
The organisation sees it as "gamechanger" as currently there is no standard for comparing integrity risks at different ports. The platform was made available to MACN members on 27 April.
MACN Associate Director, Martin Benderson, said, "GPIP will allow charterers, cargo owners, and shipping companies to compare ports' integrity performance and identify risks when trading. For seafarers and shipping companies, GPIP will provide dynamic data that will help empower the industry to 'Say No' to corruption by making it easier to assess risk and prepare for calling ports in high-risk locations. GPIP will show very clearly what problems are most common and what challenges seafarers can expect to encounter."
At launch the platform includes data on 106 ports in 50 countries and MACN has ambitions to double this number by end 2022.
The platform can also act as an engagement tool to work with ports and terminal operators to take action against corrupt practices. Reference
Baltic Dry Index Close to 5-Month Peak on Stronger Rates
11 May 2022
The Baltic Exchange's main sea freight index rose to a near five-month high on Tuesday, as rates rose for all vessel segments.
* The overall index, which factors in rates for capesize, panamax and supramax shipping vessels, rose 108 points, or 3.8%, to 2,939 points, the highest since Dec. 13.
* The capesize index .BACI rose 276 points, or 8.7%, to 3,461 points.
* Average daily earnings for capesizes, which typically transport 150,000-tonne cargoes such as iron ore and coal, increased $2,291 to $28,703.
* Meanwhile, Chinese iron ore futures dropped to 7% on Tuesday to touch their lowest in nearly two months, fueled by concerns of higher interest rates and still-stagnant demand at home. IRONORE/
* The panamax index .BPNI gained 44 points, or 1.4%, to 3,277 points.
* Average daily earnings for panamaxes, which usually carry coal or grain cargoes of about 60,000 to 70,000 tonnes, rose $398 to $29,491.
* The supramax index .BSIS was up 14 points at 2,746 points. Reference
Seafarer UK National Minimum Wage Laws Set Sail
11 May 2022
Seafarers numbering in tens of thousands must be paid an equivalent to the UK National Minimum Wage in a major step forward on pay protection, confirmed the British Government today (10 May).
[ The new proposed UK legislation will ban ferries that don't pay their workers the equivalent to minimum wage from docking at the nation's ports. The development announced today from the Dept. of Transport (see link below) on the consultation process of the proposed legislation. Credit: transportgovuk-twitter. Image Source: afloat.ie]
Following P&O Ferries' decision to sack 800 workers, the Government is introducing pay protection reforms requiring ferry operators who regularly call at UK ports to pay their workers the equivalent of the UK National Minimum Wage.
The new legislation will ban ferries that don't pay their workers the equivalent to minimum wage from docking at UK ports.
Ferries regularly sailing in and out of UK ports to pay an equivalent to UK National Minimum Wage
UK leads global agenda to secure Minimum Wage Corridors with key European countries
Second phase of Transport Secretary's nine-point plan on seafarer pay protection begins
Announced in the Queen's Speech, the Government will implement the changes in the next parliamentary session and will consult closely with the ports and maritime sector on the new laws.
In addition to The Harbours (Seafarers' Remuneration) Bill on securing an equivalent to UK National Minimum Wage for seafarers regularly entering UK ports, the Government is continuing positive bilateral discussions with France, the Netherlands, Spain, Germany, Ireland and Denmark. This is to ensure routes between the countries become 'Minimum Wage Corridors', where seafarers on routes between either country must be paid at least the equivalent of the minimum wage.
The consultation on the proposed measures (through the Dept of Transport) opened today (10 May) and will last four weeks. It will examine what sort of vessels could be included beyond ferries, and what the enforcement measures will be. Options under consideration include surcharges, suspension of port access and fines.
Business minister Paul Scully said: "In contrast to P&O Ferries, who have shown utter contempt for their workforce, this government is firmly committed to ensuring that a fair day's work gets a fair day's pay.
The new laws means that all ferry operators who regularly call at UK ports will be legally obliged to pay an equivalent to the UK National Minimum Wage in order to access those ports, closing a legal loophole between UK and International Maritime Law that P&O Ferries ruthlessly exploited. Reference
New Startup Offers Portable Anti-Piracy Barriers for Rent
10 May 2022
A new maritime start-up, Palaemon Maritime, is pleased to announce the launch of its revolutionary anti-piracy vessel protection service.
Palaemon Maritime is a global security start-up specializing in anti-piracy equipment for the global shipping industry. The company's first product is a new service which allows shipping companies to rent or subscribe to an innovative anti-piracy barrier system – a service that makes make the adoption of the most advanced anti-piracy system affordable, saving an average of 64 percent against the cost of razor wire.
"The shipping industry has long sought an affective alternate to razor wire," says founder of Palaemon Maritime, Steve Regis. "Razor wire is a non-effective way at stopping boarding pirates, hence why they haven't been so successful. Other anti-piracy barriers have been available for a number of years, but the price is often ten-times higher than the cost of razor wire and are too big and bulky for long term storage onboard. This, unfortunately, has made it impossible for most ships to adopt."
To address this critical issue, Palaemon Maritime provides an OPL delivery and returns service, meaning that ships can take delivery and returns at the same time as they take provisions. As a result, ships operating in high-risk areas are only required to take the equipment onboard when they need it, thereby removing the issue of onboard storage. Reference
Historic maritime clock to become automated
10 May 2022
An historic city centre clock is set to become automated after more than 100 years.
The large clock on the south-facing tower of Hull's Maritime Museum and its dialworks have been extensively cleaned along with measurements for the new automatic winding system.
It has been wound by hand every seven days since 1871. The new automated system will wind itself, saving someone climbing inside the tower and winding it up by hand. The additional system will be completely reversible, leaving the historical workings of the clock entirely intact.
The clock is original to the building, made by Cooke & Son in Hull in 1871 and reconstructed by G.F.Newey in York in 1918.
Specialist Clockmakers, Smith of Derby who are also working on the Guildhall's new Time Ball have been appointed to undertake the work.
The automation system will be in place and working in early 2023.
The major works to Hull's Maritime Museum is part of Hull Maritime, a £30.3m project funded by Hull City Council and The National Lottery Heritage Fund to transform the city's key maritime treasures. Reference.
New horizons for connectivity onboard cruise ships
10 May 2022
Connectivity has become an increasingly important part of the cruise experience. According to research by Condor Ferries, 66 per cent of millennials book their trips using smartphones and 97 per cent want to share their travel experiences on social media.
With the spending power of this generation estimated at over $200 billion on travel alone, Brent Horwitz, senior vice president of the cruise and ferry segment at communications technology provider Speedcast, believes that cruise lines need to catch up with this desire of onboard connectivity, or risk being left behind. One way to do this is by leveraging the power of satellites.
For onboard guests and crew, these hybrid networks translate into better quality internet service. "This is because devices can automatically switch between the ship's satellite signal and the available land-based networks to provide the best available connection," says Horwitz. "A robust, hybrid solution provides passengers and crew with the same internet experience as they're used to at home while onboard, so they're able to stream, browse, work, connect with family and more at the speeds to which they're accustomed."
Speedcast's approach to delivering this win-win-win scenario is based on the firm's Unified Global Platform (UGP), which is essentially a network of networks. "It identifies the best available technology given the operational conditions, applications and available bandwidth and leverages the most appropriate path to provide optimal service," says Horwitz. "We also work with industry suppliers that are focused on providing next-generation antennas and other onboard equipment that can manage the variation in networks seamlessly and keep up with the ever-increasing demand for connectivity."
Despite this successful approach to cruising connectivity, Speedcast is constantly striving to be better. "We are working towards getting as close to a land-like connectivity experience possible with each improvement we implement," explains Horwitz. "We are continuously testing and assessing all the latest technologies that come to market. Our customers trust us to bring together the best of what is being developed into a comprehensive solution that delivers more for them and their end users as their needs grow."
For Horwitz, new innovations could be key to delivering this. "All eyes are on the launch of lower-Earth orbit (LEO) satellite constellations, which will be another tool for delivering a great communications and internet service at sea over the next few years," he says. Reference
India: Govt to invite bids for SCI sale by Sept
09 May 2022
The government is likely to invite financial bids for Shipping Corporation of India by September, after the process of demerger of non-core assets is completed, an official said.
As part of the strategic-sale process, the government is hiving off Shipping House and the training institute and some other non-core assets of Shipping Corporation of India (SCI).
"The process of demerger is time consuming. We would be ready to invite financial bids in 3-4 months," the official said.
The board of Shipping Corp met last week and approved an updated demerger scheme for hiving off the non-core assets of SCI to Shipping Corporation of India Land and Assets Ltd (SCILAL) including Shipping House, Mumbai and MTI (Maritime Training Institute), Powai to complete the process of de-merging all the non-core assets to the new company SCILAL.
As per the balance sheet of SCI, the value of non-core assets held for demerger as of March 31, 2022, stood at Rs 2,392 crore.
The SCI board in August last year, had approved a demerger scheme for hiving off the identified non-core assets and incorporated SCILAL in November 2021, for holding such assets of the company, which is under the Ministry of Ports Shipping and Waterways.
The Ministry in April 2022, had directed SCI to expedite the process of demerger of non-core assets of SCI to SCILAL and also requested the Board of SCI to review the demerger scheme for hiving off the non-core assets, including Shipping House, Mumbai and MTI, Powai.
In March last year the government had received multiple bids for privatisation of Shipping Corporation of India.
The Cabinet in November in 2020, had given in-principle approval for strategic divestment of Shipping Corp.
The privatisation of SCI is now likely to be completed in the current fiscal. The government has budgeted to garner Rs 65,000 crore from CPSE disinvestment in the ongoing 2022-23 fiscal. Reference
Scientist claims he's solved Bermuda Triangle mystery of missing planes and ships
09 May 2022
A scientist has claimed he has solved the mystery of the Bermuda Triangle – saying the supernatural is most probably not to blame.
Karl Kruszelnicki has theorised that there was no mystery to begin with, insisting the reason why so many planes and ships vanish without a trace in the area has nothing to do with aliens or the lost city of Atlantis.
The Australian scientist believes that the huge number of disappearances can be explained by nothing more supernatural than human error, bad weather, and the fact it's so busy with planes and boats.
The so-called Devil's Triangle covers a 700,000 square-kilometre area of ocean and is a particularly busy patch of sea – so the disappearances are not out of the ordinary.
He said: "It is close to the Equator, near a wealthy part of the world – America – therefore you have a lot of traffic.
"According to Lloyd's of London and the US Coastguard the number that go missing in the Bermuda Triangle is the same as anywhere in the world on a percentage basis."
Mr Kruszelnicki, who has a fellowship at Sydney University, also said there were simple explanations for the loss of Flight 19 which started the speculation about the Bermuda Triangle.
By 1977 the Bermuda Triangle had gained such mass appeal that Steven Spielberg included references to it in his avowedly fictional film Close Encounters of the Third Kind, which depicted the crews of Flight 19 as having been abducted by aliens.
It is now possible to go online and find theories that dismiss such absurd notions as planes and ships disappearing into some sort of black hole or time warp within the Bermuda Triangle.
New theories are constantly being put forward, some with a kernel of scientific truth to them.
Some have attributed Bermuda Triangle disappearances to explosive releases of methane gas, trapped as methane hydrate inside an icy crystalline cage of water molecules beneath the cold seabed of the deep ocean. Reference
Note: All above news items compiled in this digest should be considered as news in brief. For detailed news, please refer to reference link, mentioned with each item.
Share it now