Share it now
Following Stories compiled in this News Digest for the week from 15 Aug 2022 to 21 Aug 2022 in descending order:


Space Robotics Take A Deep Dive
21 Aug 2022
What's the difference between deep space and the deep sea? For a robot, the answer is: not much. Both environments are harsh and demanding, and, more importantly, both are far removed from the machine's operator.
That's why a team of engineers who developed robots at NASA's Johnson Space Center in Houston have decided to apply their expertise to designing a shape-changing submersible robot that promises to dramatically cut costs for a host of maritime industries.
Whether a robot is working in space or on the ocean floor, the biggest commonality is that the operator is far away, with limited communication and knowledge of the robot's surroundings
Unlike a robot in space, deep-sea robots that service offshore oil wells or wind turbines, for example, can be connected to an operator with a cable to allow high-speed data transfer and close control. But Radford noted that this comes at the high price of staffing and operating a huge support vessel on the ocean surface, to the tune of about $100,000 and 70 metric tons of greenhouse gas emissions per day.
Instead, Nauticus is eliminating that cord by enabling its robots to carry out tasks with minimal supervision, which can come from a control center on a distant shore.
Bright orange, fully electric, and about the size of a small sports car, Aquanaut, the company's signature robot, resembles a sleek, propeller-powered torpedo as it motors to its destination. At that point, though, its shell pops open, and the nose flips upward to reveal a suite of cameras and other sensors, now facing front. Two multi-jointed arms swing out, ending in dexterous claw hands that can be fitted with different tools.
Aquanaut is designed to be versatile, and Radford points out that there is no shortage of different jobs for a subsea robot. The best-known industry that would benefit from an underwater robotic worker is offshore oil and gas production, which requires a huge amount of underwater equipment and support structure, all of which need inspection and maintenance. But the fastest-growing is wind power. About 25,000 offshore turbines are planned for operation by 2030, Radford said, and all of them will require servicing and inspection.
Other potential jobs include port management, maintaining subsea telecommunication cables, offshore mining of rare materials, and defense applications. "The ocean is interlaced into everything we do, but it's not at the front of people's minds," he said, estimating a total maritime economy of about $2.5 trillion. Reference
Ukraine's Grain Shipping Corridor Appears to Be Working
20 Aug 2022
Ukrainian grain flows are pushing down global prices as the newly opened crop-export corridor shows initial success.
More than 500,000 tons of foodstuffs aboard 21 ships were exported from the country's major Black Sea ports in the first half of August, under a deal agreed late last month. That's far below a normal pace, but is providing some relief to grain supplies strained by Russia's invasion and bad weather curbing harvests elsewhere.
A stream of fresh vessels is arriving, signaling cargoes will continue to flow. A key challenge is whether larger vessels normally commonplace in Ukraine's ports are willing to transit the corridor and boost flows, even as Moscow continues its wider assault.
The first seaborne cargoes to flow were vessels stuck since the invasion in February, mainly stocked with corn and sunflower products. New vessels are also now departing, including a wheat shipment bound for Ethiopia under the UN's World Food Programme.
Many cargoes have been relatively small. Traders and shipowners are likely seeking to ensure the corridor is working as planned and assess transit times before agreeing bigger sales, Neroba said. Vessels must be inspected in Turkey before entering and departing Ukraine, under the terms of the deal. Reference
Ports Employ Solar Power in Efforts to Improve Environment
20 Aug 2022
Ports are increasingly becoming involved in alternative energy looking to use their facilities to contribute to reducing emissions. While much of the attention is on alternative fuels and wind energy, a number of projects are also looking to use of one the first alternative energy sources, solar power, in the future of the ports.
The Port of Corpus Christi in Texas is launching a new partnership to use available land at the port to potentially become the location for a large solar farm. The Port Commission approved a lease agreement with Buckeye Partners that will establish the first solar farm in the 100-year history of the port
The 81,000+ panel project will be located in San Patricio County on Port of Corpus Christi property near Midway Junction. The lease agreement provides Buckeye with a two-year development term to evaluate the feasibility of constructing the solar farm project on 136.69 acres of port-owned property. North of the proposed lease premises are 112 acres, owned by Buckeye, yielding a combined acreage of 248 acres available to construct the farm, which will have the capacity to produce 88,000 MWh of electricity per year.
Similarly, the Portsmouth International Port has become the UK's first to use solar canopies as a source of energy for port operations. The project began in February and incorporates roof-mounted solar panels across several buildings, a large battery, and solar canopies across Portsmouth International Port.
The power produced by the 2,660 solar panels will contribute around 35 percent of the site's power, which will be stored in a mega-watt sized battery. When completed, the 1.2-megawatt peak system will be the largest solar and battery installation to date across the area portfolio of renewable generation systems. As well as generating carbon-free power, the solar canopies will provide shade for cars waiting to board ferries, allowing them to stay cooler for longer without having to run their engines. Reference
Theories of Giant Waves that Suddenly Appear and Vanish
20 Aug 2022
Maritime folklore tells stories of giant waves that suddenly appear on the ocean and disappear just as quickly. While many people dismiss the existence of such waves as mythology, there are accounts of oil rigs and ships having encountered giant waves and giant troughs that suddenly appear and disappear. There are theories that seek to explain such occurrences that could occur more frequently as a result of climate change.
There is general agreement that wind blowing over large expanses of ocean produces waves on the ocean surface. When waves approach a coastline with decreasing water depth, the leading edge of each wave slows as the trailing edge catches up to increase wave height. As wind speed increases, wave height and wave speed both increase. While tiny waves break very close to shoreline, larger waves break further away from the shoreline indicating a relationship between water depth and the combination of wave height and wave speed. Seafloor topography has potential to affect wave height and where waves break.
The seafloor topography under several bodies of ocean provides locations where large offshore waves are likely to occur. While the southern region of the Bay of Biscay reaches depths in excess of 9,000-feet, depths in the northern region are less than 300-feet providing a 30-to-1 ratio. That seafloor profile extends westward into the Atlantic Ocean and across the international shipping channel located west of Portugal and Spain where over the distance of a few miles, water depth changes from more than 9,000-feet to less than 600-feet. The international shipping lanes that connect to Western Europe pass through this region.
Winds blow across vast expanses of the North Atlantic producing waves that enter this region where wave height increases. Waves moving south from the Norwegian Sea into the North Sea also encounter a sudden change in water depth between Scotland and southern Norway, where large waves have a propensity to occur. Water depth off the South African coast between Durban Port Elizabeth rapidly decreases toward shore over a comparatively short distance and especially offshore from East London where a shallow zone extends further into the Indian Ocean and where large waves frequently occur.
Climate change has the propensity to increase storm severity in many coastal regions internationally. More powerful winds blowing at steadily increasing speed over large expanses of ocean would produce larger and faster moving waves that are more likely to be affected by deeper level seafloor topography. The result would be an increased likelihood of successive waves coalescing into the occasional supersize wave that would break far offshore in regions where sea depth rapidly decreases. There are several locations in the world's ocean where water depth decreases offshore from over 10,000-feet to under 600-feet, where super waves are likely to occur.
It is perhaps a forgone conclusion that ships will encounter storms at sea and on rare occasions during such storms, a wave of extreme height. Reference
Amid Crew Change Crisis, ITF Recovered $37 Million in Unpaid Wages to Seafarers in 2021
20 Aug 2022
As if the pandemic hasn't created enough problems for seafarers. Try also not getting paid.
The International Transport Workers' Federation came out with a report Friday showing that union ship inspectors recovered more than $37 million in unpaid wages to seafarers in 2021 as the crew change crisis raged on.
The ITF's 125 inspectors and coordinators completed 7,265 inspections last year to support thousands of seafarers with wage claims and repatriation cases, despite Covid-19 restrictions preventing inspectors' ability to board ships for much of the year.
ITF inspectors are present in more than 100 ports across 50 countries. They are trained to look for exploitation, overwork – even for signs of forced labor and modern slavery. On many vessels, inspectors have the right to examine wage accounts, employment contracts, and to review recorded hours of work and rest.
Altogether, the ITF clawed back $37,591,331 in unpaid wages and entitlements from shipowners in 2021. ITF's Inspectorate Coordinator Steve Trowsdale said the makeup of seafarers' wage claims was changing.
The ITF reported 85 cases of abandonment to the International Labour Organization (ILO) last year, an historic high. In many of those cases, abandoned crew had already been waiting on several weeks' or months' of unpaid wages – including those aboard the storm-hit MV Lidia.
In that case, Jason Lam, an ITF inspector based in Hong Kong, helped eight Burmese seafarers who were crewing the vessel to recover almost $30,000 in unpaid wages after they ran aground in October 2021, thanks to a typhoon that left them close to shipwrecked. The shipowner refused to pay the two months' wages he owed them, abandoning them and ruling out any assistance to get them home. Weeks of campaigning by Lam on behalf of the seafarers had an impact, resulting in the crew flying home in November with full wages in hand.
Controlling hypertension at sea
19 Aug 2022
Hypertension, or high blood pressure, can lead to stroke, heart and kidney disease and other serious medical conditions. A healthy diet, exercise and appropriate medication can reduce high blood pressure. Detection of elevated blood pressure is an essential first step in treatment of a condition that is a recurring cause of crew illness.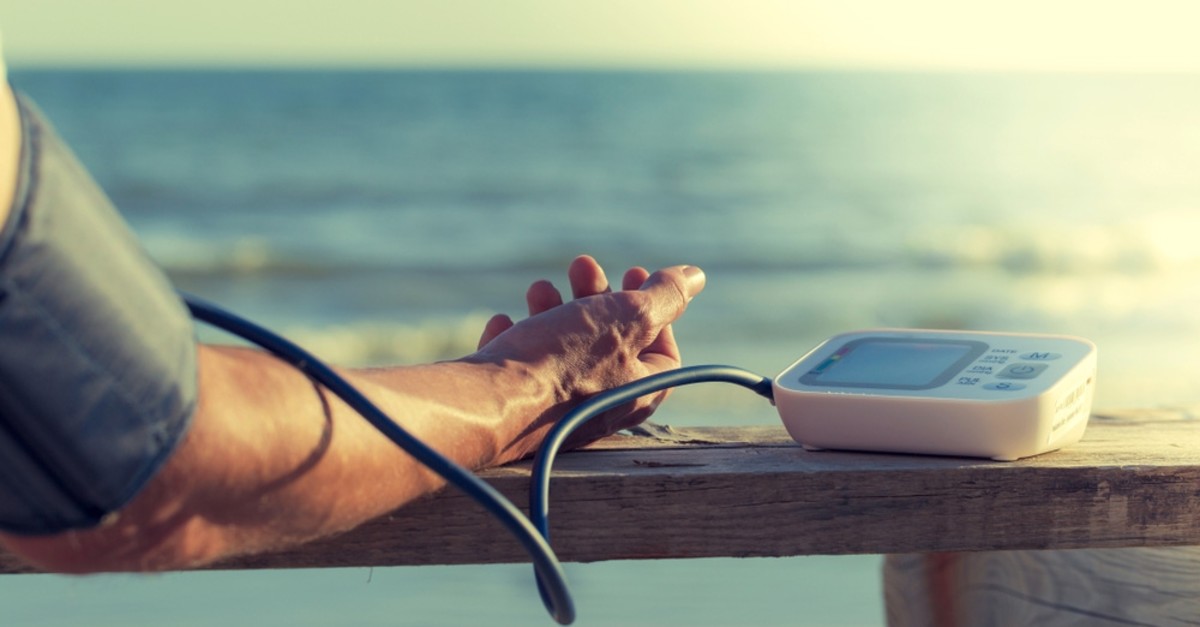 Hypertension, or high blood pressure, is a serious medical condition that can increase the risk of developing disease of the heart, brain, kidney and other conditions. It's being straightforward to diagnose and relatively easy to treat with low-cost medicines. Hypertension is also a recurring cause of crew illness claims in Gard and accounts for approximately 3% of all crew illness claims reported to us each year.
While our claims data are not sufficiently detailed to make any firm conclusions about the prevalence of hypertension among seafarers, a study of Danish seafarers published in 2016 found that the prevalence of hypertension among the 629 seafarers studied was more than three times the prevalence in the general Danish population at the time.
Hypertension has many risk factors. While some cannot be easily changed, e.g. age and genes, others depend solely on a person's lifestyle choices. It is the same factors that determine the risks both in the general population and among seafarers. However, it is also a fact that that seafaring is characterised by a unique set of features which sets it apart from other occupations – and which may make seafarers particularly prone to hypertension. These include, demanding working conditions and high levels of stress, particularly when vessels are in port, shiftwork as well as occasional long hours of work, limited opportunities for leisure activities, and restricted food choices.
Fitness to undertake the full range of tasks on board ship and to cope with living conditions at sea has long been a requirement. As every seafarer must hold a valid certificate of medical fitness in order to join a ship, regulations place a duty on seafarers to look after their own health. But – the assessment of medical aspects of fitness is only one part of the arrangements for seafarers' health. Regulations also place a duty on ship operators, not only to ensure living and working conditions onboard are safe, but also to promote a healthy way of living.
India's first Saline Water Lantern unveiled by Union Minister
18 Aug 2022
Union Minister of Earth Sciences, Jitendra Singh has launched India's first saline water lantern, 'Roshini', which uses seawater to power Light Emitting Diode (LED) lamps. The minister unveiled the first-of-its-kind lantern during his visit to Sagar Anveshika, a coastal research vessel operated by the National Institute of Ocean Technology (NIOT) Chennai for marine research.
Saline water lanterns use seawater as an electrolyte between specially designed electrodes to power LED lamps. The technology will help bring 'Ease of Living' to the poor and needy, especially the fishing community living along the 7,500-km-long coastal line of India.
Saline Water Lantern will also boost and supplement Prime Minister Narendra Modi's UJALA scheme launched in 2015 for the distribution of LED bulbs across the country. The NIOT team for inventing the Roshini Lamp, further advising them to transfer the technology to the industry to facilitate mass production of this multipurpose lamp which can be of immense help in disaster-prone rural and remote areas.
The progress of NIOT's developed Low-Temperature Thermal Desalination (LTTD) technology which converts seawater to potable water. Three desalination plants based on the LTTD technology have been successfully designed and demonstrated at Kavaratti, Agati and Minicoy Islands of the Union Territory (UT) of Lakshadweep. Reference
Repair Done For US Naval Ship In India
Charles Drew is United States Military Sealift Command's (MSC) Lewis and Clark-class dry cargo ship.
India: Marine water quality nowcast and advisory system for Indian coasts launched
17 Aug 2022
India recently sent afloat a laboratory capable of automatically monitoring marine water quality in real time 10 kilometres off Cochin coast. The facility is also capable of providing water quality advisories to maritime users.
Indigenously designed by Indian National Centre for Ocean Information Services (INCOIS), Hyderabad, the buoy-based automated coastal observatory scripted history by becoming the first floating wet lab for water quality tests in the Indian Ocean.
It was launched last month on the 16th foundation day of the Ministry of Earth Sciences, New Delhi.
Flanked by the Bay of Bengal, the Arabian Sea and the Indian Ocean over three sides offering a vast coastline measuring over 7,517 kms, coastal residents of nine Indian states and two islands are directly ocean-dependent. As much as 95 per cent of India's trade is handled via these seas which also contribute to oil spill incidents. This makes it imperative to have a better monitoring, understanding and forecasting capabilities of the oceans, its changing composition in the wake of climate change as the country embarks on its ambitious Blue Economy policy in the coming years.
The buoy-based coastal observatory, which costs Rs 4 crore, has a range of chemicals onboard and automatically performs chemical tests of the water samples. It can measure 19 parameters ranging from dissolved oxygen and carbon dioxide levels, methane, various phytoplankton pigments, Ph of water, which is a measure of its acidification, nutrients such as nitrite, silicate, phosphate and Ammonia, as well as hydrocarbons.
Once every three hours, the buoy collects water samples and performs tests. In addition, it also measures the water's temperature, salinity, chlorophyll levels using the optically measuring instruments onboard. Reference
Iceberg hunters are on a mission to avoid another Titanic
17 Aug 2022
The goal of the International Ice Patrol is to prevent another Titanic. The group tracks icebergs from the air and sends out warnings to the mariners below. Watch what goes into an iceberg hunt in the video above.
The International Ice Patrol was born from tragedy.
After the Titanic struck an iceberg and sank in 1912, the group was formed to monitor the movement of icebergs in the North Atlantic and keep mariners safe.
More than 110 years later, the team continues to plot ice from the air and advise seafarers about any threat.
The U.S. Coast Guard, which runs the operation, allowed CBC cameras aboard in May to watch the team in action. Reference
Welfare survey on Ukraine conflict reveals priorities for seafarers
17 Aug 2022
A major survey into the welfare priorities of seafarers affected by the Ukraine crisis has shone a spotlight on the measures being taken to support seafarers and their families, as well as the most pressing priorities in the coming months.
The survey was undertaken by the Seafarers International Relief Fund (SIRF) and the Ukraine Charity Co-ordination Group, with the goal of reviewing the effectiveness of the response so far, identifying priorities and planning for the future.
The survey results highlight the full extent of global efforts to help seafarers and their families affected by the war. 100 organisations from across the maritime and welfare sectors participated in the survey to detail the steps they are taking, including charities, trade associations, welfare providers, unions, and shipping companies.
More than 50% of NGOs responding to the survey reported assisting with small gifts, SIM cards/WiFi, supportive conversations, medical help, religious services, and transportation. 29% of NGO respondents have helped seafarers and their families impacted by the war who wanted to relocate (an area of support also met by 47% of industry and union respondents). Finally, 25% of NGO respondents also referenced legal help in respect of immigration, financial assistance, and accommodation for seafarers and/or their families.
An overwhelming number of respondents highlighted the limits on travel to/from Ukraine and issues affecting employment contracts (new and extended) as the most significant challenges that seafarers would face in the coming months.
Based on its initial review of the findings of the survey and feedback from respondents, SIRF has identified several immediate recommendations for all organisations that are involved in supporting seafarers affected by the Ukraine crisis, including Ukrainian nationals. The recommendations include, Continue to provide funding for hardship grants and/or accommodation support for seafarers and their families affected by the war, Continue to support communications through the provision of data-enabled SIM cards and WiFi in ports around the world, Initiate a feasibility study on the development of a mental health support service for seafarers and their families affected by the war and Support efforts to allow Ukrainian seafarers to travel internationally for work. Reference
This SeaSearcher can find treasures buried under the seabed
17 Aug 2022
Some seabeds contain large amounts of treasure, including shipwrecks filled with gold or silver. However, the search for this sunken treasure is very difficult, which typically involves sifting through the sand, just hoping to unearth gold or silver.
In Florida, the company Seafarer Exploration has developed an underwater drone capable of traversing the seabed to detect – and differentiate – various types of metal buried up to 33 feet (10 meters) beneath the seabed, creating and relaying a 3D digital map of their location.
A Florida-based startup has already begun the construction of the second-generation SeaSearcher platform focused on deeper water and multi-mode exploration. The upgraded design, which has a wider path of metal discrimination and 3D imaging, is more streamlined and rugged.
The SeaSearcher is designed to operate in both autonomous and towfish modes with in-field change out for high current sites. The device integrates sun-bottom imaging, side-scan sonar, precision MEMS differential magnetometer array/direction finder, video recording, and metal discrimination on a single platform.
All sensors will feed back to the SeaSearcher control panel to be displayed or processed by the machine learning algorithms. These changes will allow the second-generation SeaSearcher to cover more ground in a shorter time while continuing to produce results in real-time. Reference
PM Modi speaks about India's Deep Ocean Mission; Here is what it is
16 Aug 2022
On the occasion of the 75th Independence day, PM Modi in his Independence Day Speech from Red Fort, Delhi, spoke about India expanding the Deep Ocean Mission and Space Mission, while Indian Space Missions gets a lot of coverage, let us find out what the Indian Deep Ocean Mission or Samudrayaan mission is all about.
Deep-sea exploration refers to the scientific or commercial study of physical, chemical, and biological conditions under the sea. Comparatively to other areas of geophysical research, deep-sea exploration is a relatively new human activity, since the depths of the sea have only recently been explored. Despite being one of the deepest parts of the planet, the oceans remain largely unexplored.
The mission is aimed at exploring the deep ocean for resources and developing deep-sea technologies for sustainable use of ocean resources. The mission will also focus on the development of ocean climate change advisory services to support coastal tourism, off-shore energy development, exploration and conservation of deep-sea biodiversity, and an advanced marine station for ocean biology.
The estimated cost of the Deep Ocean Mission will be Rs. 4077 crores for a period of 5 years to be implemented in a phase-wise manner.
Indian Navy hoists Tricolour in every continent on Independence Day
On August 15, 2022, during the visit of IN Ships, various activities and events were planned in each of these locations by Indian Missions. The flying of the Tricolour atop these ships in front of prominent local dignitaries and members of the Indian diaspora would be the most significant of these. Six different time zones, three oceans, and six continents are all involved in this event.
Other activities include official calls by the Indian crew on the senior leadership of the host nation, participation by the Indian contingent and Guard at the Flag Hoisting Ceremony in the respective Embassies, a band performance in a well-known public space or auditorium, opening the ship to visitors, inviting schoolchildren and members of the Indian diaspora on board, hosting a reception on the deck, and taking part in various cultural events sponsored by Indian Embassies. Reference
Remembering Canada's own Titanic-like maritime disaster
16 Aug 2022
Everyone reading this story has heard about the maritime disaster that was the Titanic — the British passenger liner that struck an iceberg off the coast of Newfoundland 110 years ago, killing more than 1,500 of its 2,200 passengers. Award-winning movies, books, and plays have ensured the immortality of what was presumed to be an unsinkable ship.
I'm also willing to bet that almost none of you knows that two years later, on May 29, 1914, a similar passenger ship called the Empress of Ireland suffered a similar fate in the St. Lawrence River, in Canada, causing the deaths of nearly 1,000 souls.
Why are we so familiar with one tale, while we know next to nothing about the other? Maybe because Titanic was on its maiden voyage, and the Empress had nearly 200 missions to its credit. But I can spend the next several paragraphs trying to rectify the situation.
The story of the Empress has come to life in this tiny village on Manitoulin Island because the local museum curator, Rick Nelson, managed to convince two different sources to loan many Empress relics to the Old Mill Heritage Centre here in Kagawong.
The Empress of Ireland, like Titanic, was huge. It required a crew of 400 to operate its 26,000 tons, for 1,700 passengers. On that fateful night in 1914, the ship had left Quebec City for Rimouski on the banks of the St. Lawrence, where it docked long enough to pick up mail bound for Liverpool.
What happened after that is still inexplicable. A Norwegian ship, the SS Storstad, was westbound as the Empress was headed to sea. They should have uneventfully passed each other on parallel courses. But a thick fog descended, and, for some reason, the Storstad turned to its starboard (right) side and into the path of the Empress. The Storstad collided with the bigger ship, putting a massive hole in the middle of its starboard side, before reversing course. The Empress rolled over — within only 14 minutes, it was submerged.
More than 1,000 passengers died. Only 20 per cent of passengers survived. Conversely, 60 per cent of crew members survived. Their knowledge of the ship and how to evacuate was evidently crucial to their survival.
The Empress, of course, still lies at the bottom of the St. Lawrence, about 150 feet below the surface. Reference
Blue economy could well be India's next success story
15 Aug 2022
WITH A 7,517KM-long coastline and 1,382 islands, India has a unique maritime position. Around 95 per cent of its trade happens via sea. The country has 12 major ports and 187 non-major ones that together handle about 1,400 million tonnes of cargo a year. It also holds an exclusive economic zone of 20 lakh square kilometres that has significant recoverable resources of crude and natural gas. Indian coasts provide a livelihood for 40 lakh fishermen. These vast interests make it imperative for India to have a robust 'blue economy'.
Since technologies required for deep sea mining have strategic implications and are not commercially available, India is working on developing indigenous technologies. On July 27, the government said that it was finalising a national policy for the blue economy. The draft policy framework envisions sustainable development of coastal areas with optimal utilisation of all maritime domains. Reference
Note: All above news items compiled in this digest should be considered as news in brief. For detailed news, please refer to reference link, mentioned with each item.
Share it now