Share it now
How India's Sagarmala projects are driving country's maritime success
23 Oct 2022
India has completed 209 port-related projects under its flagship Sagarmala programme. Launched in 2015, Sagarmala is a series of projects to leverage India's coastline and inland waterways, helping make it a leading maritime nation in the world.
Ports play a major role in India's economic development as 95 per cent of the country's foreign trade by volume and 68 per cent by value is through maritime operations.
Sagarmala will implement 802 projects with a massive investment of Rs5.48 trillion by 2035. Of these, 210 projects worth Rs1.04 trillion have already been completed while 221 projects worth Rs2.34 trillion are in various stages of implementation. The remaining 371 projects valued at Rs2.10 trillion are under various stages of development.
Most of the projects will be completed within the next 3-5 years — half of them within the next two years. Only a few projects related to greenfield developments will take more time.
Completion of 210 projects worth Rs1.04 trillion under Sagarmala had boosted capacity by more than 230 MTPA (metric tonnes per annum). Completed port connectivity projects have added approximately 1,300km of road and rail connectivity to ports. Another nine port-led industrialisation projects worth Rs458.65 billion have been completed. More than 8,000 acres of land have been allotted for industrialisation. And more than 200,000 direct and indirect jobs have been created.
The government is promoting Ro-Ro and passenger transportation through waterways as they are an environmentally friendly mobility solution that reduces costs and time. The government is committed to developing the best-in-class port infrastructure. The Maritime India Vision 2030 lays special emphasis on the development and upgrade of port infrastructure in the country.
With the addition of projects identified in the Holistic Development of Coastal Districts programme and the new project proposals received under Sagarmala, the total number of projects now stand at 1,537 worth Rs6.5 trillion. Reference
World's largest cruise ship 'Icon of the Seas' unveiled by Royal Caribbean
23 Oct 2022
Royal Caribbean has unveiled details of the world's largest cruise ship, the Icon of the Seas.
With the largest water park at sea and the first suspended infinity pool on a cruise ship, the first Icon Class vessel will set sail in January 2024.
It will also be home to a 16-metre-high waterfall, a rock-climbing wall, the company's first swim-up bar and its very own "Central Park" neighbourhood, inspired by New York City's famed urban park.
At 250,800 tonnes, the new ship is more than five per cent larger in volume than Royal Caribbean's Oasis class vessels, making it the largest cruise ship in the world. Spanning more than 365 metres in length, the vessel clocks in three metres longer than the Wonder of the Seas, the current largest ship in the world.
With 2,805 staterooms, the ship's focus is family-style holidays and it has a capacity for 7,800 passengers and 2,350 crew members.
Accommodation includes an array of family staterooms, suites and the first Ultimate Family townhouse. Spanning three levels, this spacious retreat includes a slide, cinema, karaoke, huge balcony and a private entrance to the ship's Surfside family neighbourhood.
Spread across eight different neighbourhoods, each of which has themed entertainment, restaurants, bars and experiences, there are five new destinations on board, plus three zones that passengers will be familiar with from other Royal Caribbean ships.
Thrill Island is where passengers will find the largest water park at sea, with six water slides including Pressure Drop, the industry's first open free-fall slide and the 14-metre-high Frightening Bolt, which the company claims is the tallest slide on the high seas.
Central Park, an open-air neighbourhood filled with live plants, is also back on the world's largest cruise ship and, perhaps unsurprisingly, is bigger than ever.
On top of the world's largest cruise ship is AquaDome — which by day will have its own waterfall and wraparound ocean views; by night, it will transform into the ship's social hub with restaurants, bars and aqua shows where athletes and artists will perform in transforming pools, robotic arms and cutting-edge technology. Reference
Building Green Corridors for Shipping Will Take Teamwork
22 Oct 2022
Green Corridors, conceived a year ago through the Clydebank Declaration at COP26 taking place along the banks of the River Clyde in Glasgow, are set to move rapidly beyond the talking stage towards real implementations and demonstration projects.
At a high level, all encompass ships' profitably hauling cargo in a range of ports where cleaner fuels are readily available. Owners and operators of vessels, charterers, fuel suppliers, port operators and governmental regulators are all part of the mix.
Much has been written about the vessel side, and the role of shipowners, but the vital but underappreciated role of ports (a key ingredient, perhaps the glue, in the recipe for industry decarbonization) has received less attention.
The AAPA panel member said that the corridor concept was a great way to spearhead the introduction of new fuels into shipping trades, suggesting that different corridors may offer different fuels. He also hinted at the opportunity for carriers to gently prod port authorities to support the infrastructures for specific fuels, and, in so doing, "reduce some of the risks for investing in these new technologies."
Close to home, in North America, there are early discussions of shipping corridors along the U.S. Gulf Coast (with some ties to an inchoate Federal program to develop regional "Hydrogen Hubs" where green hydrogen could be produced), as well as in the Great Lakes region, which, importantly, is somewhat self-contained. ABS's Mr. Walker also referred to the "Marine Highways" that have been mapped out by the U.S. Maritime Administration (MARAD); "We see them as being very critical connections." He said that MARAD, while following the progress of international corridors, "is very keen to create regional corridors in the U.S."
As repeated throughout SHIPPINGInsight and numerous other industry events, cooperation and collaboration are required to build the corridors.  Reference
Safety: Operators must ensure weather deck doors are closed when towing
22 Oct 2022
A towing vessel was in transit when its stern compartments began to flood. The three crew members aboard attempted to pump out the water but were unsuccessful and subsequently abandoned the vessel. They were rescued, and the towing vessel later sank close inshore. No injuries were reported. The ship was later recovered but was considered a constructive total loss. Pollution in the form of an oil sheen was sighted when the tug sank.
The investigation determined that the probable cause of the sinking of the towing vessel was unsecured or open aft deck hatches, which resulted in the flooding of the vessel's aft compartments from water on deck, leading to progressive flooding of other compartments through openings in watertight bulkheads. Contributing to the flooding of the vessel was the owner's lack of a practical hull inspection and maintenance program.
The investigating authority noted that in the last five years, it had investigated five casualties involving towing vessels whose weather decks and openings were in poor condition—leading to flooding and subsequent sinking.
To protect vessels and the environment, it is good marine practice for owners to conduct regular oversight, inspection, and maintenance of hulls, including between drydock periods, regardless of inspection requirements.
There have been a number of incidents of tugs foundering, and in several cases the common cause was the leaving open of weatherdeck doors. Although this may make it easier to access internal compartments it compromises the tug's watertight integrity and is an incorrect and unsafe local practice. Watertight doors must be closed during towing operations, especially during heavy weather. Reference
Safety: Eye protection should never be removed until job is completed
22 Oct 2022
While the vessel was at an anchorage, the Chief Engineer was doing maintenance work in the forecastle deck, building-up the starboard mooring chock by welding.
During this activity, he suffered an eye injury when a metal fragment was embedded in his eye. Three days later, the injured Chief Engineer reported the incident to the master, complaining about eye pain and irritation. Fortunately the vessel was near a port and he was transferred ashore for medical treatment. An eye specialist removed the particle and he was able to return on board fit for duty.
From the Chief Engineer's statement, he was wearing eye protection when he started the job. However, as the work was carried out in a restricted place, the goggles were removed later.
The report states that eye protection should never be removed until the job is completed.
It is well-known that many types of eye protection can mist up with moisture, blurring the worker's vision. Some poor-quality goggles can be poorly fitting which makes them uncomfortable to wear, so the temptation to remove the goggles can be compelling.
If this happens, stop the work, clean the goggles or adjust them, but never remove them while the work is still taking place. Reference
World's Largest inflatable lifeboat Wins Technology Award
21 Oct 2022
Survitec's revolutionary Seahaven, the world's largest inflatable lifeboat, has won the technology category of this year's Safety4Sea awards.
The self-propelled inflatable lifeboat surpassed Safety4Sea's judging criteria of providing a "significant technological achievement or significant contribution to maritime safety".
Seahaven, officially introduced to the market in April, is already redefining how passengers and crew evacuate ships in an emergency, with Norwegian Cruise Line Holdings Ltd. (NCLH), Independent Maritime Advisors Ltd, and a major shipbuilder looking at incorporating the system into new designs.
Commenting on the accolade during yesterday's virtual awards ceremony, Stew Gregory, who led the Survitec design team, said: "On behalf of our Seahaven team, I am thrilled to receive the 2022 Safety4Sea Technology Award. I would like to pay particular tribute to my colleagues at Survitec for their vision, insight, innovation and dedication in bringing this idea to life and to market. Reference
Safety: Multiple crew suffer burns in engine room
21 Oct 2022
The chief engineer held the daily meeting at 8 am to discuss the work plan for the day with the senior engineer and the rest of the engine officers and crew. Among others, the inspection and maintenance of the auxiliary boiler's No1 fuel oil pump filter was discussed. A Toolbox meeting was held regarding the precautions and hazards associated with the maintenance work.
The work commenced after lunch at around 13:40. The senior engineer was about to dismantle and remove the pump's filter cover when hot fuel and gases suddenly escaped.
The senior engineer, two wipers and one engine cadet assigned to the work suffered burns on their faces, skin, neck, and hands from the hot oil spray.
All injured crew were offered first aid and immediately transferred to the local hospital for further treatment and medical examinations. The senior engineering officer and the wiper were kept in the hospital, and the cadet and the other wiper returned to the vessel. The senior engineer and the wiper were eventually repatriated 11 days later
At the time of the injury, the senior engineer undertook the main work. There was no dedicated assigned supervisor as stated in the Permit to Work (PtW) – the senior engineer had been considered the supervisor for the job.
According to the witness statements, at the time of the incident the pump was switched to manual control and was secured in a stop position. The pump was isolated by closing the inlet and outlet valves. At that time, the system's delivery pressure indicated 1.5 bars. The engineer proceeded with unscrewing the bolts of the filter cover without releasing the pressure from the vent cock fitted to the system.
The Report states that the uncontrolled release of stored pressure is a recurring factor in many reports received by CHIRP. Working on stored energy systems (heat, pressure, potential, tension etc.) always requires additional care, and CHIRP encourages the use of written checklists to confirm that the pressure is reduced, e.g. in this case, by ensuring the pressure relief valve was open before work was started. Reference
Crew Change Indicator: Number of seafarers onboard vessels beyond expiry of contract further decreases
21 Oct 2022
The Neptune Declaration Crew Change Indicator for the third quarter of 2022, shows that the number of seafarers onboard vessels beyond the expiry of their contract has decreased from 4.2% to 3.3% since the last Indicator was published in July.
The number of seafarers onboard vessels for more than 11 months has remained stable at 0.3% since May 2022, down from 1.3% in August 2021, when the numbers were at the highest level.
The Third Quarter Indicator also shows that the aggregate percentage of seafarers from the sample who have been vaccinated has risen from 89.3% to 92.8% during the past quarter, which is an increase of 3.5 percentage points since July.
Ship managers report that the situation remains largely stable since the last indicator in July, with fewer crew change restrictions, flight cancellations and lock downs, even though the situation in Ukraine still causes delays overall.
China remains the main challenge due to continued severe restrictions and lock downs, with non-Chinese crew still being prohibited from crew changes in Chinese ports. Japan also maintains a somewhat strict protocol requiring review and approval of crew movements at first Japanese port, which causes delays especially when vessels performed crew changes within 14 days prior arrival Japan, while other countries, such as Brazil, still refuse to disembark non vaccinated crew. Reference
NASA: IMO's global sulphur cap slashed air pollution from shipping
20 Oct 2022
The International Maritime Organization's (IMO) global sulphur cap has reduced artificial "ship track" clouds to record-low levels, a new study conducted by the National Aeronautics and Space Administration (NASA) shows.
Ship tracks, the polluted marine clouds that trail ocean-crossing vessels, are a signature of modern trade. In 2020, satellite observations showed fewer of those pollution fingerprints.
Drawing on nearly two decades of satellite imagery, researchers found that the number of ship tracks fell significantly after a new fuel regulation went into effect. A global standard implemented in 2020 by the IMO, requiring an 86% reduction in fuel sulphur content – likely reduced ship track formation. 
Recently, the IMO also pointed out that there has been an estimated 77% drop in overall sulphur oxide emissions from ships since the entry into effect of the IMO 2020 regulations. The 2020 Sulphur Cap has limited the use of sulphur in fuel oil used on board ships operating outside of designated emission control areas to 0.50 percent m/m down from 3.50 percent m/m limit.
NASA scientists emphasized that by capping fuel sulfur content at 0.5% (down from 3.5%), IMO's global regulation in 2020 changed the chemical and physical composition of ship exhaust. Less sulphur emissions mean there are fewer aerosol particles released to form detectable ship tracks, according to NASA. Reference
EU Parliament sets 2 pct target for renewable fuels use
20 Oct 2022
The European Parliament adopted the FuelEU Maritime report, voting in favor of a 2% mandate for green shipping fuels by 2030.
The report establishes a clear trajectory for greenhouse gas intensity reductions calling for the maritime sector to cut its GHG emissions from ships by 2% as of 2025, 20% as of 2035 and 80% as of 2050 compared to the 2020 level. The targets are higher when compared to the proposal by the EU Commission seeking 13% and 75% GHG reduction respectively.
The targets would apply for ships above a gross tonnage of 5000, in principle responsible for 90% of CO2 emissions, to all energy used on board in or between EU ports, and to 50% of energy used on voyages where the departure or arrival port is outside of the EU or in its outermost regions.
The parliament has also mandated containerships and passenger ships to use on-shore power supply while at berth at main EU ports as of 2030, with the aim of reducing air pollution in ports. Reference
Cruise industry 'continues to lead the way' on net zero
20 Oct 2022
The cruise industry is spearheading progress towards net zero emissions, according to Cruise Lines International Association (CLIA) President and CEO Kelly Craighead following the release of the association's 2022 Global Cruise Industry Environmental Technologies and Practices Report.
Among other key findings, the report reveals more than 15% of vessels launching in the next five years will be equipped to incorporate fuel cells or batteries – and 85% of CLIA-member ships coming online between now and 2028 will be able to plug in to shoreside electricity.
The report outlines several ways in which CLIA ocean-going cruise lines are working to progress reductions in emissions.
40% of global capacity (up 20% year over year) are fitted to operate on shore-side electricity in the 29 ports worldwide (less than 2% of the world's ports) where that capability is provided in at least one berth in the port. Plus, 98% of new build capacity on the order book between now and 2028 is either committed to be fitted with shore-side electricity systems or will be configured to add shore-side power in the future.
In fact, more than 15% of the vessels to be launched in the next five years will be equipped to incorporate fuel cells or batteries, and 85% of CLIA-member ships coming online between now and 2028 will be able to plug in to shoreside electricity.
Additionally, 61% of new-build capacity will rely on LNG fuel for primary propulsion – a fuel that results in 95% to 100% fewer particulate matter (PM) emissions, almost zero sulphur emissions and an 85% reduction in nitrogen emissions. More than 79% of global capacity utilises Exhaust Gas Cleaning Systems (EGCS) to meet or exceed air emissions requirements, representing an increase in capacity of 7% compared to 2021.
Lastly, when it comes to wastewater, 100% of new ships on order are specified to have advanced wastewater treatment systems; currently 78% of the CLIA ocean-going cruise line fleet capacity is served by advanced wastewater treatment systems, representing a 9% increase compared to 2021. Reference
India: National Maritime Heritage Complex at Lothal to showcase India's rich maritime history: PM Modi
19 Oct 2022
Prime Minister Narendra Modi on Tuesday said that the upcoming National Maritime Heritage Complex (NMHC) at Lothal in Gujarat's Ahmedabad district will act as a centre for learning India's diverse maritime history.
The "long period of slavery" and indifference made us forget or overlook India's rich maritime history, the Prime Minister said in his address after reviewing the construction of the complex at Lothal, about 80 km from Ahmedabad. He added that the heritage developed in the country in the last eight years "gives us a glimpse of the vastness of India's legacy".
"There are many such tales of our history, which have been forgotten and ways have not been found to preserve them to pass them on to the next generation," he said. "How much can we learn from those events of history? India's maritime heritage is also a topic that has been not been talked about much."
In his address, Modi also highlighted the vast spread of India's trade and business in ancient times and its relations with every civilisation of the world. "Thousand years of slavery not only broke that tradition but we also grew indifferent towards our heritage and capabilities," he said. "We forgot that we have great heritage like Lothal and Dholavira that were famous for maritime trade."
Recalling the time when Kutch in Gujarat flourished as a manufacturing hub for big ships, Modi stressed the commitment of the government to revamp sites of historical significance. "Large ships made in India were sold all over the world. This indifference towards heritage has done a lot of damage to the country," he said. "This situation needs to be changed."
A lot can be learnt today from the urban planning of the remains of the city, ports and markets recovered in the excavation from Lothal, he said. "Lothal was not only a major trading centre of the Indus Valley Civilisation, but it was also a symbol of India's maritime power and prosperity," he said. Reference
Indian Register of Shipping to expand footprint in Southeast Asia and Hong Kong
19 Oct 2022
Indian Register of Shipping, a Mumbai-based globally recognised ship classification society, is expanding its footprint in Southeast Asia and Hong Kong, its top official said here.
The Southeast Asian expansion of the Indian Register of Shipping (IRClass) will be managed from the regional office in Singapore, its chairman and managing director Arun Sharma said here yesterday.
Expansion in Hong Kong, with an office, will be managed from China, where IRClass has been operating for several years, he said.
Sharma said IRClass is also in the process of discussing recognised organisation (RO) status with the Maritime and Port Authority of Singapore for serving Singapore flag vessels.
The Singapore flag will complete the 26-flag global RO for IRClass, which currently classifies under 25 flags.
Stressing the importance of the Southeast Asian maritime region, Sharma said the Malaysian office will be opened in the near future, while Bangkok office is already in operation.
The regional operation will also cover flagging of vessels in Indonesia, the Philippines and Vietnam where the society will open offices. Reference
Increased protection for seafarers
19 Oct 2022
SEAFARING is different from other professions in many ways. Seafarers live and work in the same place, and yet, that place keeps moving from one part of the world to another. The global nature of the seafarer's work is certainly exciting, but it also makes it difficult to monitor the observance of laws that protect their rights. This makes seafarers vulnerable to inconsistencies in the provision of internationally-accepted labor practices.
We are therefore pleased that stakeholders in the global shipping industry, drawing from lessons learned during the Covid-19 pandemic, have joined hands to adopt amendments to the Maritime Labor Convention (MLC 2006), to improve the living and working conditions of seafarers.
Governments, seafarers, and shipowners from the global shipping industry have agreed on eight amendments, to improve the living and working conditions of the world's seafarers.
The amendments will ensure:
– The availability of appropriately-sized personal protective equipment, considering the increasing number of women seafarers;
– That seafarers have access to safe, free and good-quality drinking water;
– The prompt repatriation of abandoned seafarers;
– Medical care for seafarers in need of immediate assistance and repatriation of the remains of seafarers who have died on board;
– Appropriate social connectivity and internet access in their ports;
– Seafarers are informed of their rights relating to the obligation of recruitment and placement services to compensate seafarers for monetary losses; and
– All deaths of seafarers are recorded and reported annually to the ILO and the relevant data is published.
In addition to the amendments, the Special Tripartite Committee adopted resolutions to prevent bullying and harassment of seafarers, including sexual assault and sexual harassment, to ensure that financial security system is in place to protect seafarers in cases of abandonment and to ensure that all seafarers have adequate means of contractual redress against shipowners.
In their statement, the Officers of the STC underscore "the need to take into account the latest version of the Guidance on eliminating shipboard harassment and bullying jointly published by the International Chamber of Shipping and the International Transport Workers' Federation, as provided for in Guideline B.4.3.1 of the MLC, 2006." Reference
Windstar Cruises Partners with Coral Gardeners in Tahiti
19 Oct 2022
Small ship cruise line Windstar Cruises has partnered with the Coral Gardeners. The organization based in Mo'orea, French Polynesia, focuses on revolutionizing ocean conservation and creating a global movement to save the coral reefs through reef restoration, awareness activities and innovative solutions. The team works to grow, plant, and monitor thousands of heat-resilient corals with the goal of bringing life back to the ocean.
The three-year partnership begins with Windstar's $35,000 donation to Coral Gardeners to adopt coral for all guests sailing with Windstar in French Polynesia for the remainder of 2022, which is the line's 35th anniversary of sailing in Tahiti/French Polynesia. It's the only destination where the U.S.-based cruise line offers year-round cruises.
With two ships sailing French Polynesia throughout October, Windstar is celebrating its 35th season with month-long special events, integration with local dignitaries and artists, and an infusion of local culture both onboard and ashore.
Guests on the remaining 2022 sailings will receive a small card in their room, alerting them to the adoption of coral in their name. In 2023 and 2024, each guest booked on a Windstar cruise in French Polynesia will be presented with the option to adopt a coral for a donation of $35 per person. Coral adoption cards for those participating will be placed in their room onboard. Reference
Securing maritime routes more vital now
18 Oct 2022
The ocean is our joint heritage. Our sea routes are the lifeline of international trade. And, the biggest thing is that these oceans are very important for the future of our planet. But today our shared maritime heritage is facing many challenges. Sea routes are being misused for piracy and terrorism. There are maritime disputes among many countries. And climate change and natural disasters are also maritime domain-related issues.
In this broad context, if India is seeking a framework of mutual understanding and cooperation it is only for the larger good. It is with this thought that India brought this important issue before the Security Council recently. Keeping in view these challenges, Prime Minister, Narendra Modi proposed a 'five principles approach' which the world should pay heed to. His suggestion that the world must remove barriers from legitimate maritime trade is key to all of it.
The prosperity of every country depends on the active flow of maritime trade. The hurdles could be a challenge for the entire global economy.
The second principle is about the settlement of maritime disputes peacefully and on the basis of international law only. This is very important for mutual trust and confidence. The world must face natural disasters and maritime threats created by Non-state actors together. India has initiated several steps to enhance regional cooperation on this subject. We have been the first responder in maritime disasters related to cyclones, tsunami and pollution.
The Indian Navy has been patrolling in the Indian Ocean since 2008 to prevent piracy. India's White Shipping Information Fusion Center is increasing shared maritime domain awareness in our region. We have provided training in Hydrographic Survey Support and Maritime Security to many countries. India's role in the Indian Ocean has been as a Net Security Provider. Preserving the maritime environment and maritime resources is also important if we have to tackle the challenges in a cooperative way. Reference
Bangladesh Shippers demand forming taskforce to stop maritime corruption
18 Oct 2022
It is the need of the hour to form a task force and steering committee to prevent corruption in the maritime sector as the sector has become hostage to a class of corrupt officials, and if it continues it will be difficult to sustain the business, said shippers in a discussion on corruption in the maritime sector held in Chattogram.
Bangladesh Shipping Agents' Association (BSAA), Maritime Anti-Corruption Network (MACN), and UN Global Compact in Bangladesh organised the meeting on Monday at the office of the BSAA in Chattogram.
MACN Project Manager Syed Ariful Islam said it is time to say no to corruption in the maritime sector. Therefore, a task force steering committee should be formed comprising shipping agents.
Highlighting the bureaucratic complications in the sector, the speakers in the meeting said that there is a lack of coordination between the port authorities and the customs authorities in the import and export at the country's main seaport, because of which many businessmen are harassed.
Traders also suffer financially due to unnecessary complications in the customs clearance process. For example, product release takes more than 11 days on average. Due to these reasons, the image of Bangladesh in the maritime world is being undermined.
BSAA Chairman Syed Mohammed Arif said, "In the case of loading a ship with a length of more than 186 metres, an undertaking has to be given with a stamp of Tk300, which is unfair. Besides, there is a discussion about installing scanning machines at all gates of the port, but the scanning machines are not installed due to mysterious reasons. It is as if we have become hostages everywhere." Reference
MACN launches survey to explore corruption risks for seafarers
18 Oct 2022
The survey aims to map out the risks of corrupt demands, such as demands for bribes or facilitation payments, faced during what is referred to as a seafaring cycle.
With this survey, MACN is aiming at obtaining a better understanding of the key stages in the lives of seafarers that are most vulnerable to corruption which, in turn, will make MACN able to better focus its future efforts.
The survey would appreciate seafarers' feedback preferably by 15 November.
In its 2021 Annual Report, MACN worked on optimizing and improving its incident reporting functionalities and by developing a robust data visualization capability of the reported data.
In addition, MACN progressed with the development of the first ever Global Port Integrity Platform (GPIP) – a platform to measure and compare integrity in ports worldwide.
GPIP will draw upon MACN's anonymous incident data as well as other data sources to capture and display integrity risks at the port and operational level and will be launched in 2022. Reference
India: Cabinet approves development of container terminal at Deendayal Port in Gujarat
17 Oct 2022
The Union Cabinet on Wednesday approved the project to develop the container terminal at Tuna-Tekra, Deendayal Port in Gujarat under the public private partnership mode. The estimated cost of Rs 4,243.64 crore will be on the part of the Concessionaire and an estimated cost of common user facilities of Rs 296.20 crore will be on the part of the concessioning authority toward development of common user facilities.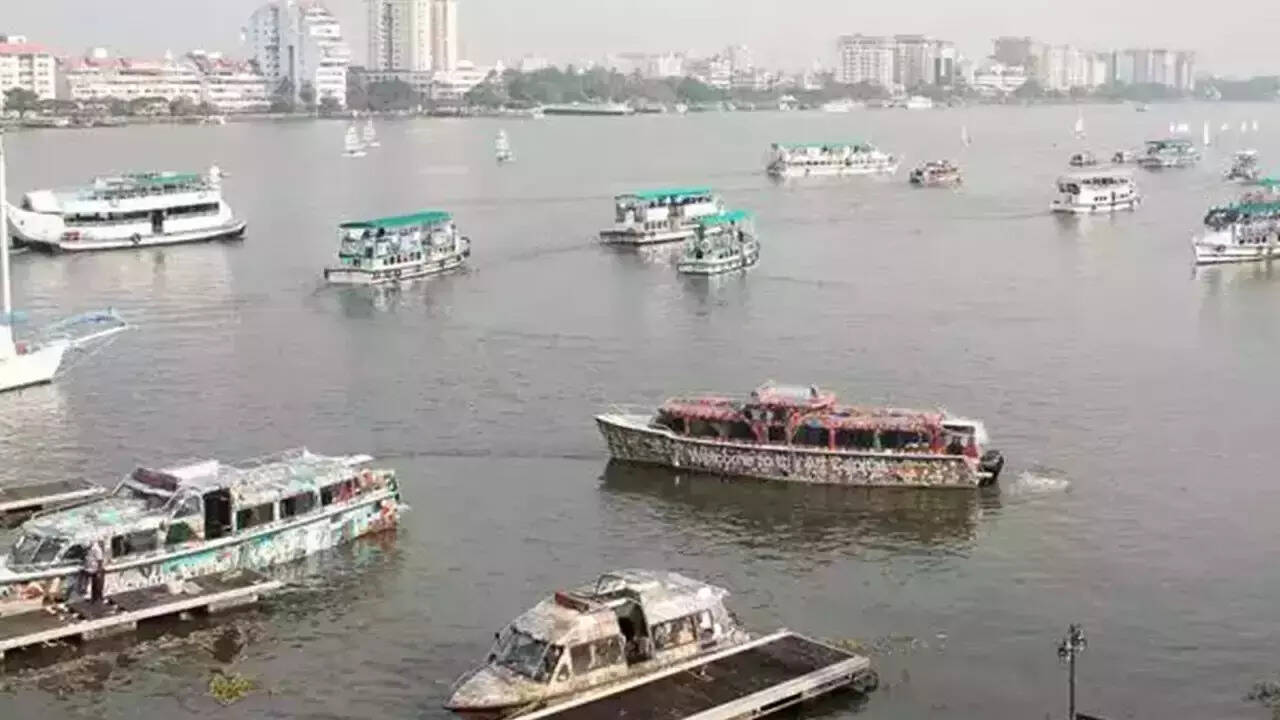 Information and Broadcasting Minister Anurag Thakur said that during the concession period, the concessionaire will have the liberty to handle vessels up to 18 metre-draught by deepening/widening its approach channel, berth pocket and turning circle.
Deendayal Port is one of the 12 major ports in India and is located on the west coast in the Gulf of Kutch in Gujarat.
The project is proposed to be developed on BOT (Built Operate Transfer) basis by a private developer/ BOT operator to be selected through an international competitive bidding process. Reference
AMP Secratary General Recieves The "Outstanding Woman In The Port And Maritime Sector" Award.
17 Oct 2022
The Maritime Award of the Americas 2022, organized by the Secretariat of the Inter-American Committee on Ports (CIP) of the Organization of American States (OAS), in collaboration with the Inter-American Commission of Women (CIM) of the OAS, includes the category Outstanding Woman in the Port and Maritime Sector , which was awarded this year to the General Secretary of the Panama Maritime Authority (AMP), Elvia Bustavino.
Bustavino was recognized for "showing leadership and dedication through her significant achievements, as well as professional contributions to the development of the maritime port sector in the Americas, for promoting the participation and incorporation of women in the sector, the competitiveness and development of ports in Panama" highlighted the Head of the CIP/OAS Secretariat, Jorge Durán.
The Secretary General of the AMP, who in turn serves as President of the Network of Women of Maritime Authorities of Latin America (Red MAMLa), an association sponsored by the IMO, indicated that "it is a great honor to serve Panama and be part of an Administration that has worked to promote women as capable and key professionals in the maritime, port and logistics sector, with a strategic focus on inclusion, training, recognition, visibility, and support for the development of women in a technical industry". "Receiving this award after assessing and evaluating a work based on purposes, values, commitment, is an impulse to continue working to leave a positive legacy framed in sustainability in our industry," she concluded. Reference
Note: All above news items compiled in this digest should be considered as news in brief. For detailed news, please refer to reference link, mentioned with each item.
Share it now